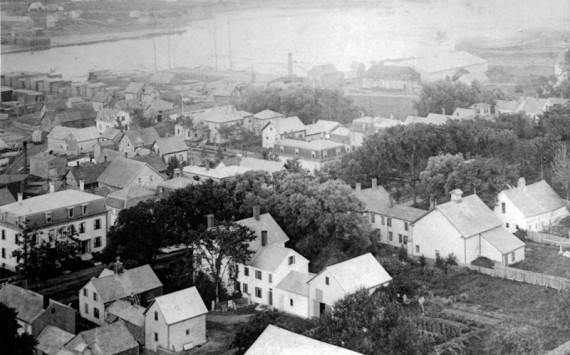 Dr. Holmes Cottage Museum (part 1)
June 8, 2012
Last fall the St. Croix Historical Society contacted us about restoring antique windows in the Dr. Job Holmes Cottage Museum in Calais. With their glazing and paint failing, they were urgently calling for a total overhaul. Through the course of the winter and spring we restored 30 sashes in our workshop in Perry. We also spent some time getting to know the old cape's story.
It never ceases to surprise how a humble little building can hold in its tired old bones - significant intersections with history. With its front door facing the Saint Croix River, the lifeblood of the town, this New England gem has seen it all.
Nestled in the Saint Croix Valley, across the river from Canada and its sister town Saint Stephen, the town of Calais was first settled in 1779. By the 1820s it was taking full advantage of the river and its proximity to the Passamaquoddy Bay, sporting thriving lumber milling, ship building and other related industries. The population grew from 16 households in 1790 to 7,655 residents by 1900.
Today the town's once bustling harbor is all but gone. At low tide only a few soggy timbers, remnants of the nearly 40 wharfs that once serviced these industries, poke their heads to breathe the salty air.
Believed to be one of the oldest standing homes in Calais, the Holmes Cottage has the distinction of housing the first three physicians to practice in the city. The modest post and beam Cape Cod is on the National Register of Historic Places.  It graces the Main Street of a town that showcases many fine examples of 19th century architecture. From staid and proper Federals and Greek Revivals to wonderfully ornate Italianates and Queen Annes, all proudly stand as irreplaceable reminders of a golden age.
The property where the cottage would be built was part of a large track of land (mostly virgin forest), first purchased in 1789 from the Commonwealth of Massachusetts by Waterman Thomas of Waldoborough, Maine. Thomas paid 672£, 8s. 3d., for 19,392 acres. Designated Township #5, the parcel was one of many land grants created by the Massachusetts Committee for the Sale of Eastern Lands. By encouraging the settlement of the frontier wilderness of Maine, the Massachusetts General Court hoped to generate revenues to counter the financial chaos left by the Revolutionary War.
About six years later Mr. Thomas sold half the township to Shubael Downes, of Walpole, Mass., one-quarter to Abiel Woods and one quarter to Edward Hutchinson Robbins, of Milton, Mass. Robbins, a future Lieutenant Governor of Massachusetts, was the proprietor of nearby Township # 4 which would eventually become the town of Robbinston. A few years later Samuel Jones re-surveyed the township, dividing it into settler's lots of 50 and 100 acres.
In 1805 Edward Robbins sold one of these lots, "one hundred acres and commonly called the shore point lot," to the Honorable Artemas Ward Esquire of Boston, son of a prominent Massachusetts family. Artemas, who does not appear on any census for Calais and did a fair trade in land in the town, likely purchased the property as an investment.
He was born in Shrewsbury, Massachusetts, in 1762. A graduate of Harvard Law School, he was a member of the State House of Representatives from 1796 to 1800, serving at the same time Edward Robbins was speaker. According to his resume, he moved to Charlestown, Mass. in 1800; was member of the board of overseers of Harvard University 1810-1844; was elected as a Federalist to the Thirteenth and Fourteenth Congresses 1813- 1817; served in the state senate in 1818 -1819; was a member of the state constitutional convention in 1820; was chief justice of the court of common pleas 1820-1839. He died in Boston, October 7, 1847.
His father, Artemas Ward Senior, a major general in the Revolutionary War, was known to have had a contentious, sometimes contemptuous relationship with George Washington. A congressman from Massachusetts and for many years a member of the General Court, he was described by President John Adams as "...universally esteemed, beloved and confided in by his army and his country."
When the cottage was actually built is not certain; some surmise as early as 1790, while others contend it was more likely constructed after 1812. An item posted in the Calais Advertiser, May 27, 1887 makes its own case; 
J. H. Saunders is building a porch on the old Holmes House. It is one of the oldest houses in the city built about 1816 or 1820 by the father of George Turner, the mason. He loved it awhile in an unfinished state. Having bought the land from the late Deacon Kelly, and a Turner failed for it the land reverted to the Deacon. He then sold it to Dr. Whipple and he sold it to Dr. Holmes.
We do know that George Turner, a brick mason, was born in Robbinston in 1824, to John Turner and  Eleanor Warren Turner, both formerly of England. George's sister Caroline was born in Calais in 1832. John is listed on both of his children's death records as a carpenter. Robert J. H. Saunders was likewise a carpenter in Calais.
Land records tell us that on July 26,1824, Ward, sold his shore point lot to Samuel Kelly (1797-1885). Kelly, a merchant who hailed from New Hampshire and came to Calais in 1821, established a farm on the property. In 1825 he donated a lot of land to The First Congregational Church of Calais, where he was a founder and a deacon. In 1831 he sold a small portion of his farm, 6 by 8 rods, just south of the county road (the Holmes property), to Shelomith Stow Whipple, Calais's first doctor.
Born in Grafton, Mass. in 1794, Shelomith was named for his grandfather on his mother's side, Shelomith Stow, a veteran of the battles of Lexington, Concord and Saratoga as well as a participant in Shay's Rebellion. His father's father, James Whipple, served as a Lieutenant in General Artemas Ward's regiment. He studied medicine at Brown University, graduating with the class of 1818. With, his wife Fanny (Krueyer) and their four young children, John, Caroline, William and Henry, he lived and practiced in the cottage for just a few years. In 1833 Whipple sold the parcel to Dr. Cyrus Hamlin of Paris, Maine "with all the buildings, appurtenances and privileges thereon, or thereto belonging."
Along with his medical duties Dr. Whipple pursued other interests, both business and civic. In 1826, Capt. Seth Emerson built for Joseph Whitney, Asa Pond, Theodore Jones, William Pike and Whipple, the Lafayette Mills on the Saint Croix. They went into operation in the spring of 1827. In 1834 he entered into a partnership with the millwright, Amaziah Nash, to incorporate the Magurawock and Schoodic Canal Company. Their plan was to build a canal from Western Magurawock Lake in Robbinston to the tide waters of the Schoodic (Saint Croix) River. The project was abandoned when it became too expensive. In 1838 he was elected state senator of Maine. The family continued to live in Calais until at least 1840, but by 1850 had relocated to Boston where Shelomith practiced medicine until his death in 1859.
Cyrus Hamlin, the home's new owner, was himself descended from sturdy stock. He was born in 1802, in Livermore, Maine, a town founded by his maternal grandfather. The family moved to Paris, Maine when he was just a young boy. His father's father, Eleazer Hamlin, commanded a body of Continental minutemen which included his sons, Africa, America, Europe and Asia.
As a young man, Cyrus assumed the responsibilities of the family farm. At the age of 22 however, he contracted tuberculosis, putting him in a condition too weak for this duty. He chose instead to follow in the footsteps of his father, Cyrus, who was a doctor as well as a farmer in Paris. His father would see him graduate from Bowdoin College, Maine Medical School in 1828, but died of pneumonia just a year later.
Cyrus initially located in the small river town of Dennysville as a regular family physician where one child, Cyrus Hamlin Kilby, born in 1828, appears to have been named for the young doctor. After a three year stint in Dennysville, he moved his practice to the much larger town of Calais, also becoming for a time the president of the St. Croix Bank. He earned a footnote in medical journals for the part he played in solving a local mystery recounted in The Annals of Calais Maine;
Early in 1835, a strange sickness, baffling all medical skills, broke out in Calais and St. Stephen. The symptoms were pain, weakness and constipation, loss of appetite and sleep, partial paralysis, nausea, &c. During February, March and April, hundreds were sick in the same way; the best treatment did little good; and some twenty or thirty persons died. No age or class was exempt from the malady. At length poison was suspected in an invoice of sugar imported by James Frink, from Barbados. It was a nice looking article, and being sold at retail, it was used in many families, and freely taken by the sick, in their food and medicine; but on being subjected to analysis by a Boston chemist, it was found to contain a fatal per cent. of lead! The secret was divulged. The people ceased using the sugar, and the strange sickness slowly disappeared; though some have suffered from its effects to the present day. Subsequently, Dr. Cyrus Hamlin while visiting Barbados to regain his health, traced the sugar to the plantation where it was manufactured. On investigation he found that some of the syrup from which the sugar was made, had remained in lead-coated cauldrons until it fermented, in which state it decomposed and absorbed the poison lead. No blame was attached to the ignorant planter; but no more of his sugar ever came to St. Stephen; and some people never after really relished any kind of West India sweetening.
In 1834 Cyrus sold the cottage to his sister, Vesta, and her husband Dr. Job Holmes. A lifelong bachelor, he would meet his fate as one of the pioneers of the colonization of Texas - a victim of the common mosquito. In 1838, his friend, James Swan, chartered a vessel and with a full cargo and a colony of thirty young men, including Dr. Hamlin, sailed from eastern Maine for the port of Galveston. Hamlin's passport, granted August 12, 1838, describes him; forehead-high, eyes-bluish grey, nose-long, mouth-common, chin-ordinary, hair-light, complexion-light, face-common.
Seven months after their arrival, in mid-June of 1839, Hamlin succumbed along with one-third of the colony, to an epidemic of yellow fever, a disease whose mode of transmission was little understood by the medical profession at the time. After nearly three years of trying experiences, Mr. Swan would abandon his southern ambitions and return to his home in Maine.
Dr. Holmes Cottage Museum (Part 2)
for more photos of the cottage click here
click here for photos of the window restoration
Special thanks to the St. Croix Historical Society, Artemas Ward House Museum, Sue Melton - descendent of Artemas Ward, Hamlin Memorial Library & Museum, University of Maine - Fogler Library Special Collections and Bowdoin College Library - Special Collections for their assistance.
(click photo to view larger image)
(comments = 1)
leave a comment