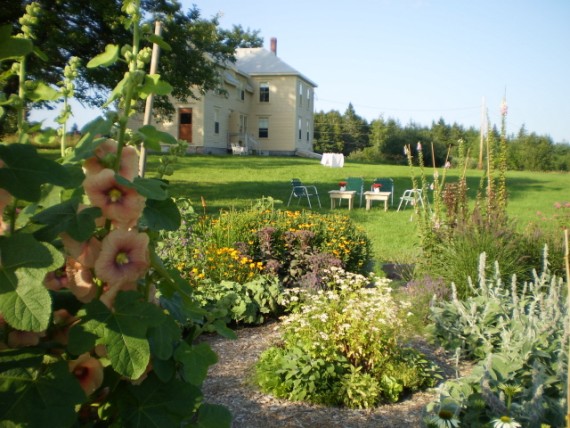 My Perennial Garden (Part 2)
September 24, 2010
My garden was inspired by many I have read about or visited. One part English garden from my time spent in London (studying photography) and traveling through Europe, one part country garden from my Long Island and Maine experiences and one part California garden from years spent combing the state while assisting a friend who was a nature and wildlife photographer.
A long list in hand - I headed down the coast to Surry Gardens nursery and literally came home with a garden in the back my Toyota wagon.
Many of the perennials from the 'front' garden were of a spreading variety, so I found spots for them to expand elsewhere in the yard. The final layout - a simple straight path bisecting the rock rectangle (the long way), with entrances on the east and west ends, interrupted by a circle in the center (you can walk around) where there are plenty of herbs for the kitchen. Lavender and English daisies line the interior entrances while dueling lamb's ear and lady's mantle face off in the circle. The layout allows for easy maintenance from the mulched path or the foundation wall. Irises from the original front garden line the sides next to the foundation and are enhanced throughout the summer when naturally occurring daisies and yellow snapdragons peek up through the rocks. I prefer this bit of 'orderly casualness' where domestic meets wild (the definition of this former subsistence farm).
The trickiest part in garden design was putting all the plant pairings together and still having them blooming in each area throughout the season. The colors blend between each section from - blush pinks, magentas and whites - to shades of yellow, blue and purple - to a golden yellow, ruby red, and pink patchwork - to soft lilac, orange, brown and mauves. I like to strategically place annuals and herbs like zinnias, cosmos, dill and fennel, so there will always be color and a bounty for bouquets (that adorn our home's interior all summer).
Early in the season 'English cottage' makes a show with - oriental poppies, columbine, foxglove, David Austin rose, penstemon, lady's mantle, catmint, lavender and chive blooms. Mid-season - an old fashioned 'country garden' with its hollyhocks, lamb's ear, monkshood, black eyed susans, coneflower, coreopsis, yarrow, veronica, delphiniums and bee balm. The season closes with a little 'California' - crocosmia, sedum, heleniums, red hot poker, Jackson & Perkins Lagerfeld rose, guara, fountain grass, anemone, hot pink mallow and Russian sage.
We learned early on that our 1890s home had been built to replace the original 1830s cape. The old homestead had subsequently been moved down to Boyden Lake and turned into a 'camp' where it still stands today. A little non-garden digging revealed a touching bit of history.
The original homestead property on the east side of the lake was purchased in 1824 by Perry native, Edward Bugbee. His older brother William would build to his north; his younger brother John to his south - three brothers in a row. Edward established his farm and built a New England style cape about the time he married Anna McCaslin of Columbia, Maine (c.1835). Together they would produce six children; Amaziah Nash, John Gilman, Stephen Nash, Henrietta Brewer, Lorene Patten and Edward Jr. Familial bliss unfortunately would last but a few precious years; cut short by an all too common 19th century tragedy.
In 1853 an epidemic of no small proportion would strike all three families. It began just a week after a terrible blizzard, in the midst of an unusually mild winter.  Edward was the first to die - likely of pneumonia then called typhoid or lung fever. Within the month, also gone would be his older brother William, his sister-in-law, Hannah (John's wife), and their 18 year son Elijah. The calamity however, would not be complete until the following spring, when Edward's wife, Anna, also succumbed, leaving all of their young children orphaned.
The property would fall into arrears and land in custodial care, but would manage to remain in the hands of the Bugbee children who had been dispersed - placed in the homes of family, friends and neighbors. The farm was eventually sold in 1870, by Edward and Anna's youngest to next door neighbors, Robert and Martha Ann Golding. The Goldings had purchased William's farm from his estate in 1854. Within two years, one of their children, Nathaniel, with his new bride, Mary Frye, moved into the Bugbee homestead. They would also rear a family in this home - all nine of the Golding children; Mary, Rob, Francis, Daisy, Valeria, Will, Amy, Kate and Jim - were born in the aging cape.
We had never really known for sure where that house had stood. Piles off dirt obscured many of the possibilities. Tradition provided us with several vague locations (somewhere in the orchard). Once the offending mounds were removed, the only clear foundation surrounded the garden. It was certainly possible that the old cape foundation had long since disappeared. Out of curiosity we measured the garden's fieldstone perimeter -16 feet by 20. We walked down to the lake and measured the camp -16 feet by 20. Had this old foundation pre-dated the garage found in 1960's photographs and our neighbor's recollections? We took a loupe to a 1935 aerial view of our farm and studied the location carefully. Sure enough there was a faint rectangle of rocks in precisely the right place.
It seems fitting that on this spot with so much history, there is a new beginning. Transformed and inviting; it has quickly become a natural magnet for bees, hummingbirds, butterflies and birds; as well as summer friends and neighbors.
click here for more garden photos
(click photo to view larger image)
(comments = 1)
leave a comment