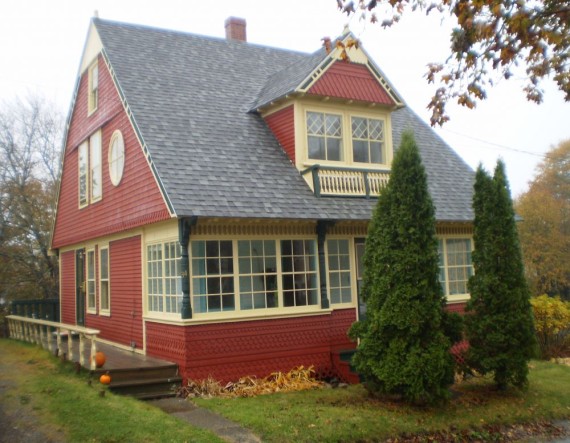 "Pretty it up"
July 10, 2011
In a town filled with ancient Cape Cods, Federals and Second Empire mansards, this sweet, well kept,1899 Queen Anne cottage really stands out. With its decorative shingles and spindles, bright red, yellow and green paint - it reminds of nearby (shingle style) Campobello; the former summer home of the Roosevelt family.
The romantic Queen Anne style became an architectural fashion in America during the 1880s and 1890s, when the industrial revolution introduced new technologies. Builders began to use mass-produced pre-cut architectural trim to create fanciful and sometimes flamboyant houses.
This home is largely intact; from Eastlake window sash lifts and locks to quirky cabinets to elaborately fluted belly band topped with handsomely turned bulls-eye rosettes. A stunning circular stained glass window lights the maple treads and delicate fir balusters of this modest home's 'grand' staircase. An unusual feature (an almost fully finished bead board basement), suggests a time and possibly the place where a rumored minister resident may have held religious meetings or taught Sunday school.
I say the home was largely intact because sadly, in the 1950s, the dining room and kitchen had been what restorers refer to as, 'remuddled'.
When we got a phone call from our Poet Laureate/client - he said that he and his wife wanted us to, "pretty it up." We would soon learn that this his would translate into a total kitchen/dining room renovation.
This is a second home for our clients, whose primary residence for the past forty years has been in Anchorage, Alaska. He, a native of Lowell, Massachusetts - when they were looking for a home closer to family, settled on this little gem in that states former enclave. While some Mainer's head for Florida in the cold months ("snow birds" they're called), our clients escape Alaska's extended twilight and winter every other year in Eastport.
The turn of the century tin ceilings, cast iron radiator and parquet floors gave us a glimpse of the room's former incarnation.The plaster walls were now covered with floor to ceiling birch veneer paneling. Even the trim found in the rest of the house had been removed and replaced with plain pine boards. Absent were the original doors to the living room, basement, stairway and back door (the basement door had been replaced with a shutter style bi-fold).
As for the cabinetry - a cupboard in the dining room had been reconfigured into a crudely constructed china cabinet with glass doors and several drawers. An inexpensive, oak, base cabinet (install in the 1980s) in the kitchen was squished between two original corner cabinets. One appeared to have been a pantry similar to that in the dining room - the other a small cabinet built to enclose the cast iron vent/drain pipe that served both the kitchen and the bathroom upstairs.
We spent the winter in consultation with our new clients, hammering out a plan. We would get to work on some serious restoration as soon as they headed back (for another 18 months) to the 49th state.
(click photo to view larger image)
(comments = 2)
leave a comment