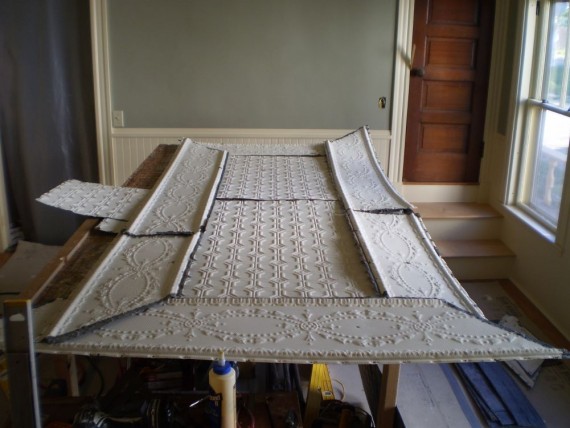 Remnants from the Attic (part 1)
February 8, 2012
One of the most stunning surviving features of our Queen Anne's old kitchen was its wonderfully ornate tin ceiling. Though not original to the building it appeared to be an early installation. Unfortunately it had to come down since the new kitchen design was at odds with its configuration. It seemed a shame to rob the room of such glorious aspect of its early architecture. The homeowners hoped it could somehow be saved - as did we. We would have to see what we could do.
While I toiled and struggled stripping away the many layers of wallpaper, Patrick carefully and gently removed the tin. Literally nail by nail by nail - a methodically tedious process. Delicate prying from behind, then a grab and a slow pull with a pliers; one piece at a time was gingerly lowered to the floor. Once we found we could get the whole ceiling down intact, we were certain we could put it all back.
The wood strapping underneath was nailed in a pattern that mimicked the shape of the tin pieces to provide for a solid installation. This was also removed along with the original plaster and lath above it. An early leak in the bathroom upstairs had caused a good portion of plaster to crumble onto the tin. Opening up the ceiling provided an opportunity to double check the pipes so this would not happen again.
Once the rusty 100 year old cast iron vent pipe was replaced with modern PVC and the electric was rewired for a new lighting plan; ½" plywood was installed in the ceiling instead of sheet rock to provide a 'nailer' for the tin. This would replace the patterned strapping and allow for a slightly higher ceiling.
We stored the pressed tin pieces in the basement till they were needed. Once the upper cabinets were in place, it was time to figure out how to put the pieces back together. The old layout jogged around an early built in cabinet and a closet pantry. Now with cabinetry all around the room - the new pattern would be a simple and far more attractive - rectangle.
The pieces consisted of a center pattern, a decorative garland border (that matched the dining room ceiling) with a filler piece around the edge. After laying out the old pieces on our ample dining room work table we realized we did not have enough of the filler 'bubble' pattern to fill in the jogs over the sink and stove (where hanging lights would be centered). We had to come up with an alternative. An act of 'Yankee thrift' discovered in the attic, would come to our rescue.
Click here for Part 2
(click photo to view larger image)
(comments = 1)
leave a comment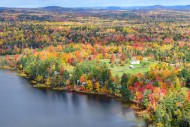 fineartistmade blog
A journal about home design, gardening, art & all things Maine. Read more...
FAVORITE POSTS