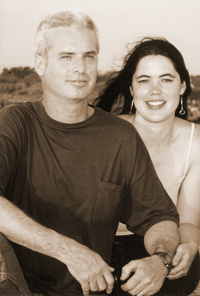 who we are
Patrick was born and raised in Minneapolis. In 1984, he moved to the East End of Long Island after completing the MFA program in Studio Arts at the University of Minnesota. There was a thriving art community in the Hamptons and many of the New York School painters from the 1950s were still living and working in the area.
Joyce grew up in a beach town on the North Shore of Long Island, just west of the Hamptons. An early interest in photography led her to pursue a degree in photojournalism from Syracuse University with dual minors in french and art history. In 2016, she launched her fine art photography website.
As part of her university experience she spent a year studying in London and traveling through Europe. After graduation she criss-crossed the United States several times, working in the photography field, on both coasts; spending time in San Francisco and New York City. After a stint at a SoHo fine art photo gallery, she found her way to the Hamptons hamlet of Sag Harbor.
We met on Main Street in that historic whaling village in June of 1997.  It was the first hour, of Joyce's first day on a new job at the Sag Harbor Picture Gallery.
what we do
What started as a simple house painting business to make ends meet while Patrick worked on his art - evolved as his skills developed. While working on many antique homes he became familiar and schooled in the nuts and bolts of old buildings. It was not long after meeting that we became a team - combining our creativity with a love of old homes. We are masters of salvage picking and spirited advocates for saving old houses.
While we still do painting, carpentry, cabinetry and restoration - we specialize in kitchens and baths custom built to fit seamlessly into antique homes. We recently created a furniture and accessories line, Tradition of the New to reach out to a larger Maine and beyond.
where we live
A honeymoon excursion through Downeast Maine, left a lasting impression. In 2001, while house hunting on the Internet we clicked on our dream; an 8-acre farm, with a simple, Georgian style, hipped-roof farmhouse, overlooking Boyden Lake in the rural town of Perry, Maine.
Nathaniel and Mary Golding built the home in 1893 - with an ell added in 1935 by their son, popular Maine guide and gifted raconteur Robert Golding. We have been restoring the historic home and property.
Visit our restoration page to learn more.
-