Our accessories are a synthesis of folk art, antiques, our own personal aesthetic, and contemporary living. Functional pieces - with a sculptural elegance. They are available in 12 of our favorite natural colors or you can customize with any Benjamin Moore color.
Each piece is made to order. Design suggestions are welcome. Visit our Ordering Information page for details.
(click photos below to view larger image)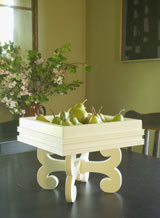 Schoodic Centerpiece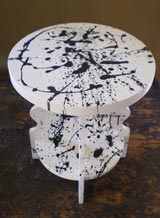 9th Street Mini Table
Schoodic Centerpiece
Let this unusual centerpiece enhance your dining room table or kitchen counter.
made with solid poplar and pictured in Cameo White.
$200

12-1/2"W x 12-1/2"D x 9-3/4"H
9th Street Mini Table
Our 9th Street - mini table can be a stand alone object, used for a dining room table centerpiece or in a children's room. Its shape is inspired by a larger antique table and accentuated with a spatter pattern. 9th Street refers to the seminal exhibition of New York School artists in Greenwich Village in 1951. Each spatter pattern is one of a kind. Made of solid poplar and picture in Cameo White - spattered in Black. Customize your mini table with any color spatter or no spatter!
$200

12"W x 12"D x 12"H