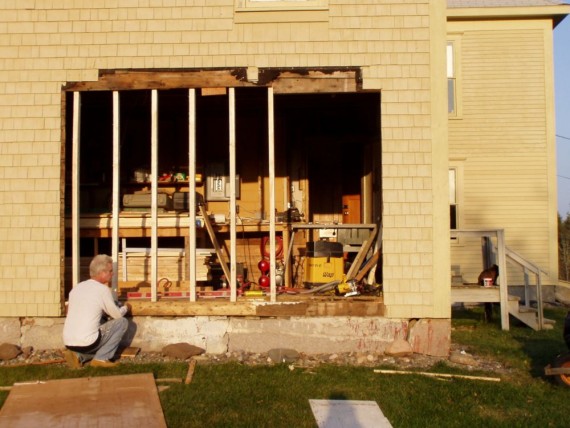 A New Workshop (Part 2)
May 22, 2010
We have always been restoration purists at heart, so the first major decision in our workshop renovation, was a tough one - to reposition the original location of the exterior door from the center to the side (where a window had once been), to make the space more functional. This allowed us to create a "U" of cabinets and countertops and inadvertently gave us a 'shotgun' style hallway (through six doorways), from the front of the house to the back.
Scouring salvage yards for an appropriate 1930s wooden door- with no luck - we opted for a new one (36" wide) from the 'Depot' in a style that suited the era.  A little stain, period moldings, a handmade wooden (board and batten) storm door and recycled antique hardware made it all work.  Once the door was in place, we shingled our restructured back wall, insulated all four walls and the ceiling, and added a plastic vapor barrier; then sheetrock, spackle and paint (Cameo White). We kept the original strip fir pantry floor intact, adding 4 X 8, 3/4 inch, T & G Advantech to the rest. Commonly used for sheathing and subflooring, Advantech is made of wood chips and resin and is very tough (perfect for a shop). Four eight foot fluorescents provide much needed lighting - we could perform surgery back there now!
Phase II began this past winter. A small propane Rinnai heater was added making things nice and cozy - no more bundling up! New cabinetry was fashioned from the same material as the floor- 5/8" thick for the cabinets and doors, 1/2" for the drawers. It is cheaper than plywood, just as stable, but tougher and in our application better looking. We left it unfinished, incorporating the black, factory info stamp, included on every sheet as part of the design. For the sake of the budget, we used bead board paneling (painted Cameo White too) left over from our mudroom remodel for cabinet ends and door panels. Common screen molding serves as a protective, but decorative countertop edge.
We cantilevered our slide compound miter saw station for support, since I decided to buy the biggest and the baddest saw for versatility (Makita LS1214FL).  Wall mounted magnetic strips keep tools off the bench, but make them readily available and easy to grab. A center island, work station (where much assembly is done), is on lockable wheels, can be rolled anywhere and doubles as an out-feed for the table saw. Our Bosch 4100 'hybrid' is accurate enough for cabinetry, but also on wheels with a collapsible stand, making it portable and easily moved for job site use. Dust collection and air filtration (an important health consideration) along with other shop 'must haves' are on their way.
A good looking space is a pleasure to work in. Our goal was to build cabinets that were inexpensive, functional, could stand a beating, but would not lack in style or elegance (smart, tough and pretty). The ruggedly handsome result creates an effect that is both contemporary and traditional. Eventually my dream - screened in porch - will be built off the back to take advantage of the great views of the apple orchard, perennial garden, fields & lake you now can see from the shop windows - but that's a story for another post.
(click photo to view larger image)
(comments = 0)
leave a comment