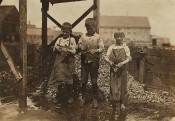 May 19, 2020
Recently, while on the hunt for salvaged, wide plank, floor boards, we got a tip that a house on Hawkes Avenue in Eastport, that had languished for decades, was going to be torn down. We were familiar with the property because we considered it while house hunting in anticipation of our move Downeast.
September 7, 2018
This year our 1890's restored farmhouse was really starting to show her age. After all, it's been nearly 15 years since her last paint job. So, following a relaxing spring sojourn in our old stomping ground, Sag Harbor, we decided it was time to 'pencil her in.' And what better time to 'pretty her up' than to coincide with the celebration of our adopted hometown's 200th birthday.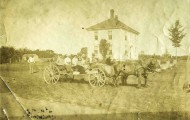 December 1, 2017
This year we were fortunate to work with clients whose goals leaned strongly towards preservation and restoration. These are special opportunities for us. Successful hunts for antique hardware, lighting and appliances; plus following the home's ancient 'tells' made these projects especially authentic. A bit of magic always happens when a room or project comes to feel as though it has always been that way.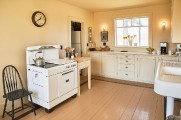 June 1, 2017
We are pleased to announce that our restored 1890s farmhouse is featured in the June issue of the Maine based publication, Down East magazine. Just after the holidays we were contacted by the magazine's senior editor, Virginia Wright who pitched us her idea.

March 16, 2015
We were pleased to be included in the March/April issue of New England's own, Yankee magazine. The magazine is celebrating its 80th year. Our Perry based business was chosen by the Editors for the section, "Our Love of Old Houses – Preserving the voices of New England's past for a new generation."
October 17, 2014
APRIL is the cruellest month

March 16, 2014
On February 15, 1899, a small ceremony was planned to honor the 266 sailors lost in the explosion of the U.S.S. Maine in Havana Harbor a year before.The only army unit to take part was the First Maine Heavy Artillery.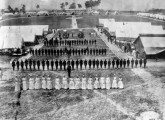 March 9, 2014
Rob's battalion remained in Savannah until January 17, 1899, when it boarded the transport Obdam, bound for Havana, Cuba. Arriving on January 20, the Maine Volunteer Heavy Artillery was encamped at Camp Columbia, located on a high hill, about nine miles from Havana.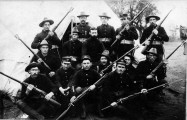 March 2, 2014
Rob Golding's company, Battery B of the 1st Maine Heavy Artillery battalion, was organized on July 16th, 1898 by the consolidation of two companies of the 2nd Infantry Regiment, Maine National Guard; Company I of Eastport and Company K of Calais.

February 23, 2014
The image of a sweet 1890s farmhouse appeared on a computer screen in the John Jermain library in Sag Harbor, New York. I was searching for a home we could call our own. It's lovely hipped roof and central front door reminded me of a simplified version of a grand British Georgian.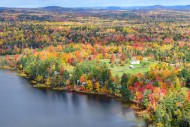 fineartistmade blog
A journal about home design, gardening, art & all things Maine. Read more...
FAVORITE POSTS