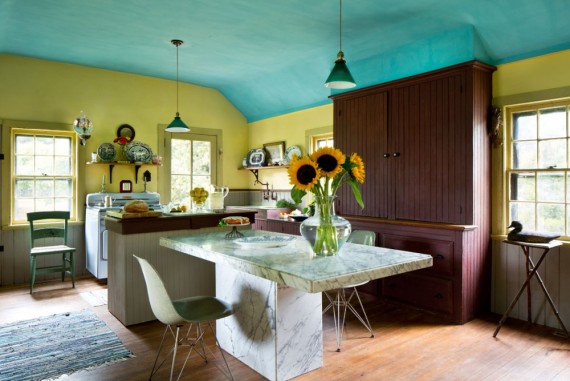 Preservation Tales
November 21, 2015
Since our spring newsletter we've finished projects in an 1899 Queen Anne cottage and two 19th century Cape Cods. In May we were surprised to be contacted by a TV production company based in Knoxville Tennessee that works with HGTV and the Food Network. They were interested in developing a reality show following our various restoration and renovation projects.
In June we tackled a circa 1845 seaside cape in Eastport, transforming a decade old great room addition. The amply windowed contemporary space boasts amazing views of the Passamaquoddy Bay, but pine trim, yellow walls and pine beams against a white cathedral ceiling were just too busy. Not to mention that the room felt out of place with the Federal era home. Our plan was to unify the space and emphasize the difference by pushing the interior's modernist leanings full throttle - painting everything a stark and clean white.
For the opposite end of the room we built an imposing custom bookcase on a large vacant wall. Dressing it with a variety of moldings brought the period feel of the old house into the modern room, effectively melding the two. We painted it Saratoga Springs blue by Benjamin Moore that has a warm opalescent character echoing both sea and sky; a sharp contrast to the white room. We also custom built an accent table, the Mini Mill Cove by downsizing our Mill Cove, painting it a bright red (Raspberry Truffle) complimenting new mid-century styled furnishings. The pièce de résistance was our client's bold choice for lighting - a large, chaotic, burst of Plexiglas, called the Big Bang. It was created by the Spanish modernist designers, Enrico Franzolini and Vicente Garcia Jimenez, and manufactured in Italy.
In August we headed to our old home of Long Island, New York to interview a friend, preservation architect, Bertram Seides. Joyce had been tapped by the editor of the national restoration magazine, Old House Journal, to write a feature article about his perfectly preserved 1881 Victorian farmhouse.
We learned how Bert's love affair with ancient structures began. It was his effort to save a 1720 settlement cottage from the widening of Montauk Highway which led to the purchase of the property occupied by his 'Painted Lady.' There he would relocate the cottage and restore both. We staged the home for the photo shoot with NYC based architectural photographers, Gross & Daley. Steve Gross and Susan Daley are award-winning photographers who travel extensively documenting historic American architecture for magazines and books. The story, A Preservation Tale is in the December issue on newsstands now.
The article also highlights another project dear to his heart, the 300 year old Ketcham Inn. As president of the Ketcham Inn Foundation, Bert, with his singular vision, has mounted a 25 year restoration that is akin to a work of art. In celebration of its long awaited grand re-opening, on Independence Day, as a living history museum, we wrote a blog, The Ketcham Inn and the Curious Case of the Culper Connection. The four part series delves into the Revolutionary War activities of the inn's first innkeeper, Benjamin Havens, and his possible role as a member of George Washington's famous Culper Spy Ring.
Upon returning to Maine, we headed to that other 19th century cape, situated riverside, in the historic town of Dennysville. After restoring many of its original nine over six windows last winter we were back to complete the exterior restoration. Our interest in the old home led to extensive research, which unearthed a few surprises. Our blog, The Narrows, traces the building's early history revealing ties to the settlement of Down East Maine, President John Adams, the Shriver family of Westminster, Maryland and the American Civil War. It ends with a 'Gone With the Wind-esque' tale thanks to a son's Civil War letters carefully preserved and donated in 1940 to the Maine Historical Society.
(click photo to view larger image)
(comments = 1)
leave a comment