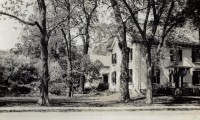 October 3, 2019
2019 began with a kitchen and pantry renovation of a century old cottage in Red Beach, following the completion of a Perry seaside cottage bath. We then moved on to Phase II of the portico entrance restoration at the 'Holmestead' in Calais. That done, we are about to begin an Eastport bathroom restoration in an 1899 Queen Anne style home.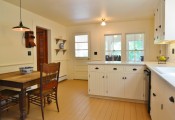 August 1, 2019
When the Red Beach cottage was built and by whom is still an open question. It has been added to and altered a number of times during its long life. Census records suggest occupation on that site as early as 1910. Structural tells found during the demo phase; square nails, hand planed beaded moldings, lath and plaster marks and extra wide old growth pine sheathing suggest an earlier date - 1860 to 1880.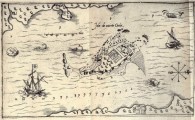 July 31, 2019
We celebrated the start of summer with the completion of our latest project; a kitchen/pantry renovation in a 100+ year old cottage, in the sleepy Calais suburb of Red Beach. Situated on the St. Croix River around a sheltered cove and first-rate mill stream, one would never suspect driving through this quiet residential district today, that it was once a vibrant, prosperous, self-sufficient community.
September 7, 2018
This year our 1890's restored farmhouse was really starting to show her age. After all, it's been nearly 15 years since her last paint job. So, following a relaxing spring sojourn in our old stomping ground, Sag Harbor, we decided it was time to 'pencil her in.' And what better time to 'pretty her up' than to coincide with the celebration of our adopted hometown's 200th birthday.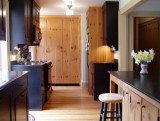 April 5, 2018
We just returned back from a 'spring' trip to the Hamptons; staying in a circa, 1810 Federal in our old hometown of Sag Harbor. This home was the site of our very first kitchen and baths renovations, some 20 years ago. Our former clients have become longtime friends.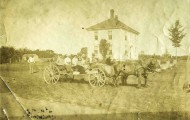 December 1, 2017
This year we were fortunate to work with clients whose goals leaned strongly towards preservation and restoration. These are special opportunities for us. Successful hunts for antique hardware, lighting and appliances; plus following the home's ancient 'tells' made these projects especially authentic. A bit of magic always happens when a room or project comes to feel as though it has always been that way.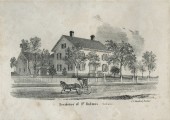 August 19, 2017
Our latest kitchen and pantry project in the historic, circa 1850, Benjamin R. Jones home in Dennysville and detailed in the blog, 'Square Nails and Tells', now has its finishing touches. Our clients took a trip down to historic Little Compton, RI and the Antique Stove Hospital to pick up their freshly rehabilitated kitchen stove.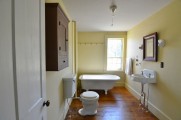 August 15, 2017
With the kitchen restoration in our project home, a circa 1850, Dennysville cape, nearing completion, our focus turned to a bathroom on the first floor of the main house. The room, that likely once served as a small bedroom (sometimes called the "birthing room") was turned into a bathroom, in the late 1920s by members of the Leighton family.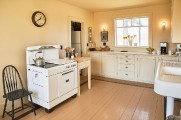 June 1, 2017
We are pleased to announce that our restored 1890s farmhouse is featured in the June issue of the Maine based publication, Down East magazine. Just after the holidays we were contacted by the magazine's senior editor, Virginia Wright who pitched us her idea.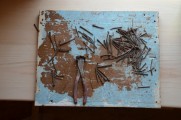 May 29, 2017
Early in the home's history, probably as an afterthought, a door was cut between the pantry and the summer kitchen likely to provide a more direct route between the two. In the 1950s renovation, when the pantry was turned into a dining room, part of the wall was cut out to enlarge that doorway.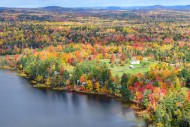 fineartistmade blog
A journal about home design, gardening, art & all things Maine. Read more...
FAVORITE POSTS