September 7, 2018
This year our 1890's restored farmhouse was really starting to show her age. After all, it's been nearly 15 years since her last paint job. So, following a relaxing spring sojourn in our old stomping ground, Sag Harbor, we decided it was time to 'pencil her in.' And what better time to 'pretty her up' than to coincide with the celebration of our adopted hometown's 200th birthday.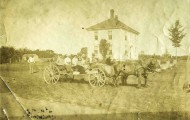 December 1, 2017
This year we were fortunate to work with clients whose goals leaned strongly towards preservation and restoration. These are special opportunities for us. Successful hunts for antique hardware, lighting and appliances; plus following the home's ancient 'tells' made these projects especially authentic. A bit of magic always happens when a room or project comes to feel as though it has always been that way.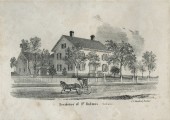 August 19, 2017
Our latest kitchen and pantry project in the historic, circa 1850, Benjamin R. Jones home in Dennysville and detailed in the blog, 'Square Nails and Tells', now has its finishing touches. Our clients took a trip down to historic Little Compton, RI and the Antique Stove Hospital to pick up their freshly rehabilitated kitchen stove.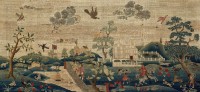 July 23, 2016
For the past year we've been on the hunt for an antique door for a restoration project. Our search through architectural salvage yards and antique shops down the coast of Maine came up empty, so we placed a want ad in a local newspaper.

May 19, 2015
Benjamin R. Jones passed away in December of 1858, preceded by his wife, Mehitabel, just a year before. Three months after her father's death, Amelia would remarry, a 36 year old farmer, Gilbert D. Foster.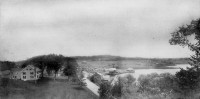 May 18, 2015
The untimely death of Captain Bela Reynolds in the spring of 1853 must have been devastating for his second wife Amelia. Six months pregnant with their sixth child and left alone to raise a fledgling family;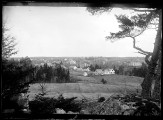 May 16, 2015
We know from deeds that Nathan Preston built a home on his 'Narrows' property, probably the standard fare in those day and that place, a simple log cabin, 16 feet by 20. When he sold to Ezekiel Prince in 1810, for 280 dollars, the deed read, "…the same lot of land that I live and dwell apon."

May 13, 2015
One of our winter projects, the restoration of nine over six windows in a circa 1850s cape, piqued our curiosity. This venerable old structure is located in the town of Dennysville, on a peninsula that pushes into the Dennys River, on its journey to the Cobscook Bay. This 'pushing' forms a topographical feature, a bottleneck in the river, known simply as, "the Narrows."

March 16, 2015
We were pleased to be included in the March/April issue of New England's own, Yankee magazine. The magazine is celebrating its 80th year. Our Perry based business was chosen by the Editors for the section, "Our Love of Old Houses – Preserving the voices of New England's past for a new generation."

March 16, 2014
On February 15, 1899, a small ceremony was planned to honor the 266 sailors lost in the explosion of the U.S.S. Maine in Havana Harbor a year before.The only army unit to take part was the First Maine Heavy Artillery.
fineartistmade blog
A journal about home design, gardening, art & all things Maine. Read more...
FAVORITE POSTS