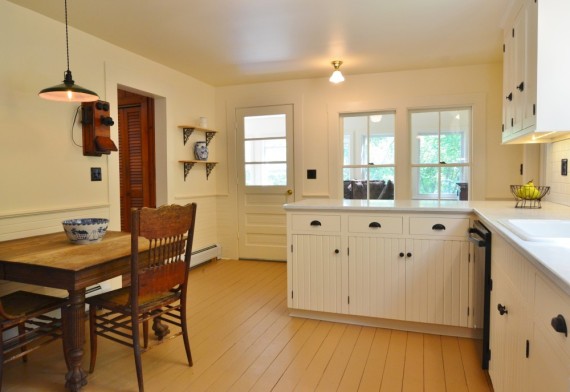 The Cottage (part 2)
August 1, 2019
When the Red Beach cottage was built and by whom is still an open question. It has been added to and altered a number of times during its long life. Census records suggest occupation on that site as early as 1910. Structural tells found during the demo phase; square nails, hand planed beaded moldings, lath and plaster marks and extra wide old growth pine sheathing reveal an earlier date - roughly 1860 to 1880.
Judging from its size, shape and possible age, the original 2-story dwelling might actually have been a simple worker's cottage built to service the local industry - then moved to the site early in the early 20th century where it was placed on a rough foundation of quarry cast-offs, gutted of plaster and lath and turned into a summer residence.
A likely suspect for this undertaking? - Civil War veteran, Elias Stuart Lane; farmer, cooper at the mill and life-long resident of Red Beach. He purchased the property in 1907, from heirs of Daniel and Ester Huckins - likely for its commercial possibilities. Elias rented out the homestead and quite possibly the cottage until his estate sold to the Grays just 5 months after his passing.
Serving for many years as a rustic retreat, the cottage passed through a number of families until it was purchased by a doctor from Dover-Foxcroft. Now living there full-time she is renovating the building, with the help of fineartistmade, into a year-round retirement home.
In our planning we wanted to reflect the cottage's history. A beadboard ceiling in the pantry is balanced by screen molding on the shelves beneath it. We preserved horizontal V-board wainscoting, extending it to the new peninsula, while unearthing a long-covered pine board floor. Cabinets inspired by Victorian country kitchens were fitted with vertical V-board & batten doors and period turn latches, bin pulls and knobs. Quartz countertops, subway tile and LED under cabinet lighting add modern functional touches while blending nicely with the old.
A built-in beadboard hutch, next to the fridge, boldly painted in "Townsend Harbor Brown" by Ben Moore and dressed with antique cast iron Eastlake hardware, harkens back to the days when the cottage may have been a worker's home. Overhead, period unlacquered brass lighting from Rejuvenation will tarnish to a warm patina over time.
An oil rubbed bronze reproduction pendant light, also from Rejuvenation, hangs by a twisted black cloth cord from its black porcelain canopy while holding in its grasp a vintage, industrial style, green, porcelain/enameled metal shade. It lights the homeowner's handsome Victorian oak dining table which is complemented by her heirloom oak, crank wall phone hanging on a "Cameo White" wall nearby. A pair of custom maple shelves in a corner, supported by ornate cast iron brackets from "The Old Creamery" in Ellsworth, provide a finishing touch.
Heading downriver from Red Beach, to the Passamaquoddy Bay in Perry, we come to our latest bathroom renovation - a sweet summer cottage we have 'visited' before, aptly dubbed "Water's Edge."  We were challenged to make a diminutive Jack & Jill bathroom feel larger, fresher and more inviting.
Two molded plastic doors that swung into the room and were always in the way - had to go. We replaced them with antique, five panel, fir doors that run on quiet barn door sliders, outside the room. Reproduction brass pocket door hardware, in an antique finish, replace original knobs.
Changing the color scheme also made a big difference. Much like our Red Beach kitchen project, going with a monochromatic palate did the trick. Frosted glass subway tile in "Seafoam Green" from TileBar in NYC perfectly matched the "Wythe Blue" we chose for the walls and ceiling and added a touch of sophistication to the room. A mason jar full of pale-green sea glass, collected from the beach, just steps from cottage and now resting on the window sill - feels right at home.  
You can see before and after  photos of our Red Beach Cottage kitchen/pantry project and Water's Edge Bath on Facebook.
(click photo to view larger image)
(comments = 0)
leave a comment