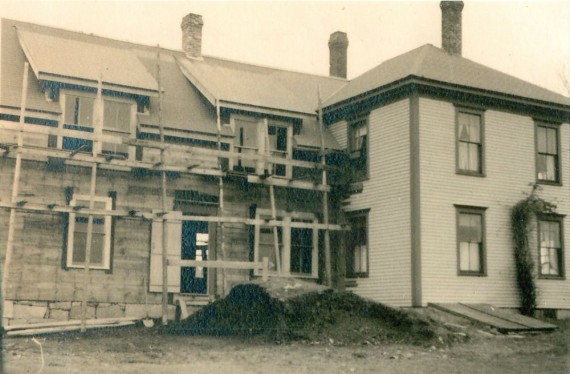 A New Workshop (Part I)
May 19, 2010
An expanding business made it time to attack a project long overdue - a properly fitted workshop. The space that workplace now occupies, began its life seventy-five years ago as a woodshed in the back end of the 1935 'ell' ('Maine-speak' for addition) to our circa 1893 home.
When we were hunting for an antique house in 2001, one prerequisite was - there had to be room for a shop. We had just finished a tour of our present home and loved it - but had discovered no suitable place to pursue fine carpentry. Then I spied a battered old door - past the kitchen and the former mudroom - at the very back of the house. Where did it lead? There was a mystery room.
The realtor seemed embarrassed that it was chock full of 'stuff.' I don't think we ever told her, but it sold the house. It was just the space we were looking for - but it needed lots of work.
The woodshed originally had no floor - with wood piled high to the rafters on dirt.  The interior walls were clad in rough horizontal boards and of course there was no heat or insulation. Sometime in the 1960's, a portion was walled off, with a fir floor added to create a second 'cold' pantry. Probably in the 1980s, when wood as no longer the primary heat source, a subfloor was added to the rest of the 'room' creating a rough workspace. By the time we arrived on the scene, the original exterior door and window on the back wall had been removed - with an oversized, heavy, grey metal door and sidelights in their place.
Our first action was to have our electrician add a sub-panel, ample outlets, switches and simple lighting - at the same time we were upgrading the rest of the house. We removed the drafty metal door and boarded up the opening. That door was intended for cement block construction and was out of place in this location - a local mason scooped it up. We 'made do' for several years with simple tables and shelves. This gave us time to get a feel for the space and imagine the possibilities. An overhead, radiant, electric heater helped, but with no insulation, we still had to bundle up in the Maine winter months. On really cold days - forget it.
The fall before last, we started Phase I of our workshop remodel. The room is large for a woodshed, but smallish for a shop, so careful design was needed to assure that everything fit in a workplace that had to be safe, efficient and comfortable. The plan would evolve as the workspace took shape.
(click photo to view larger image)
(comments = 0)
leave a comment