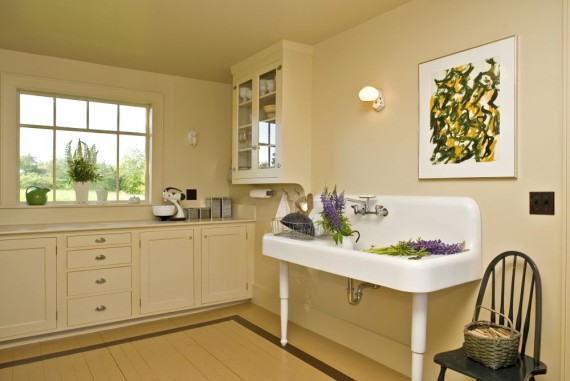 And Finally, Cabinets
May 29, 2011
Building new cabinets is one part creative thinking and one part problem solving. There are many practical questions to work through. Figuring our plan was a lot easier since we already knew which items would be stored in the pantry. Though the original kitchen was comprised of free standing furniture (a carryover from the 19th century), we elected to go with the functionality of 'modern' (1930s) built-ins; this kitchen addition was added to the 1890s house in 1935. Cabinet details were inspired in part by a period kitchen I'd clipped from an issue of Old-House Interiors magazine some years before.
We began construction with a 2x4 base, leveled to correct a gently sloping floor. This was followed by three simple plywood boxes connected to each other and screwed in place. These boxes were made of common plywood rather than a fancy birch veneer as we felt it was more appropriate for a 30s era country kitchen. The face-frame was oversized with three inches wide stiles and one inch rails for a period look.
In the center of this countertop work station, for easy access and to enhance the symmetry (in line with the picture window), we installed a bank of fully inset, graduated, dovetailed drawers. Made of ½ inch clear pine, they provide plenty of room for silverware, cooking utensils, Tupperware and pots. These drawers are flanked by four simple large full sized panel doors (two per side, also inset) with ¼ inch quarter round molding and extra wide rails and stiles. Behind the two outside doors the shelves were left open for large or infrequently used items. Behind the two inside doors the shelves were outfitted with six custom dovetailed pull outs to house a small food pantry as well as items used every day. We used modern drawer slides that blend with the color of pine for ease of operation.
For hardware we chose classic 30s nickel plated brass; period stamped bin pulls from Rejuvenation and ball tipped mortise hinges from Horton Brasses. As always, we made sure all our hardware was attached with slotted screws rather than 'Philips' for that subtle touch of authenticity.
Antique glass knobs that had been knocking around for years (a Hamptons salvage find), were perfect for the doors (magnets hold them shut). Patrick purchased these fluted gems (before we ever met and without any idea where they might someday be used) from the affable East Hampton salvage legend, Charles Labrozzi. 'Charlie,' a master mason, lived with his wife in a 240 year old Cape Cod (the Jonathan Barnes-Selah Lester House) and ran his salvage business on their farmstead property. He could usually be found in his retirement days carefully restoring his circa 1875 barn. Ironically his home-spun operation was also a source in the Hamptons for super wide, rough cut, old growth, full dimension, Maine pine; something you just can't buy at your local home center. We used one of these handsomely knotty boards to fashion our bench style coffee table where much of our cabinet planning was done.
We chose to paint the cabinetry the same Putnam Ivory as the walls and trim. This allowed the vintage features - wall mounted sink, Florence stove, porcelain lighting, brown patterned Bakelite switch and outlet covers and the large, round, brown, Bakelite, G.E. schoolhouse clock - to pop.
The countertop is inexpensive laminate, faced with a painted bull nose - underscored by a cove molding. An oversized (6 inch) wood backsplash doubles as a skirt under the picture window. We were able to match the laminate color exactly to the cabinet, giving the countertop the appearance of painted wood without sacrificing the durability that laminate provides.
A pine butcher block table built for our Sag Harbor apartment was resurrected for a repeat performance as a stove-side work table. The knobs were changed from brass to the antique glass for continuity, with the body painted to match the rest of the cabinetry.
Shunning practicality we decided to build only one upper cabinet - leaving the fixed window wall free and open, flanked only by the two, deco, porcelain sconces. Besides we already had 'uppers' with the high shelves in our pantry. Opting not to have a dishwasher - glasses and dishes would be coming straight off the wire rack - it made sense to install a display cupboard next to the sink. Our version was modeled after a friend's antique linen cabinet. Underneath we installed a vintage, Scot Towels, paper towel dispenser (found in the garage) next to two antique nickel plated brass hooks for hand and dish towels. Stile and rail doors with glass panels display ironstone dishes, glasses, antique bowls and a milk glass vase collection. Nickel plated butterfly hinges and a simple cast cupboard latch complete the period look.
Our final project was paint on the floor. Holes left by the copper ring shank nails were filled with "Bondo,' the whole surface lightly sanded, then painted the same light pine color (bamboo beige) we used in the rest of the home. As a finishing touch to our brand new 1930s kitchen we adding a 2 inch wide dark brown stripe border about 16 inches from the edge - an homage to the linoleum rug.
(click photo to view larger image)
(comments = 0)
leave a comment