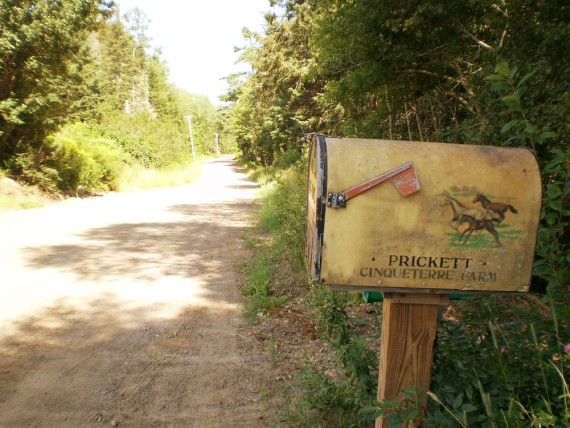 Cinqueterre
August 11, 2011
The first time I ever heard the name of one of my favorite Down East destinations, we were still living in Sag Harbor, New York. Friends wishing us well on our impending 2001 move to Maine had passed our name on to a friend of theirs who lived part-time in Canada. Harry Chauncy ran an Inn in East Hampton in the winter, as well as one across the bay from Perry, in Canada in the summer. He was co-owner and chef of the lavish Kingsbrae Arms in the unspoiled 19th century seaside village of St. Andrews. Mr. Chauncy was kind enough to write us a welcome to Maine letter which included a list of some of his discoveries in what would be our new neck of the woods.  At the top of his list which included Betty's Crabmeat, was another Pembroke institution, Cinqueterre Farm Bakery.
Owned and operated by the husband and wife chef team, Leslie and Gloria Prickett, the bakery is tucked into the back of a 19th century cape situated on 500 acres of field and woods. The name derives in part from the fact the property was acquired over time in five (cinque) 100 acre parcels (terre).
With our first visit we quickly learned that Cinqueterre is truly off the beaten path. A neatly painted sign on Route One, directed us down a dirt, Ox Cove Road, through a substantial woods into one of Maine's many 'fingers.'  Now and then we passed an antique cottage or caught a glimpse of the Hardscrabble River. After about a mile, the woods opened up on the right to fields and a series of blue barns and house. Inside we found some of the best artisan breads, pastries, jams we'd ever tasted.
When you pull open the screen door you are invariably greeted by a gregarious Gloria in her apron, with Leslie (who just turned 96) in his white chef coat to the back at his work table, quietly kneading dough or pulling delicacies out of the oven. You know this couple is serious about food when you get a tour of their ancient cape and find that they have, not one, but three kitchens, plus the patio bakery, as well as two dining rooms.
Both are lifelong cooks - Les's training includes the Cordon Bleu in Paris (at the same time Julia Child studied there). He owned a restaurant on the Jersey Shore for forty years - she owned a B&B and Inn for several years in nearby Lubec (where they met when he came to sample her cooking).
The farm has apple trees and organically grown produce which supplies the pastries, jams and preserves. This spring I complemented Gloria on her impressive (just planted), vegetable garden. She assured me that it was Leslie's handiwork and not hers. In a Down East magazine article a few years back that featured the bakery, "Happiness is a Warm Baguette," Gloria said she knew the match was going to take when Les transplanted 1000 raspberry bushes to Cinqueterre from her former home in Lubec.
Last Saturday we took our coffee to go because I wanted to get to the bakery before their much coveted goodies sold out. We like to stock up on strawberry, blueberry and raspberry jams for the winter and have some on hand for our guest room gift basket. Today there were blueberry muffins, lemon curd and raspberry pastries. With lunch was just around the corner a brick oven pizza with sausage made locally, hit the spot. Fresh gazpacho chilling in the fridge was slated for dinner. We also picked up a couple of baguettes, a quart of granola and some croissants for the ride home. The jam was so fresh it was still warm. We grabbed a few jars for the pantry as well as one (blueberry) for a former Mainer living in Alaska who will appreciate a taste of home.
(click photo to view larger image)
(comments = 4)
leave a comment