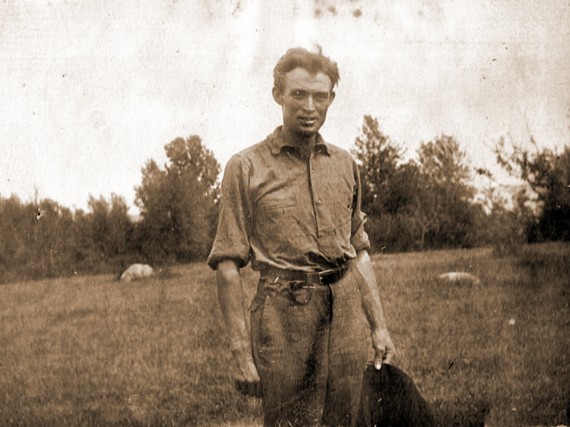 First Settlers
November 4, 2010
I grew up in a new house based on the colonial style. Though its architecture suggests age, its history is understandably brief. Not the case with the house we live in today. It amazes us what we've uncovered about the farm and its original families.
This coming December 1st, we'll have lived in this old house for nine years. During this time we have become the unexpected stewards of a treasure trove. Descendants and family friends continue to fill in the gaps; telling stories and contributing photos and items that belonged to the home's first family. All this has given us a glimpse of life on the farm late in the 19th century.
Though we never met Robert Nathaniel Golding, he has undoubtedly contributed the most. He was born in the pantry of the original 'homestead' cape in 1874 and lived in the home his father built, until his death in 1969. A local legend; Rob was a hunter, trapper, guide, woodsman, farmer and gifted storyteller. His friend, Archie Stewart documented through movies and audio reels hunting and fishing expeditions and Rob telling his stories. They are archived at Northeast Historic Film and the Maine Folklife Center.  The following poem composed by Rob, First Settlers, describes some of his childhood memories.
My father had a little farm in the good old state of Maine, it was in the early days, before the game laws came.
It was on the shore of Nassaic Lake, and it was his good fortune, much fish and game to take.
He was a hunter and trapper, known for miles around, who could get you fish or game, or tell you where it could be found.
We had a garden and raised more vegetables than we could eat, but we depended on the woods and lake, for all our fish and meat.
We bought little of the storekeepers goods, for many of our eats came from the woods.
There was syrup and sugar from the maple trees, and honey from the bees.
There were berries of many kinds, some we picked from bushes and others we picked from vines.
We ate all we could while they were fresh, and mother made them into pies, then she put some down for winter, to have when the snowflakes filled the skies.
Father sowed buckwheat in the burntland, and reaped it with a sickle, and took it to the mill, and had it ground to make pancakes, our palates to tickle.
My father was a stone mason, and in the summer months worked at his trade, but when winter came and fur was prime, a lot more money to be made.
For many of the stone mason's job was, " I'll pay you as soon as I can.", but when one had fur to sell, twas always cash in hand.
He stayed with the stone mason's job, until the ice began to form and the snowflakes to appear, then he took his old muzzleloader down and went hunting moose and deer.
If it was a moose he got he'd say with a smile, 'He sure is a lot of meat, but I trailed him many a mile."
We'll have to give the neighbors a taste, for there is more than we can handle, and it must not go to waste.
When we had a surplus we gave to the neighbors one and all, one lady said, "What she could not understand, every fall the Goldings had fish and meat to give away and they had none at all."
Father said, "It was quite easy to understand, although the fish and game were close at hand.  Her husband wouldn't hunt, and there was always patches on the seat of his pants, but never any on the front."
On that little farm, we had one horse, two cows and a half dozen sheep, and we cut every spear of hay that we could find, those animals to keep.
We handscythed lake shores, swale and blue-joint meadows and put them into stack and hauled them in to winter, as soon as snow enough to make a decent track.
The cows were named for their color, Red and Brown, and they gave us milk and butter to help the biscuits and pancakes down.
The fleeces from off the sheep, helped us warm to keep.
Everything on the place has his job to do my father used to say, twas the old horses job to cultivate the garden and haul wood and hay.
Mother with her spinning wheel and knitting needles sat up many a night, knitting socks and mittens so Jack Frost our toes and fingers wouldn't bite.
She had a loom and wove us blankets and cloth to make us clothes, and the only place was ever cold was the tip end of my nose.
I love the woods and all the things therein, my father taught me to catch the fur bearing animals, take off and stretch their skins.
Those bought my shoes and gave me spending money, the woods to the Golding family was the land of milk and honey.
We were the envy of our neighbors, for they seem to think we got the good things of life, without the strenuous labors.
click here for a blog series about Rob's time in the Spanish American War
(click photo to view larger image)
(comments = 1)
leave a comment