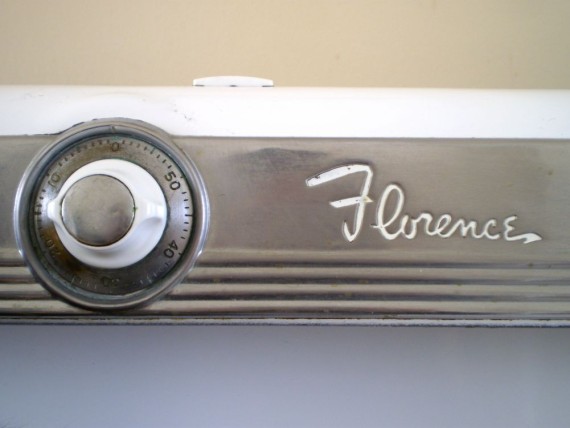 Florence
March 1, 2011
Before arriving in Maine, my vision of a 1930s country kitchen included a beige and green porcelain vintage gas range (like one I'd seen in an antique shop), with white ceramic toggles and an eye level oven on the side. Patrick remembers that his grandmother still prepared her meals on just such an appliance into the 1970's. These classic old stoves have gained popularity in recent years and now carry a sizable price tag.
We decided to explore the option of an inexpensive upgrade - a brand new propane, with no bells and whistles (or troublesome computers), to get the job done. The threat of occasional rural winter power outages was also a consideration. A unit that did not depend on electricity seemed like a very good idea. We were reminded by the appliance dealer though, that built in obsolescence might only guarantee about ten years of useful life for any new range.
After meeting our neighbor, Leona Kendall (who lived next door for some 70 years) we had another- better idea. Her nickel plated tea kettle whistled atop a much more appropriate appliance - a 1949 Florence, oil and propane burning range. This plain, white, porcelain beauty was very much like the one we'd found rusting in the orchard - a stove like grandma's, had never occupied our kitchen.
In Leona's quaint, 1824 cape, her Florence was still the primary source of heat for the home. Sturdy and dependable, it had been in service for over fifty years. She could still remember her excitement, the day they hauled out the ancient cast iron wood-burning behemoth (she'd dutifully polished with stove black for years); replacing it with a sparkling modern range.
Manufactured in Gardner, Massachusetts, by what was originally called the Central Oil and Gas Stove Company; Florence dual purpose ranges were at one time very common in this area. A vintage magazine ad explained, "No matter how early you begin your day, your Florence oil stove is ready to begin it with you. Turn a lever to 'Light,' lift the chimney, and touch a match to the asbestos kindler. A clear blue flame is started. There are no wicks to trim, no valves to leak. No lugging coal, wood or ashes - it burns kerosene."
Though it was a little later than our 1930s kitchen, this range was ever so quintessentially Down East Maine. It was much like the stove that first replaced the cast iron wood burner transplanted from our homes original kitchen. We were sold and on the hunt. As another early ad appropriately proclaimed; "X marks the spot for my new FLORENCE."
Not long after making this decision, we had a most serendipitous sighting.  While working on a project in the nearby harbor town of Lubec, we spied a recent addition, next to a fisherman's cottage - a vintage 1940s Florence. We tracked down the homeowner and learned his grandmother had recently passed away. He was in the process of renovating her charming old place. Though a slightly smaller version, his grandma's Florence was very close to the model that once graced our home.
A quick call to a neighbor (Leona's son, Bill) supplied us with a pickup truck and some additional muscle. We gave the homeowner $20 to take the hefty beast off his hands. He was pleased to learn he would not have to pay someone a similar amount to accomplish the task. After the heavy lifting was done, we treated our obliging friend to lunch. Happily, a 'new' Florence sat proudly back on the very spot where a stove had always been.
The standard Florence had two kerosene burners on the left that heated the house as well as two hot plates that could be use for stove top cooking. These burners were kept running night and day during in the winter. Leona would heat water for tea on a hot plate (to go with her famous doughnuts) when we would come for a Sunday visit. On the right side - propane burners preformed the same task in the summer.
In earlier times the stove was hooked up to a large copper hot water tank that sat beside it with the kerosene section vented into a chimney. We weren't interested in reinstalling the nickel plated stack, as forced hot air from a furnace in the basement meant we would not need the stove for heat.  Even if we wanted to, it wouldn't have been easy; the chimney had been removed years earlier following the introduction of modern appliances.
The burners on our little workhorse can be covered with a porcelain top that folds up and stows away against the back of the stove. The unused kerosene burner section, with its own porcelain cover, now serves as small countertop or a place to set hot items coming out of the oven.
With a little oil, the stove's timer worked just fine. While the electricians were running wires they added an outlet behind the stove and replaced the appliance cord, to make the stovetop bulb light-up. A technician from the local gas and oil company checked the whole unit out making sure it was operating safely. The original 'Robert Shaw' (the Cadillac of thermostats) was on the blink - so we mailed it to specialists in Florida for a rebuild and calibration. For one hundred dollars we received a guarantee - our little white beauty should last another fifty years - giving modern day obsolescence a run for its money.


* To all you folks looking for info about Florence stoves - this is all we know.
(click photo to view larger image)
(comments = 2)
leave a comment