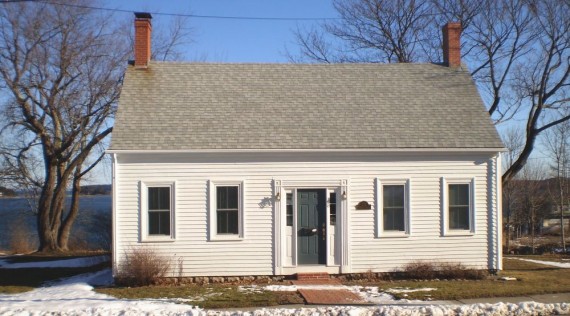 Getting Started
May 10, 2010
My inaugural blog coincides with the start of our new project, a kitchen renovation in the back 'ell' of an early nineteenth century cape cod situated in nearby Eastport. The home boasts amazing views of the Passamaquoddy Bay and Canada.
Eastport (an actual port), has the distinction of being the easternmost city in the United States - as well as the smallest. Settled in the 1780's, on "Moose Island," it was occupied by the British, in the war of 1812. The community has struggled since the demise of the sardine industry in the late 1960's - but with the help of visionary locals and a fresh influx of artists, entrepreneurs and second home owners - it's on its way back. This Old House online voted Eastport the best place in New England to buy an antique home.
The existing kitchen dates from the late 1940's with cabinets "stickbuilt" probably by the homeowner or a part-time carpenter. Local lobstermen or fisherman often would pick up such work in the slow winter months. It was not very functional and in no way complimented or reflected the early federal moldings and trims that had survived in the rest of the home. With our design, we hope to bring the room back, in spirit and detailing, to its earliest period.
Renovation most always begins with demolition, but not everything need go in the dumpster. A patchwork of masonite paneling, acoustic ceiling tiles, sheetrock, crumbling plaster and lath held together by ancient wallpapers, was slated for removal - but first the cabinets had to go. Their construction made them impossible to save intact, but the doors and drawers were in reasonable condition; perfect candidates for recycling. We checked with our local antique dealers first, but found no takers; so we kicked everything salvageable to the curb. Once there, these elements quickly found new homes. Within half an hour a neighbor had snagged the drawers for his garage workshop. Another grabbed the countertops. By the time we returned from lunch - the rest had miraculously vanished.
What we discovered as demolition progressed was not the norm. Three kitchens in one! Removing 1940s era paneling revealed bead board wainscoting added at the turn of the century when modern plumbing was first installed. It was not in great condition, so we opted to dig further. Under that layer we found (still mostly intact) the original handplaned beaded baseboard and chair rail that had not seen the light of day in a hundred years and perfectly matched the rest of the house. Plans to recreate these details were scrapped - the originals will do much better.
(click photo to view larger image)
(comments = 0)
leave a comment