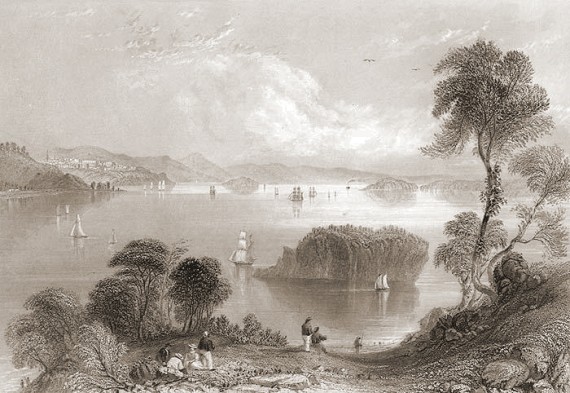 History in a Can
August 22, 2010
The Eastport kitchen renovation has come to a close, but the story isn't over just yet. One more aspect of the home's restoration begged for attention - its history. We learned that a similar house, across the street, dated to the 1820s. Detailing and construction in our subject home suggests a similar time frame - perhaps a few years later. A growing town can move from homestead farm to city street quite quickly. The question that most intrigued us now? Who had lived in this venerable old cape?
In an earlier renovation the homeowner had elected to expose the rough hand hewn ceiling beams in the parlor; a no-no for some purists, but a handsome feature in a post and beam building. It's common for us to find the name of a carpenter or homeowner written on the back of a cabinet, on a stud or under wallpaper. On two of these beams three signatures were scrawled in chalk; George Burnham, Charley W.B. and what looked like possibly 'Joseph' Burnham. An early electric installation, made the later name hard to read.
One weekend while browsing through a local antique shop we came across an Eastport map from the late 19th century. These maps can be invaluable as they often include next to each building the name of its current tenant. We located our house on Water Street and found that the homeowner was a G. Burnham. Another map, on another day, at another location, in an Eastport institution (The Waco Diner), showed a J. A. Burnham as the homeowner in 1855. Our curiosity was further peaked. Who were these Burnhams?
Since purchasing our antique farm, we've become well schooled in researching a home's history. Ours unfolded slowly, though miraculously. Tea and doughnuts with a neighbor who was also a relative, letters to descendents, tracing back property deeds - a lot of digging over many year has revealed a treasure trove of information, photographs and many valuable artifacts from our home's first family. The story of the Burnhams came far more easily, thanks to important developments in modern technology.
A Google search of the name George Burnham left us gobsmacked - when it revealed a somewhat misplaced, historical fact. In the second paragraph of my inaugural post about the kitchen renovation I made mention of one of Eastport's most notable industries - the canning of sardines. I didn't know how prescient that would be. It turns out that old George Burnham Jr. was the founding father of the American sardine industry.
Google has been hard at work scanning out of print books for access on the internet. You can literally type in a name and Google will bring you to any page where these words are mentioned. Several early books on Maine genealogy and history revealed quite a story.
Portland, Maine based George Burnham (a packer of lobster and other canned goods), had witnessed the abundance of small herring in the Passamaquoddy Bay surrounding Eastport. He was quoted to say, "these [herring] were too small to use for smoking or pickling, and I thought they might be used with profit as a substitute [for Mediterranean sardines], and if properly prepared they would be equally good."
He went to France (where sardine canning was invented) to study their methods - purchasing olive oil and other necessary items while in that country. In 1865, he set up shop in Eastport and began his experiments. Difficulties arose with his efforts to properly dry the fish (attributed to Eastport's damp climate) causing the herring-oil to go rancid in the can. Discouraged by these problems, while running out of time and money, he elected to turn his attention to other more profitable ventures. He did not realize that he was on the very threshold of success. The seed however, had been planted; others inspired by his vision and efforts would continue to build on his pioneering experiments.
It had been the practice of a New York firm to import from Germany small herring packed in kegs under the name of "Russian Sardines." Thanks to the Franco-German war (1870-71) and a blockade of German ports by the French navy, the importation of sardines from Hamburg had to be abandoned - raising the cost of Russian Sardines in New York City by 50%.This condition led to a reconsideration of the use of herring from the Passamaquoddy Bay. Experiments were reconvened in Eastport - this time with resounding success. A decade after Burnham - an industry was born. The quality of the Eastport variety proved so superior, it drove the German product from American shores. By 1886 there were 32 canneries on the small "Moose" island and neighboring coastal towns providing canned "sardines" to eager markets around the world.
But what became of George? He returned to Portland where, in 1867, he teamed up with Charles S. Morrill to found another packing business.This one for him, would do much better. In fact, a supremely successful Burnham & Morrill brand still survives today - better known by a little product you may have heard of and very likely tasted; a uniquely American institution - B&M baked beans.
One question still remained however; was this really such a fluke? Could it be that this Burnham was not really 'our' Burnham, but just an interesting coincidence? Back to Google for another look. One of the out of print books on the genealogy of Maine families included photographs of George and his brother Josiah. Josiah was also 'on the board' of Burnham and Morrill. Could Josiah be our 'Joseph' and the 'J. A.' on the map? Under each photo were these respected men's 'official' signatures. We printed them out and the following Monday took them to the job and held them up to the infamous beams.
You didn't need to be a handwriting expert to see that they both matched - perfectly! Our client was understandably thrilled, but all the more intriguing, not only does she live in a Burnham home, but she and George even share a birthday - a fresh chapter in this home's history.
(click photo to view larger image)
(comments = 1)
leave a comment