Holiday Season Sale
November 19, 2012
We're kicking off our Holiday Sale on Small Business Saturday - November 24th.  All orders placed will be 15% off until December 24th.
Shop small and local for: Artist Made, Hand Made & Maine Made gifts this holiday season.
Check out our The Tradition of the New line - everything from side tables, gourmet cabinets, lamps to gift boxes or our Etsy store.
Coming soon - our North Fork wine racks and cutting boards made with maple and cherry (also available in hand painted finishes). They will be the first pieces of our new natural wood line.
This year we were honored that our side tables were Editors' Choice in Down East magazine's 58th annual Best of Maine issue!
Happy Holidays!
(click photo to view larger image)
(comments = 0)
leave a comment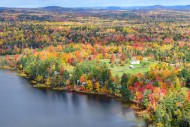 fineartistmade blog
A journal about home design, gardening, art & all things Maine. Read more...
FAVORITE POSTS