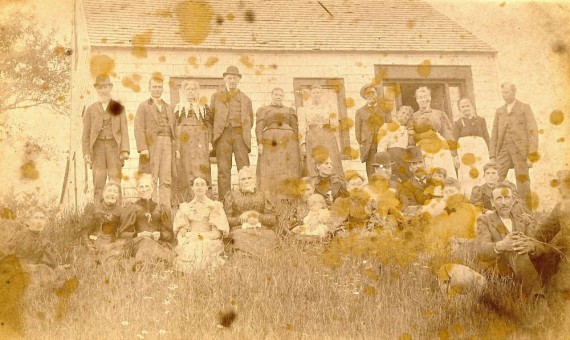 Incident at Ipswich (part 2)
April 28, 2013
William Laud acted promptly. The records of the Privy Council show that a warrant for tying up the two Ipswich vessels was issued within the week. A few days later, on February 14, similar steps were taken for the detention of ten other ships lying in the Thames near London; all under similar charters for Massachusetts Bay Colony.
A letter was sent to the bailiffs and officers of the customs of Ipswich."Whereas we understand that there is a ship bound for New England, lying within that porte, for the transporting of passengers thither. We have thought good hereby straightly to charge and require you to make stay of the said shipp and not suffer her to proceed upon her intended voyage until you receive further order from this Board. And that you the Bayliffs send upp some fitt person to attend the Board on fryday next, authorized and instructed to showe unto us upon what grounds or by what warrant or authority the said shipp & passengers goe thither"
The Council met again on Tuesday, February 21st when further action was taken. The archbishops of Canterbury and York were both present. Matthew Cradock, merchant, politician and the first governor of the Massachusetts Bay Company, was ordered to appear. "Whereas the Board being given to understand of the frequent transportation of greate numbers of His Maye"s subjects out of this Kingdome to the Plantation called New England (whom divers persons know to be effected & discontented as well as with the civill as ecclesiasticall gov'mt) are observed to resort thither, whereby much confusions and disorder is already growne there, especially in point of religion, as besides the ruin of the said plantation cannot but highly tend to the scandal both of the Church and State here.
It was thought fitt and ordered that stay should be forthwith made of the said shipps until further order from the Board, and that the several masters and freighters of the same should attend the Board on Wednesday next, in the afternoon, with a list of the Passengers & provisions in each ship. And that Mr Cradock, a chief Adventurer in that Plantation, now present before the Board, should be required to cause the Letter Patent for that Plantation to be brought to the Board."
On the first day of March, with the Archbishop of Canterbury present, a final order of the Council was made for the release of all of the detained vessels, including the two at Ipswich. It stipulated four conditions. "Forasmuch as the masters of the said Shipps were this day called before the Board and several Particulars given them in charge to be performed in their said voyage, amongt which the said masters were to enter into severall bonds of One Hundred Pounds apiece to His Mte's use before the Clerk of the Council Attendant, to observe and cause to be duly observed and putt in declaration these articles following;
1. That all and every person aboard their Shipps now bound for Newe England, as aforesaid, that shall blaspheme or profane the holy name of God, be severly punished.
2. That they cause the prayers contained in the Booke of Common Prayer established in the Church of England to be said daily at the usual hours for Morning and Evening Prayers, and that they cause all persons aboard their Shipps to be present at the same.
3. That they do not receive aboard or transport any person that hath not Certificate from the officers of the port where he is embarqued, that he hath taken both the oath of allegiance and supremacie.
4. That upon their return to this Kingdom they certify to the Board the names of all such persons as they shall transport, together with their proceedings in the execution of the aforesaid articles. It was therefore and for diverse other reasons best known to their upps thought fitt, that for this tyme they should be permitted to proceed on their voyage.
And it was thereupon ordered that Gabriell Marsh, Esqre, Marshall of the Admiralty, and all other his Mate's offic'rs, to whom the said Warr was directed, should be required upon sight hereof to discharge all and every the said shipps, and suffer them to depart on their intended voyage to New England. A like order, Mutatis mutandis, requiring the bailiffs & offc'rs of the Custiomes of the Port of Ipswich to discharge the ffrancis and the Elizabeth, bound likewise for New England and stayed by the warr within that Port."
Finally, in mid to late April 1634, once the powers that be had sufficiently flexed their muscles, the Francis and Elizabeth set sail. Plying the vast Atlantic without further incident or loss of life, they entered the clear unfettered waters of the Massachusetts Bay some five to ten weeks later.
The following year, Henry Dade was alleged by his opponents to have made the casual remark one night at a dinner in the village of Wickham Market that the King and Council would be glad if the thousands who went to New England were drowned in the sea.
When in November, thanks to Dade's efforts, Samuel Ward was banned from preaching for life for encouraging immigration to New England, there were riots in the streets of Ipswich. The Corporation of Ipswich refused to replace him, paid his stipend for life and after his death in 1640, supported his widow and eldest son who could not work himself. In 1637, Ward's compatriot, the "parson of Woluestun" Timothy Dalton, after his own suspension, immigrated to New Hampshire.
In the end, the Commissary of Suffolk's unyielding persecution of the Puritans of Ipswich would prove to be his undoing. Amidst charges of corruption, oppression and extortion brought by a friend of Ward's, a humble Puritan cobbler, he was compelled to resign his posts. The cobbler himself faced with excommunication sought asylum in New England.
As for Dade's accomplice, the Archbishop of Canterbury; in 1645, in the midst of the English Civil War, William Laud, in part for his crimes against the Puritans - was beheaded.
Edward and Rebecca would settle near Boston, in the colony town of Rocksbury - founded just five years before. There, in June of 1640, Rebecca would bare a son, Joseph. In his history of that municipality, published in 1878, Francis Samuel Drake described its early settlers: "They were people of substance, many of them farmers, none being 'of the poorer sort.' They struck root in the soil immediately and were enterprising, industrious and frugal. It is the testimony of an eye-witness, that 'one might dwell there from year to year and not see a drunkard, hear an oath, or meet a beggar.' "
Edward did not join the Puritan Church of Roxbury until 30 years after his arrival in New England. The entry in the church record  reads, 6m. 20d. 1665 - Edward Bugbey, an old man.
Three years later, on January 26, 1669, at the age of 75, preceded by his wife, Rebecca, he died. An abstract of his will, dated two months prior to his passing, reads, I, Edward Bugby, being stricken in yeares and but ill in my body, not knowing how short my day may bee, in sound mind, make this my last will. Debts paid, my sonn Joseph shall Enjoy my Housing and Land, barne and Orchard, all that is mine, on the right hand of the Way leading to the great Lotts, and Eight Acres of Swamp and upland, be it more or less, lying by Mr. Elliots Land, on the left hand of the way above said. And a Lott of Eleven Acres, lying by Nathaniel Brewers, at Wake hill, and one Acre of fresh meadow, bee it more or less, lying in the Towne great meads, Two Acres of salt marsh, lying by Goodman Waterman's marsh, on that which is called gravell point; eight Acres of upland, lying upon the Pond Hill, lying by the Land of William Lyon and Samuel Gary. Also, two Cowes, one Coult, and two Hoggs, that I have heretofore given him, and that bedding and household stuff that I have already given him. My will is, that my sonn, Joseph, shall have this for his Portion, and he shall have noe more of my Estate. My Will is, that my dau. Sarah, shall have my Tenn Acre Lott, in the first divission and sixteene Acres lying by it, that I bought of Edward Pason, and twelve Acres in the Thousand Acres, and one Acre and a halfe of salt marsh lying in gravely point, by Goodman Finch. My will is, that my dau. Sarah, shall have that bedding and household stuffe and those Cattle that I shall leave at my decease, and also my money and Everything that is mine, which I have not given to my sonn Joseph as is above expressed. My will is, that out of that which I have given my dau. Sarah, that there shall be payd my sonn in law, Chamberlin, the Husband of my daughter, £18 in Corne or Cattle, to two of my Grand children Mary and Rebecca Chamberlin, the one halfe of the £18 to Mary Chamberlin, and the other halfe to Rebecca. I Appoint my sonn in lawe, Chamberlin, my Executor. Robert Harris, Nathaniel Brewer, John Bridge, overseers. November 26: 1668.
Historical material thanks to; John Laurens Blake, The English Home of Mr. Timothy Dalton, B. A., privately printed, 1889
(comments = 1)
leave a comment