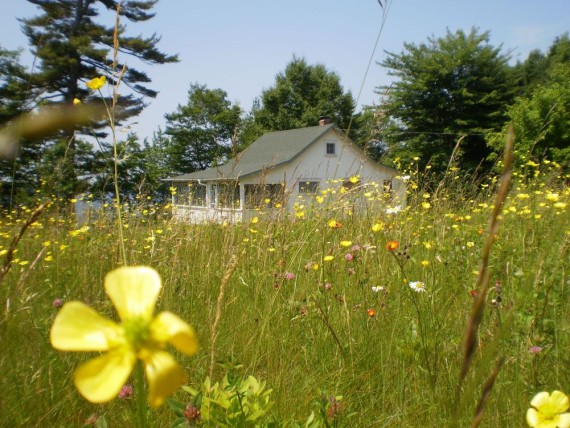 Kendall Farm Cottages
June 25, 2010
The shores of Boyden Lake are dotted with what Mainers affectionately call 'camps.' Camps got started on "Boyden's" late in the nineteenth century, when Nathaniel Golding (our home's builder) and his son, 'Rob' constructed three log cabins (for $50 each) on the east side of the lake - on Golding property - for members of Eastport's elite. Log cabin building was a skill passed down from father to son. Nathaniel's grandfather, Daniel 'Trapper' Golding, built his on nearby Goulding Lake shortly after settling in the area about 1827.
Soon after the appearance of these first three camps, more were to follow. Many of this new generation were quaint cottages of balloon frame construction. The original 1835 homestead cape (post and beam) on our property, joined the ranks when it was moved down to the lake and turned into a camp shortly after the present circa 1890s home was erected to take its' place.
'Eastporters' needed a getaway from the industry of the 'city' where sardine canning was booming. These camps became their summer destination. The Goldings would supply the 'campers' with butter, eggs, milk and cream along with vegetables fresh from the garden. This is a tradition that continues in similar fashion today.
Just a short walk across our north field and through a line of trees, you find yourself at one of Downeast Maine's best kept secrets - Kendall Farm. Two wonderful cottages, Watercress and Wildflower, built in the 1920's are maintained and rented by their current steward, Georgiana Kendall - who carries on a family tradition. This authentic New England farm is truly a nostalgic experience. A drive down a maple tree-lined driveway (where tapping is still done in spring) brings you to the farm's venerable and historic 1820s cape, 1913 barn, vintage garage, woodshed, hand-operated water pump, and the industrious vegetable and flower gardens. Further along, through woods and fields, the cabins hug the lake.
The property became 'Kendall' Farm in 1887; the year Georgiana's great-grandfather Samuel Kendall married Georgiana Golding - a sister to our Nathaniel. Their parents Robert and Martha Ann Golding purchased the circa 1824 farm from the estate of the first settler, in 1854. Generations have worked this farm, largely for their subsistence.
Georgiana's grandfather, Everett Kendall and her father, Bill, hand-sawed ice from the frozen lake in winter, packed the blocks in hay, and hauled them by horse-drawn sleds to ice houses near the cottages. By June, it would still be solid and ready for summer residents to use for refrigeration. Near 'Wildflower' the 'three-in-one' (ice house, woodshed and outhouse) still survives, though the cottages now boast all the modern amenities. An early cedar log boathouse and dock provide a perfect spot for sunsets or launching kayaks and canoes, in Boyden's peaceful waters, with the calling of the loons.
Since the 1920s families have come to the farm's two cottages to enjoy the quiet lake, the beauty of the idyllic property and to experience genuine Maine hospitality. The cottages are near and dear to the hostess, as Georgiana grew up spending summers on the lake - in the woods - at Watercress Cottage. Wildflower Cottage is - in the field - surrounded by buttercups, daisies and Indian paintbrush.
She affectionately follows in her late grandmother, Leona Kendall's footsteps. People would come from far and wide as much to see "Lonie," as the lake. They would visit in her kitchen where she would make a cup of tea; share a piece of pie or her famous buttermilk doughnuts - made in Georgiana "Grammie" Kendall's large, heavy, cast iron skillet.
Today guests enjoy the current Georgiana's homemade blueberry wine and canned preserves (like green tomato salsa). They can 'pick your own' from raspberry, wild blueberry and wild strawberry patches, as well as the farm's large vegetable and flower gardens. Wildlife sightings are common - with bald eagles, hawks, porcupines, skunks, snapper turtles, painted turtles and loons. If one is quick they might even catch a glimpse of the resident (and much loved) orange cat, 'Squash' as he makes his daily rounds.
(click photo to view larger image)
(comments = 0)
leave a comment