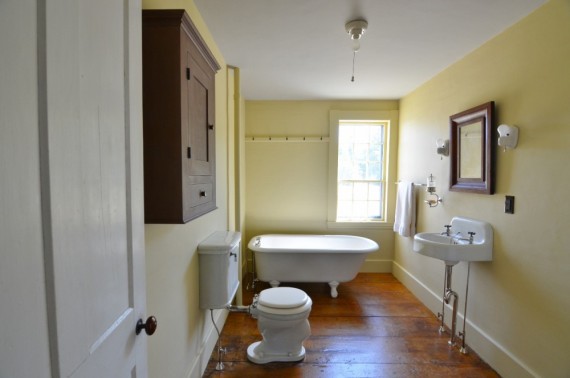 Leaving Well Enough Alone
August 15, 2017
With the kitchen restoration in our project home, a circa 1850, Dennysville cape, nearing completion, our focus turned to a bathroom on the first floor of the main house. The room, that likely once served as a small bedroom (sometimes called the "birthing room") was turned into a bathroom, in the late 1920s by members of the Leighton family. The surviving American Standard wall mounted sink, embossed 1928, pinpointed the date.
Subsequent renovations over the years further altered the space. A modern toilet and fiberglass shower, as well as faux tile wainscot wall board and vinyl floor tile had to go. The 1928 sink would stay with vintage toilet and tub slated to make a return to the space. As demo proceeded and new discoveries emerged, we revised our plan as needed.
The vinyl tile floor was in tough shape, with layers of punky masonite and grey marbleized linoleum peeking through from underneath. We didn't know what we'd unearth when we removed those layers, but we were prepared (at worst case) with a hexagonal, period friendly, floor tile to take their place.
What we got down to was a stubborn black adhesive on the original wide plank floors. Working a small section with a generous dose of wallpaper stripper, a four-inch spackle blade and numerous gentle rinsings, finally revealed a real surprise - a warm brown faux finish from the 1890s or earlier that matched the adjacent room. It was clear this floor, a protected time capsule for nearly 90 years, was well worth saving.
What lay ahead was a delicate painstaking operation with parallels to the restoration of the Sistine Chapel. Section by section the original beauty of the former bedroom floor came to light, with various blemishes (water stains and the like) only adding to its character. It was in remarkable condition, but old growth wood patches and a little faux finishing would be needed to deal with a history of holes from previous plumbing incarnations.
For the sake of authentic preservation and to avoid creating additional holes for ourselves, we recommended leaving well enough alone - keeping the sink and toilet in their original locations. We'd only have to drill new holes to plumb the clawfoot. The floor did need additional protection so it got three coats of Waterlox satin waterproof sealer/finish bringing out the rich color of the faux finish. An anti-sweat valve was also added to the toilet.
The room needed the usual fixing up including: stripping remnants of early wallpaper, calcimine abatement on the ceiling, plaster repairs, sanding and repairing woodwork, baseboard fabrication and electrical updates. In the course of that work we discovered the ghost of an old coat hook board next to the window that likely dated to the earliest days. We decided to restore that feature - using antique cast iron hooks that will be quite handy for bathrobes or towels above the clawfoot.
Also ascertained was the original color of the woodwork - a warm cream color that we were able to match to Benjamin Moore's historic, "Dunmore Cream." It was a nice compliment to the floor's warm tones. We used it on the walls, as well as the woodwork. For the ceiling, we matched the original grey color with Ben Moore's, "London Fog." We reused the original vintage porcelain overhead light and added a pair of simple porcelain sconces above the sink opting for pull chains rather than wall switches.
Plans for a built-in medicine cabinet were scrapped as we wanted a room that felt more like an evolution. We also wanted to avoid further damage to the original structure. Instead we custom built a wall mounted bath cabinet based on an antique that harkens back to the 1850s, dressing it with antique cast iron hinges and small marbled Bennington knobs that match the "brown bennies" on the doors to the room. The search is on for a period washstand that will sit beneath it. For over the sink our clients came up with a great Empire period ogee mahogany mirror.
A 1904 clawfoot tub with sweet feet was located at Old House Parts in Kennebunk, Maine,  a vintage nickel clawfoot faucet came from New York Salvage in Oneonta, NY and The Old School Plumber in Massachusetts came through with a unique 2-piece, wall mounted toilet, circa 1915. It was one of many, rare Haines, Jones, Cadbury Co. toilets that had recently come out of the famously "haunted" hotel, the Yankee Pedlar Inn, in Torrington, CT. Established in 1858 in Philadelphia and still in business today, Haines, Jones & Cadbury made plumbing items that were primarily for public and commercial use.
A few finishing touches were added, such as the homeowner's vintage nickel toothbrush/soap dish holder, the home's original vintage nickel towel bar made by the Good Manufacturing Co., NY, as well as period eBay finds - a matching towel bar and an art deco San-O-La nickel toilet paper holder.
One of the nicest compliments we received came from our go-to guy, Mike, at Old House Parts, down the coast, when we sent him a picture of OHP's old tub planted in its new location, "Could have sworn it was an authentic early 1900's bathroom!"

Click here for a before/during/after album of the project.
(click photo to view larger image)
(comments = 1)
leave a comment