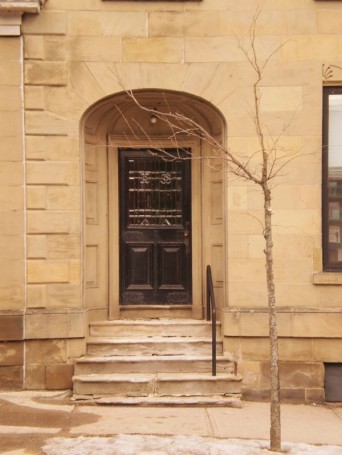 'Over Home'
March 13, 2011
Last Thursday, our current bath renovation was unexpectedly interrupted - giving us a day off that coincidentally coincided with my birthday. We took this opportunity to hop across the border and go, as locals like to say, 'over home.' Our destination was one of our favorite Canadian day trips - the nearby port city of Saint John, New Brunswick. A blend of ancient and modern buildings laid out in a 'British' grid, it has a feel that is more distinctly European than American. I am reminded of time spent in Dublin - though I can't help thinking of San Francisco along the way.
In its city center sits the historic centerpiece circa 1876 City Market - an enclosed fish and farmer's market and one of my Canadian architectural passions. It's website explains; In the nineteenth century Saint John was one of the world's leading shipbuilding centers, so it is no surprise that the roof of the City Market resembles the inverted keel of a ship. Hand-hewn timbers and dove-tailed joints that have stood fast for more than century attest to the skill and experience of the builders. Fortunately, the Great Fire of 1877 left the market building undamaged.
Today the market is as vital and productive as ever. It runs a full city block and reminds me of the open and closed markets (like Covent Garden, Camden and Portobello) I often visited while living in London. The merchants here sell everything from seafood, meat, fruit, vegetables, nuts, coffee, gifts as well as imported British and Italian goods. Those items line the aisles where the original meat hooks still survive, but shelves now take the place of sides of beef.
The perimeter is home to a variety of food stalls where one can stop by and pick up fresh bread, fish & chips, lobster rolls, and more. One of our 'kitchen' clients who visits St. John, recommended "Kim's Korean Food."  When we showed up for a birthday brunch 'Kim' suggested the lunch special which had a little taste of everything. While we waited we took in the market's festive atmosphere. The food was delicious - my favorites; the dumpling soup, spring roll and spicy pork.
The stall beside us, Slocum and Ferris was established in 1895. Historic photos hanging outside show that it hadn't changed a bit. They sell world famous Dulse which they harvest off the island of Grand Manan. Grand Manan is a Canadian island that can be seen on the American side from neighboring Lubec. The sheer side of the island looks a lot like a 'grey' cliffs of Dover. Dulse is an edible 'seaweed' which grows widely along the shorelines of the North Atlantic. It has been harvested as a source of food for thousands of years and is an acquired taste. A Perry born friend of ours likes to sprinkle it on salads as a substitute for salt.
After browsing through the market we made our way outside to take another look at the building's handsome exterior and snap a few photos. A helpful "Saint Johner" noticed our interest and suggested heading down to Germain Street for more, impressive, old buildings. Navigating the nutty one-way layout, we headed west where beautiful brick and stone edifices morphed into 'Painted Ladies,' with the bay in the background. I was reminded of my San Francisco days.
Several more zigzags took us to a beautiful Gothic vision on a hill - St John's Anglican Church on Carleton Street. Built in 1825, most of the cost of construction was paid for by the British Crown with the building's stone brought from England as ballast on ships. We also drove past the Loyalist House which was unfortunately closed for the season. This circa 1817 Georgian mansion is one of few wood framed buildings to survive the great fire of 1877 (which destroyed a good chunk of the penisular city). A sidewalk sign directed us to a used and rare bookstore on Coburg Street. We stopped in to check out their selection of art books and found that we were standing in one of the oldest stone and brick buildings left in the city. The 1827 three story brownstone (actually buff colored sandstone) sported an ornately curved entrance and front door. Its well worn stone steps and iron boot scraper had all also survived the '77 conflagration.
We plan to return to Saint John this summer to discover more of the city. We want to get inside the old loyalist house and take a stroll through that incredible stone church. After another visit to the City Market we may walk across the street and sit on a bench in King's Square and leisurely enjoy the gems that surround it: the Old Number 2 Engine House Museum, the restored, brick and terra cotta, Imperial Theatre and an impressive art deco structure, the Admiral Beatty Hotel. The later sits on the northwest corner of the square, on the spot where the first wind powered grist mill was built in 1795.
After St. John, we might just drive north a little further; taking in an early Acadian settlement, French Village, and the Loyalist cemetery nearby, where ancestors of our home's builder are buried (over home). We've heard the ride along the beautiful coastal Fundy Trail Parkway is spectacular.
(click photo to view larger image)
(comments = 0)
leave a comment