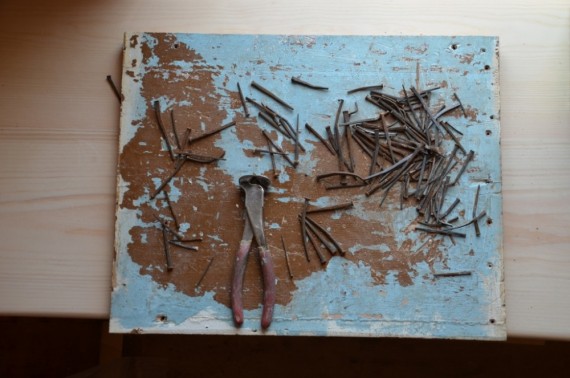 Square Nails and Tells (part 2)
May 29, 2017
Early in the home's history, probably as an afterthought, a door was cut between the pantry and the summer kitchen likely to provide a more direct route between the two. In the early 1950s renovation, when the pantry was turned into a dining room, part of the wall was cut out to enlarge that doorway. We reconstructed missing structure, sheet rocked and re-boarded walls, then built a door frame and sill, to match originals in the home. In the pantry itself, shelves and cupboards had also been removed. We restored all to their original design and locations based on the ghosts that these long-gone elements left on the walls and floor.
In their day, shelves would have been made from one solid piece of old growth lumber; hand planed and likely sawn from local timber just up the Dennys River, at the old Lincoln Mills. Some were as wide as 17 inches. Pine boards were glued up to simulate this. Helpful aids to restoration were found in remnants of these shelves repurposed in the kitchen cabinets, as well as, similar surviving shelving in the parlor closet. Brackets supporting the shelves were chamfered and nailed to the wall with shelves toe-nailed in. Surviving square nail holes told us this and guided reconstruction. Common in 19th century pantries, the lowest shelf was placed high enough by the original carpenter to make room for a flour barrel or two underneath.
Our client had her heart set on 'whale tail' shelf brackets in the pantry, a form she'd seen in another antique home. A simple adjusted 'S' curve creates a silhouette reminiscent of a whale's back and tail. We found several examples online and with pencil and paper, worked with her to create our own unique version - using them to support shelves on the window side of the pantry. Below them, window sill height cabinets were recreated, closely following tells, leaving a space in the middle for an upgrade - a thirties era fridge. An outline drawn by water stains on the floor gave us the size and location of the doors and thresholds. A surviving batten door in the upstairs finished storeroom provided the blueprint for their reconstruction. Antique hand turned mahogany knobs, suggested by originals found in the home, and simple shop made turn-latches provide important detail and convenient function.
Plaster walls and ceilings in the kitchen and laundry had seriously failed. We opted to replace them with sheetrock - skim coated and textured to simulate plaster. Happily, the pantry ceiling had survived intact, but had its problems. It had been coated originally with an inexpensive finish commonly used in the day - a grey calcimine wash. The trouble with calcimine, a mix of slaked lime and chalk, is its powdery surface - subsequent paint has trouble sticking to it. Chronic flaking and peeling is the usual result. We had to remove everything with a wallpaper steamer - calcimine, oil and stubborn latex - then prime and repaint, going with a warm shade of grey (Benjamin Moore's, London Fog) that most closely matched the original.
Wood plank floors had been covered for many years by layers of linoleum. Thankfully our clients had already done a bit of DIY, removing the offending coverings and most of the adhesive, as well as the failing ceiling. We removed the remaining residue of adhesive - scrubbed the floors clean - then left them unfinished as they would have been in the old days. We had to recreate many missing door sills, nailing them down with square nails. However, the bright new wood stuck out like a sore thumb - we needed a miracle elixir. We made up a brew of fine steel wool and vinegar, let it sit for 4 days till the steel dissolved, then brushed it on. Within an hour our sills were chemically 'aged' to the same warm mellow grey of the floors.
Electric was upgraded with new wiring and three-way switches for safety - keeping it simple with a bare minimum of outlets. In most places, old fashioned pull chains work just fine and vintage brown outlet and switch covers provide a period look. We went bold in color - painting all the woodwork Ben' Moore's environmentally friendly and durable, 'Aura' line, in Boston Brick, with a dull matte finish to match the room's original, earthy, red milk paint.
In an effort to keep it real, we were determined that nothing new or reproduction would come into the space. You just can't beat the quality and patina of the real thing. All of the hardware and fixtures are antiques, found on eBay, local antique shops, various architectural and plumbing salvage sources and our own stash. These include, cast iron - butt hinges, bin pulls, cupboard latches and hooks; hand turned mahogany knobs, porcelain light fixtures (that match originals in the home), 1940s patterned, brown, Bakelite switch and outlet covers (also matching an original), slotted screws and of course those many square cut nails.
Still in the works is a shop built cherry top worktable with a single dovetailed drawer and tapered legs, inspired by those found in many 19th century farmhouse kitchens. Mortise and tenon joinery with exposed dowel pins, as well as buttermilk colored milk paint, add to historically accuracy - an antique hand turned mahogany drawer pull, provides the finishing touch.
We're anxious to see the rare 1927 Glenwood stove in its spot in the summer kitchen next to the chimney. It is currently undergoing rehabilitation in Rhode Island at the Antique Stove Hospital. As for that space between the cabinets in the pantry, we're going to have to wait for the classic leggy 1933 Westinghouse refrigerator till restoration is completed in Georgia by the Antique Appliances company. For now, an 1890 Berkshire solid oak ice box will reserve its place.


Click here for Part 1


Visit our facebook page to see before, during and after photos of the kitchen & pantry restoration project.
(click photo to view larger image)
(comments = 0)
leave a comment