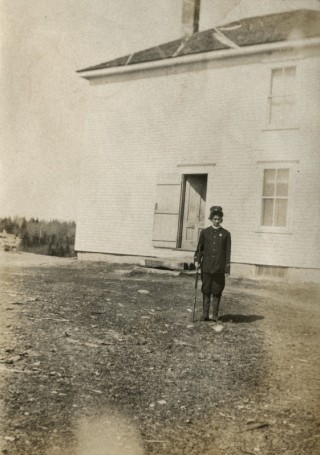 THE BOYS IN BLUE (Part 4)
March 16, 2014
On February 15, 1899, a small ceremony was planned to honor the 266 sailors lost in the explosion of the U.S.S. Maine in Havana Harbor a year before. The only army unit to take part was the First Maine Heavy Artillery. The Cuban military governor, Major General John Brooke, and the inspector general, Brigadier General Ernest Garlington, were present, along with men and officers from the transport U.S.S. Resolute anchored in Havana Harbor. 
"While we was in Cuba, why we went around different places and at the anniversary of the blowing up of the Maine, why we went - marched.  I don't know how many regiments was there - I don't know how many soldiers - but they was lined up on the streets. They was from all, every state of the Union nearly down there. And they had a memorial service for these soldiers, sailors rather, that died aboard the vessel - great big cross in there - with flowers 'round it and the road side was lined up." 
Three weeks later, on March 9th, Rob's battalion departed Havana aboard the transport Michigan, arriving in Savannah, Georgia two days later. Due to serious concerns about a Yellow Fever epidemic in Cuba, many of the returning soldiers were disinfected at the Savannah quarantine station and its annex, Daufuskie Island, in nearby South Carolina .
"When I got back to Savannah, they put us on a quarantine station down Saprow Sound. Well on the ship they took your clothes away from you and all they left you was your hat and shoes. And they put them in this big steam box and fumigated them - sterilized them, whatever they done. And then when they handed them back to you - they was all wet and you put them on - was all you had. And then they put you ashore on an island and there was one building on the island would accommodate about 50. Ashore on the island there were sulfur springs there - they were hot. And I drank a lot of that sulfur water and I don't know what else what I ate. Why I had what they called Bloody Dysentery - but I was in quite tough shape for a while."
Rob's battalion was mustered out of service at Savannah on March 31, 1899, with a final troupe count of 15 officers and 457 enlisted men. During its term of service, the battalion lost 10 enlisted men to disease, with 6 more discharged on disability and 16 deserted. The war officially ended while he lay convalesing in a hospital bed in Savannah. On April 11, 1899, the Treaty of Paris came into effect, heralding the demise of the old Spanish Empire and the rise of the United States as a global superpower.
"Well then, if I remember correctly - your company, or your regiment, or brigade, whatever it is, they went home without you didn't they?"
"Oh yeah, they left me in Savannah, Georgia. They got mustered out about a month before I left the hospital. I was going to take a boat for Boston. On the boat going home, I had on my uniform and there was a couple of old Civil War veterans on. They was coming up from Florida on this passenger steamer. And when they saw I had a uniform on, they come over and inquired what outfit I was in and so forth. They found I was in Maine and one of them wanted to know if Maine boys was as bad for stealing this time as they was in '61. And I said, 'well some of them was kind of light fingered.' And they said that in their outfit they was marching with Sherman, through the country, when he marched - Sherman's March to Sea.
He said they had to live on the country and the Maine outfit that had done the foraging was the 16th Maine. They said they was passing through the country and one old planter was out and he was wringing his hands, 'Ohh,' he says, 'the Yanks have cleaned me out - they've cleaned me out -they've taken everything I've got - everything but my faith in God.' and he says,'They can't get that!' And one of the officers spoke up and said, 'Don't be too sure old gentleman - 16th Maine's right behind here.' " (Rob and Archie burst out in laughter)
Postscript:
The December we moved into our new farmhouse, in the days just after our initial visit with Leona Kendall, we found much to do and investigate before the first snow fell. We scoured several small ailing outbuildings, ruins of the once thriving farm, as well as the still sturdy 1920s garage, looking for items with history that we might want to salvage and preserve.
It was in the jam-packed garage that we found a cache of ephemera including old photos and vintage clothing. There was a classic, red and black, plaid hunting cap, a circa 1930s L.L. Bean duck parka, several vintage, well worn, all wool long johns with patched knees and bums, some sweet hand-embroidered doilies and what appeared to be a somewhat tattered, woolen, military jacket. We stuffed everything into garbage bags and brought them into the house since the varmints had already started to destroy them.  
It would be another year before our thoughts returned to that treasure trove stored in a back room. We went upstairs and pulled things out to take another look. A crazy quilt stood out because it was likely over 100 years old and quite possibly made by Mary Golding from the family's worn out clothes and the old home's velvet drapes.
What really caught our eye was the navy blue military uniform. Its red stripes and brass embossed buttons seemed vaguely familiar - we hadn't really focused on it before. On closer examination its brass buttons, that buttoned up tight to the collar, bore the unmistakable seal of the great state of Maine; a pine tree, a moose, a lake and the forest, emblazoned on a central shield - flanked by a farmer with his scythe and a sailor with his anchor - topped by a fluttering banner inscribed with the phrase DIRIGO (Latin for I lead) and crowned by a brilliantly shining north star - the mariner's steady guide.
We excitedly brought it to the dining room and held it up to the photo of young Rob in his Spanish American War uniform. There was no mistaking the distinctive tailoring or those Maine Militia brass buttons - even the sewing wrinkles and stitching matched. We had the genuine item and a fitting souvenir of our old friend, Rob Golding, who had long cared for the home where we would spend our happiest years. 
Click here for Part 1, Part 2 & Part 3
Thanks to the University of Maine Folklife Center
(comments = 0)
leave a comment