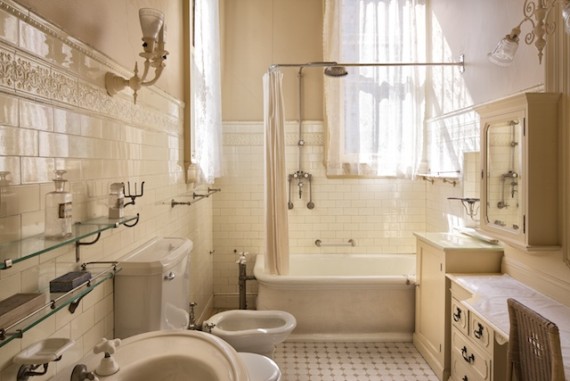 The Case of the Dubious Earthenware Tub
May 19, 2013
I recently received a lovely compliment when one of our clients, a Calais, Maine native son and local town historian, exclaimed, "you're the Sherlock Holmes of restoration!"
While it's true I once lived on Baker Street, not in London but the City by the Bay - I'm not sure that that illustrious title quite fits.This role was better played by Basil Rathbone or my favorite, Jeremy Brett. While there is a great deal of detective work in restoration, examining subtle clues, reading tiny tells, as Holmes would say, "the observation of trifles," finding a perfect match or just the right piece is not such a mystery - it's elementary.
It's less about evidence or deductive reasoning and more about perseverance, a little bit of luck and a whole lot of passion.
These days there is no dearth of places to sleuth. It's really a matter of looking under every rock and turning over every stone. Our "methods" include scouring the internet for antique and vintage sellers, facebook-shout outs, emailing or visiting architectural salvage yards, calling local plumbers and electricians, hitting antique shops and yard sales and placing wanted ads in local newspapers.
The genesis of our client's kind words began with the restoration of 32 windows in his 1895, "Maine Italianate." While busy with this project we were also removing all the hardware from the sashes and interior doors so that we could strip the paint that had been slathered over the years - obscuring the beauty of these 19th century gems. A few of the Eastlake window locks and embossed door hinges were broken and some of the porcelain door knobs, Black Betties, along with their decorative rosettes had gone missing. We tracked down exact antique replacements on eBay and from our go-to source down the coast in Kennebunk, Old House Parts - our client was elated.
The quality and detail of an original piece of hardware can't be beat by anything manufactured today. Once we stripped the rosettes on our list, they presented a special opportunity. They were made of cast bronze, embossed with a floral pattern, with traces of black paint. I dispatched my "Watson" to the shop to perform some subtle black magic. He sprayed them all with a coat of black paint, then after a few minutes, gently wiped the raised embossed pattern with a paper towel, lightly dampened with mineral spirits leaving the black paint in the depressions. It was quite a remarkable transformation. Our ailing escutcheons were doctored back to their original 19th century beauty.
We have been in discussions with our client about future projects he is contemplating for the old homestead, specifically bathroom and pantry restorations. I was doing my usual for a current bath renovation in a 19th century Eastport Cape; pouring through resource magazines, photographs and books to find inspiration. I just couldn't keep that Italianate out of my head; so I flagged pages with post-its and a stack started to grow. I left the pile for our client and was sure they would provide him with inspiration as well.
A period bathroom in a magnificent home, not far from my old San Francisco flat on Baker Street, caught his fancy. It was in an 1886 Queen Anne survivor of the 1906 earthquake and fire. The Haas-Lilienthal House is the city's only Victorian home that still contains much its founding family's authentic furniture, decor and artifacts. This gloriously intact Painted Lady has been open as a historic house museum since 1972 when the family donated it to the Foundation for San Francisco's Architectural Heritage. What stood out was its unique and sensuously curvy corner tub  - our client was smitten.
I'd not come across a tub quite like this before, so I began an online search. I found the perfect match at Bathroom Machineries, a company that specializes in antique and reproduction fixtures. They called it an earthenware tub and though it was a beauty, I had second thoughts when words like "monster," "2,500 lbs." and "have forklift handy" were bandied about.
I learned that by the late 1870s, American sanitary ceramic ware manufacturers had figured a way to cast and kiln heavy solid earthenware bathroom fixtures such as bathtubs and sinks and have them hold their shape in the process without the aid of metal. These tubs were made of a tan fireclay or earthenware material and coated in a glossy white glaze of pure glass that will never suffer from a chipped and rusty drain hole. With walls and bottom that could measure 3 to 4 inches thick, they were large, heavy and difficult to handle.
In the late 19th and early 20th centuries, these luxurious behemoths were literally lifted by cranes into the upper floor master bathrooms of some of finest homes being built in America. I asked our go to guy, Mike, at Old House Parts what he knew about them. He concurred that we would need to hire a team of Pro Wrestlers to put that sumo to the mat. It was when I told our gracious client what I'd uncovered, that he issued his effusive testimonial.
While that earthenware tub turned out to be a cold case, it did manage to tell us a story. Much like Conan Doyle, the art of the hunt, when treated as an adventure, can often carry one off to faraway lands and exotic places.
The home where that tub resides, the Haas-Lilienthal house, has a rich history and is a superb example of upper middle-class Victorian living. This bona fide National Treasure was built by William Haas for his wife Bertha and their three children. Designed by architect, Peter R. Schmidt, a San Francisco legend, the house at 2007 Franklin Street, was years ahead of its time. It is an exquisite example of the Queen Anne style, with elaborate wooden gables, rich ornamentation and a circular turreted corner tower topped by a Witches Cap roof. Built of old growth redwood and fir, the home withstood the 1906 earthquake with only minor damage.
William Hass, was born in the small Bavarian village of Reckendorf to a humble Jewish weaver. The date of his birth, 1849, was just a year after the failed March Revolution brought heartache to the disenfranchised Bavarian Jewish people. Denied the rights of full citizenship they hoped a successful revolution would finally provide, many would seek a better life as immigrants - pursuing the promise of the American Dream far across the Atlantic.
William himself sought passage to New York City with his brother, Abraham, at the tender age of 16. He would work his way across the emerging nation, pausing for a time to dig for gold in the Idaho mines of Boise Basin and Silver City. He would finally settle for the merchant's life in the City by the Bay, where he would become one of the pioneering builders of a great American city. In 1906 in the midst of the historic earthquake and resulting fire, his business would burn to the ground while his beloved home was saved. Ruined only temporarily, the tenacious William would recover, rebuild and in the end regain his prosperity.
When he passed away suddenly after a full day's work, in 1916, a local Rabbi wrote that his death, "created a void in the ranks of merchant princes and philanthropists in San Francisco." Those he left behind in Reckendorf, who chose to remain in Bavaria, would receive full citizenship just 4 years after his immigration in 1865 - a status that would not be reversed until the tragic rise of the Third Reich.
My heart is with restoration and preservation with all the irreplaceable quality, precious history and touching humanity that come with it. If I have a nemesis, my own Moriarity, then it may well be that insufferable, diabolical, cunningly malevolent - wrecking ball.
Photographs from San Francisco Architectural Heritage / Jody Stuart Photography
(click photo to view larger image)
(comments = 2)
leave a comment