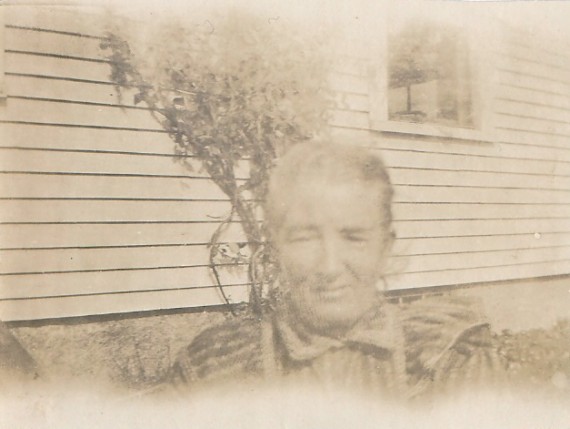 The Honeysuckle Vine
July 9, 2010
Mary Golding passed away ninety-three years ago. A white rosebush she planted at the side of our home still blossoms there today. This was revealed by her granddaughter and namesake, Mary Taylor. Mary was born in Perry the year her grandmother died.
As a child Mary 'T' was drawn north, to the wild grandeur of the forty-ninth state. She has lived in Alaska for the last sixty years; more recently in a cabin she built in the woods, in a town called Sunrise. She lived in our home in the early 1930's with her uncle, Rob, after losing her mother and two sisters to tuberculosis (an illness she herself suffered and survived).
When she 'telephones' now - she likes to say, "It's Auntie Mary."
We first learned of Mary from her aunt, Emma Golding. We sent her a letter introducing ourselves, with several old photos of our home. She sent us back a tape recording - apologizing - explaining she could no longer find typewriter ribbon. The recording was rich with humor and rare storytelling ability - her wonderful Maine accent intact.
"I know that house," the tape began, and did she ever.
Prominent in many old photos of our home was another of Mary Golding's plantings that had not been so lucky. A large climbing vine, on the south (sunny) side of the house; between the dining room and kitchen windows.  It's there as early as 1910 and as late as the 1950's - gone by the 1970's. It was such a distinguishing feature; we thought of putting it back. Black and white photos however, gave us few clues as to what kind of vine it was.
Mary had an amazing memory. In her tapes she described the house and life on the farm in rich detail. She told how the kitchen was arranged - as you came in, shotguns leaned close to the old backdoor; a pantry to the left with a black cast iron sink and hand-pump; a small cooking stove near the basement door, a wood box to its right; a work table near the stove (past the dining room door) under the window facing the barn; a couch, a rocker (in front of a window facing the apple orchard) and a rough wood bench (which was handy for a washtub on wash day) completed a circle of the room.
Beyond the kitchen she remembered the creaking stairs (they creak just the same today) and how the cats liked to sit on the cool granite millstone steps out front (our Hailey's favorite spot) in summer.  We had so many questions for her about the family and the house which she was more than happy to answer.
On that first recording she described the various plantings of her grandmother's and wondered if any had survived. Of particular interest was a vivid memory; the sweet scent of honeysuckle, wafting through her bedroom window on the warm and breezy summer nights. The vine had grown at the side of the house between the dining room and kitchen. Her bedroom was above the kitchen. She remembered that the bees coveted its nectar and how hummingbirds would get their long slender beaks lost in deep yellow and white blossoms.
She marveled that the rosebush was still there; subsequent pictures brought her to tears.
With a lot of restoration projects on our hands the honeysuckle took a back burner.  After completing my perennial garden several summers ago, I revisited the idea. I found some photos online - examples that seem to fit Mary's descriptions - and mailed them off. She narrowed them down to one in particular - a Japanese variety - but would it withstand the harsh Maine winters? Buying through a nursery, could be risky. It made sense that if one had grown on our house - like any other heirloom planting - there must be others that had survived locally.
It seemed strange that after a couple of years searching - there had been no sightings.  Then last week while on a lunch break, we were driving down a side street in Eastport. Out of the corner of my eye I saw it - full of yellow and white blossoms. In front of a very old house, growing on an ancient trellis - it looked as though it had been flourishing there for a long, long time - possibly a last survivor. I resolved then and there, to 'borrow' a cutting and restore Mary Golding's featured honeysuckle to the side of our house.
Who knows - maybe this Eastport 'bush' got its start, from a cutting from Mary's vine in Perry - some hundred years ago.
(click photo to view larger image)
(comments = 0)
leave a comment