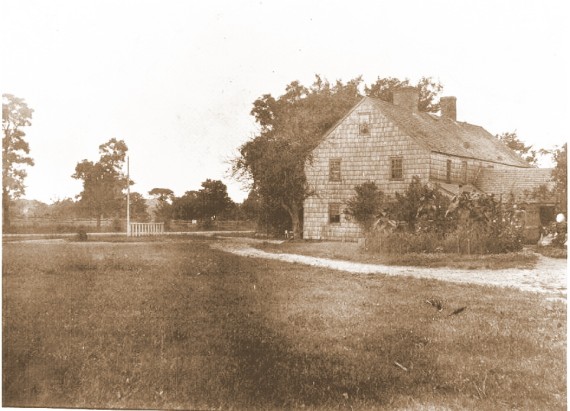 The Ketcham Inn (Part 2)
December 15, 2010
On the first day of December, 1698, just a month and a half after purchasing a large tract of land known as Warracta Neck, the blacksmith, Samuel Terrill, suffered a calamity so severe that it would leave himself and his family homeless.
A fire kindled in the thatch of his home "consumed to ashes" his "house together with all his goods, clothes & provisions." Thankfully, his wife and six small children were spared. His neighbors recognized his "great poverty and necessity" and Samuel then himself, petitioned the governor of New York to grant him "authority for the collecting and receiving the charity of well disposed persons."
Nearly 300 years later, on a Thursday, August 3, 1989, 23 individuals, adult and children, residing in a homeless shelter in Center Moriches would fall victim to a similar event.
Started by a 12 year-old boy, about 3 A.M., the fire would quickly spread from a couch in the first floor dining room to the second floor, involving much of the front of the house. Terrified residents, forced to leave their belongings behind, were sent fleeing into the night. Fortunately a smoke detector connected by phone directly to the fire station summoned help, which came promptly. This crucial element would minimize damage and prevent loss of life. The traumatized and distraught residents were found alternative housing within hours of extinguishing the blaze.
At the time of this unfortunate incident, homeless shelter was just the most recent incarnation of a building whose earliest wing may well have been standing, when Samuel Terrill and his family found themselves 'on the street.'
What could have been the death knell for the ancient edifice became a call to action. The old inn was left in poor condition and demolition seemed eminent. The absentee owner was contemplating tearing the structure down, so that he could sell the property for a shopping center. A small group of local concerned citizens were granted permission to clean up the site and research the building's historical and architectural significance. The Ketcham Inn Foundation was born.
When we were first privileged to meet the organization's tireless leader and take our inaugural tour of the inn's restoration, we found in Bertram Seides, a kindred spirit. We shared stories of our own restoration efforts as he shared his. We began to learn the inn's compelling story. His enthusiasm for the process, down to the most subtle of minutia, was refreshing. Anyone who has ever taken on such an ambitious project knows that none of it is easy.
We were pleased to find out how much had been accomplished in the intervening years since that unhappy conflagration. The site was finally protected and lay in an historic district. Archeology had been done, conservation specialists had been brought in, plans had been drawn, history had been gathered and restoration carpenters specializing in timber frame construction had been hired and were busy on the job. Extensive work had already been done to peel away the layers and identify and preserve what was original to the historic building.
Though scorched evidence of the fire was apparent, we were surprised to see how much early material had endured the event - remarkably unscathed. A corner cabinet, mantles, wainscoting, trims around doors and windows and the structure's re-exposed overhead beams were just some of the surviving elements.Though much antique plaster had crumbled away, the building's ancient 'accordion' lath remained. Bert showed us how severely damaged elements were being carefully documented, then replicated with appropriate materials by expert craftsmen.
Restoration usually begins with stabilization and the bones of this building needed some serious tending to; the pretty parts would come later. Three centuries of occupation along with occasional periods of neglect had taken their toll. Bert explained how the structure had been lifted (those steel I-beams we recalled), so that the sill and floor joists as well as the old foundation could be restored. Solid oak was put in place by the Foundation's skilled timber framer where original structural elements had failed.
An old building retains many clues even if early parts are missing. Bert pointed out 'tells' in the structure around the windows indicating that most of the window frames were 19th century replacements for 18th century originals. Surviving elements of an early frame would be used as a template to recreate the older form. Everything was carefully documented and labeled - though it seemed that you didn't really need to - Bert could always put his hands on exactly that piece his carpenter was looking for and knew right where it belonged.
On a subsequent visit the failing east chimney was being restored (actually rebuilt from the ground up) and the attic was being stabilized and prepped for a new roof. Several years later we returned to find new cedar shingles fully in place with the recreated chimney again on top. The circa, 1690s back wing's exterior was also restored, only awaiting an archeological dig (we hope to participate in) before the 17th century fireplace and interior can be reconstructed.
This most recent visit, just a year since our previous walk through, saw further substantial progress. We entered the Foundation's office to find Bert and his sweet mother stuffing envelopes for the yearly newsletter and financial appeal. Thankfully, the ongoing challenge of fundraising has to date been sufficiently successful to keep the project moving.
Bert says that he is beginning see the light at the end of the tunnel. The west elevation has been re-shingled (the historic exposure respected) with new red cedar shingles fastened with reproduction square nails. Authentic details were reproduced - like lines scored with a scribe on each shingle for accurate nail placement. Also imitating the originals, these lines will only become more pronounced over time as the shingles weather. Recreated oak window casings to match early examples have also been installed with period window sashes still on the way. These sashes will be crafted, mostly by hand, using antique planes to form their 18th century profiles. Plans are in the works for substantial reconstruction to the front elevation and porch in the coming year.
Interior restoration continue to progress at a rewarding pace. This trip we finally had a chance to meet restoration carpenter, Scott Brown, who was busy with a variety of interior projects. Bert pointed out Scott's masterful 'dutchmen' that were here and there - patching holes in floors, baseboards and where electric sconces once hung over the fireplace. Complex grain matching seems to be his specialty.
Scott and his son had just pulled up sheets of plywood that had been covering the original ballroom floor for 75 years - an exciting moment for everyone; to see the old dance floor boards for the very first time since the start of restoration. This event reminded me of an anecdote that that Bert told on an earlier excursion. As the ball room was on the second floor and not sufficiently sturdy to carry the weight of a 'frolicking' clientele - the innkeeper would prop up the floor from underneath with temporary wooden posts in preparation for a big dance upstairs.
It seems fitting that the building was most always a public space hosting travelers by stage coach (later by rail), providing shelter for the night, drinks in the tavern, dances in the ball room and dinners in the restaurant. This historic site will again have a public purpose, as a living museum and farm (for children and adults), reflecting life in the Moriches area the 18th and 19th centuries.
Before leaving that day, we took a minute to pay a visit to two nearby timber frame buildings, an 1850s hay barn and 1770s carriage house, both of similar size and form to 19th century originals that once stood on the site. These donated farm buildings have been erected on the exact locations those early structures once occupied - their footings determined by archeology. The combined barn and carriage house creatively serve as a space for the Foundation's - Book Barn. Whether you find a book that day or not - you will definitely come back for another look after meeting dedicated volunteer and local historian, Mary Field, who can often be found 'manning' the shop.
Mary and her husband Van have written several books together including, The Illustrated History of the Moriches Bay Area and Nettie Ketcham Diary. The Fields have worked tirelessly researching the inn's long history. Van, who served for 18 years as the foundation's vice-president, passed away in 2007 - reminding us that our affection for an old building has everything to do with our own mortality.
We left Long Island feeling more connected and grounded to our own neck of the woods - inspired by the patience, perseverance and dedication we'd seen. With so many precious historic structures vanishing everyday - we're glad to know that the Havens-Terry-Ketcham Inn remains under the watchful eyes and care of such vigilant and visionary stewards. You can learn more and how to help, on the Foundation's website, www.ketchaminn.org.
The organization is always looking for furniture, ephemera and other items that actually once graced the old inn. The circa 1850s Ketcham voting box, displayed in the Foundation's office, always catches my eye. There are already many donated antiques in storage that will eventually furnish the space. Bert is on the hunt for some seriously old, worn, spiral staircase treads to replace the 1710 versions lost to the course changing fire. The authentic wear of weary traveler's tired feet, trudging up and down, year after year, is something you just can't artificially recreate. It takes many, many footsteps over a long, long time.
(click photo to view larger image)
(comments = 1)
leave a comment