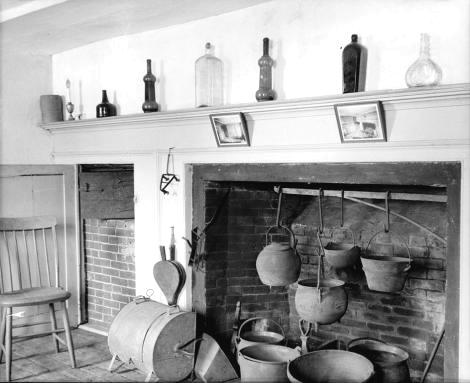 The Old Fireplace
May 26, 2010
Prior to the "deconstruction" phase of our Eastport kitchen renovation we hammered out a plan for the new room with our client. Creating a brand new kitchen in an antique home requires special consideration. It has to function efficiently, respond to the needs and conveniences of contemporary living - yet somehow connect with kitchens past. In this case a past that spanned nearly 200 years.
We knew that buried behind layers of sheetrock and paneling were the remains of the original cooking fireplace. A stovepipe hole was visible and later floorboards traced the outline of the missing old hearthstone. The chimney had been lobbed off just beneath the second floor, but the large heavy firebox was still intact, supported by an elegant brick barrel vault arch in the basement. We contemplated restoring the mantel (a move that would have been more decorative than functional), but began to see a problem right away.
The fireplace was originally centered between two doors. One went to the 'cold' pantry - the other to a 'mini' mudroom. In the 1949 remodel, the mudroom door (on the right), was moved to the left just far enough to make room for a run of 'modern' cabinets. This was when they 'buried' the fireplace and cut off part of the mantel.
When we opened up the wall we found the home's old 'heart' in shambles. The original beehive baking oven was still there with its cast iron door in place. A warming oven underneath had also survived, but only a few elements of the ancient mantel remained. The fireplace opening had been cemented shut, though one could still imagine its glory days, with its cooking crane all hung with pots. Three 'holes' (two closed up) in the brick above where the mantel had been, told the tale of several kitchens yet to come.
Cooking in a fireplace could be tedious, dirty and dangerous. No wonder they were quickly replaced early in the nineteenth century when the compact, cast iron, wood burning stove was introduced. One of those holes was a stovepipe modification for this installation.  Another that still housed its 'thimble' was possibly for the later coal burning variety. The third likely received the nickel plated 'stack' of a "Florence" oil burning range, popular and common in this area in the mid-twentieth century.
This brings us to our other problem - the best place for a state of the art, propane range. We sweated over the plans - 'til there was no doubt - the ideal, most ergonomically correct location, was in this most traditional spot. We'll tuck what's left of the old mantel back in the wall - sheetrock it up - and leave the old fireplace to another restoration - for another day.
(click photo to view larger image)
(comments = 0)
leave a comment