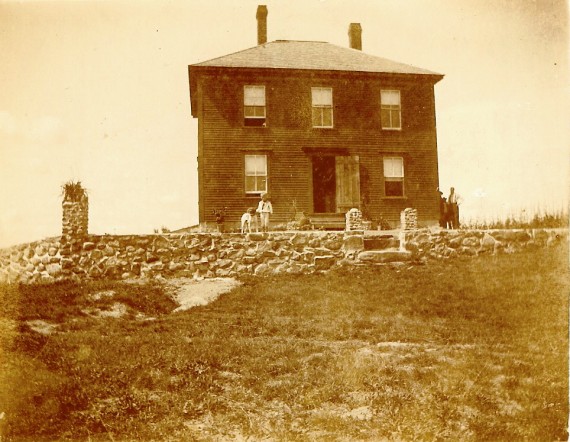 The Roof
June 9, 2010
Sometimes necessity is the mother of unexpected and happy results. When we purchased our Perry home it came with a new roof. One less thing to worry about for say - thirty years?  Not long after moving in though, shingles started to fly. The wind off Boyden Lake can be fierce. Every time there was a bad storm more roof would strip away. Not a good situation for ones' peace of mind. For the past nine years we've contended with the perennial headache of patching in shingles and spreading tar on holes made by the heads of loose nails. After hauling out our ladder, one more time, in the middle of last winter - we'd had enough. It was time to dig into our pockets.
Our 1890's farmhouse was 'homeowner' built. The original roof was cedar shakes with birch bark laid down underneath (a local precursor to tar paper and house wrap). Remnants still survive in our attic where the 1935 addition captured and preserved a shake triangle. Ours were sawn rather than split; every local lumber mill produced them and they were likely cut from timber that grew on this very property. It was not unusual for a farmer to harvest suitable trees from his own woodlot and have them made into shingles. They were inexpensive, plentiful and durable. This first roof lasted over forty years.
Old photos verify that 'asphalt' was introduced at the time of the addition; a hexagonal shape on the old house, with square tab variety on the ell. The thirties were tough times which might explain a patchwork of shingles in varying shades of green. Several roofs later and it was time to tackle the job again.
My longtime dream was real cedar shingles just like our home sported originally. Short of winning the lottery - this wasn't going to happen. What was once an economy, has now become quite pricey. We considered the same three tab look currently on the house, but our wind problems gave us pause. Someone suggested  'tin'  -  traditional in snowy New England (its better with wind and snow slips right off). It just didn't seem right for our old place and it came with its own set of problems. We hesitated to use 'architectural' (they seemed a little fake), but the salesman and our roofer both agreed that they were stiffer to the wind and now-a-days the price is comparable with three-tab.
We embarked on a month-long hunt for the right color. We drove around with IKO samples in our car and became 'hue' experts; harvard slate, charcoal grey, dual grey, weatherwood, heatherwood, etc. We actually stopped and knocked on a couple of doors where we were intrigued by the color. My problem with a lot of the architectural colors is that they have pronounced artificial shadow lines and a busy color scheme. We settled on driftwood which minimized this effect and was closest to the look of weathered cedar.
Staging went up and the 'old' shingles were 'shoveled' off. A layer of ice and water shield membrane started to take their place. As the new roof took shape we began to see all kind of benefits - well beyond peace of mind. The previous roofing was a white, so the rich brown of driftwood took a day or so to get used to - our home's identity was changing.
When the job was finally done we were astonished.  It really looked like weathered cedar! The house now had a proper cap to match its shelburne buff body and the home's grey and pink granite foundation blocks with its fieldstone wall, popped, in juxtaposition to the new color up top.  The new roof made the house look older, prouder and more dignified - just like the early historic photos.
(click photo to view larger image)
(comments = 0)
leave a comment