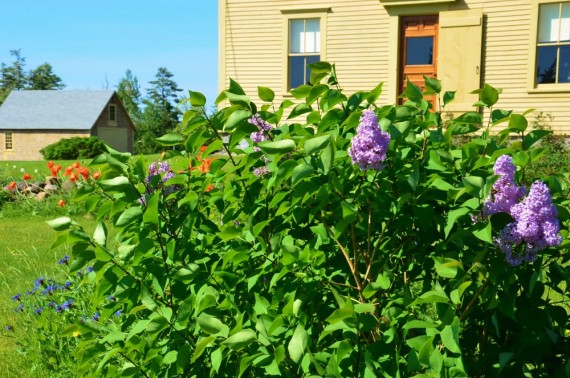 The Waste Land
October 17, 2014
APRIL is the cruellest month, breeding
Lilacs out of the dead land, mixing
Memory and desire, stirring
Dull roots with spring rain.
― from T.S. Eliot, The Waste Land
Here's a few photos of summer on our Maine farm. It began with a couple of rebirths. First, we managed to find a minute to complete another phase of our 1922 (Model T) garage restoration. We power washed the nearly 100 year old original white cedar shingles still firmly held in place by square cut nails. Though well weathered and encrusted with lichen and moss, they continued to get the job done. Rotted window sills, corner boards, and casings were repaired or replaced, and a new paint job, Its first in over fifty years, was rolled on and brushed out. It now stands happy and proud; a source of constant summer pleasure.
Next spring, the final phase is on the docket. In the back, a sagging timber begs to be straightened and reinforced and a frost heaved corner needs to be jacked up and nudged back to plumb. This will clear the way to recreate and put back the long lost four light window and clinch nailed door we can just make out in an old picture. Taking our cue from the main doors up front, we plan to recreate random width beadboard held together by battens, nailed with 2 inch, cut, rosehead, clinch nails. We purchased these nails from the New England based Tremont Nail Company. Established in 1819, Tremont is the oldest surviving nail maker in America.
The other bit of magic was the arrival of the first sweetly scented blooms on a long forgotten heirloom lilac. We discovered it growing in the front field several years ago. Its well established roots were still tenatiously sending up tiny sprouts despite many, many years of mowing. We had always wanted a lilac, an iconic farmstead feature, and were pleased to learn that we already had one. Given half a chance, this perpetual Peter Pan has quickly grown, once again, into a robust flowering bush. 
(click photo to view larger image)
(comments = 0)
leave a comment