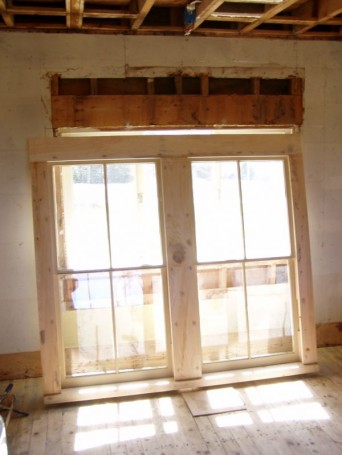 Wall by Wall
May 1, 2011
Replacing modern bow  windows in our 1930s addition was critical in terms of transporting the room back in time. The original pair of two-over-two double-hung on the south side as well as a single on the north were removed in a previous renovation. To put things right we found antique window sashes in salvage and purchased rough cut boards (full dimension like the old days), from Tommy Pottle's second generation, family run Pembroke town lumber mill.
Tommy's mill was built in the days when local lumber was the standard source for construction materials in the area. Using pine planed to 7/8ths for the frame and trim and 2 inch rot resistent cedar for the sill, we recreated the missing double-hung pair. An exterior cap molding (no longer available commercially) was recreated to match the rest of the house using multiple cuts on the table saw, a sharp shaped scraper and a bit of sandpaper.
The single double-hung that had once been centered on the north wall and fronted by a free standing work table inside, was not slated to return. Since we were planning for a fully built-in  cabinet and counter, we had to come up with a different approach. Driving around the area, we'd noticed a number of old homes with a unique fixed mullion and rail "picture" window. Our next door neighbor's kitchen sported a smaller version installed in the 1950s.
Old storms were dissected and used for parts. With a little rejoinery we had a gorgeous window with four squares of wavy bubbly recycled glass on top, coupled with one large central pane flanked by two rectangles below. We sized and installed the unit high enough to accommodate our new countertops. It has become our 'sunset' window, with views of fields, woods and in the winter an icy snow covered lake. Because the window is fixed and on one plane, it allows for a deeper sill; a perfect spot to display large flower filled vases, mason jars of multi-colored seaglass or potted plants.
We insulated, sheetrocked and installed trim as we progressed around the room, wall by wall, leaving them temporaily unpainted. It would be one project after another and five years later before we would finally close in on a finished kitchen.
One of our last jobs before tackling cabinets was to remove the old 'popcorn' covered homasote ceiling (the sprayed popcorn finish was a recent addition). This allowed us to adjust and secure electrical wiring and install a NuTone ventilating fan with its retro aluminum grill. A grate that once let heat up into the bedroom from the stove below was relocated over a forced hot air duct installed in front of the double hung windows.
Opening the ceiling also allowed for the 1930s addition to be lagged to the old house. It was never properly connected causing the floor to sag and creak every time we walked into the bedroom upstairs. A six inch bolt at every stud after the joist was jacked up straight and finally our bedroom floor was quiet to step and solid as a rock.
(click photo to view larger image)
(comments = 1)
leave a comment