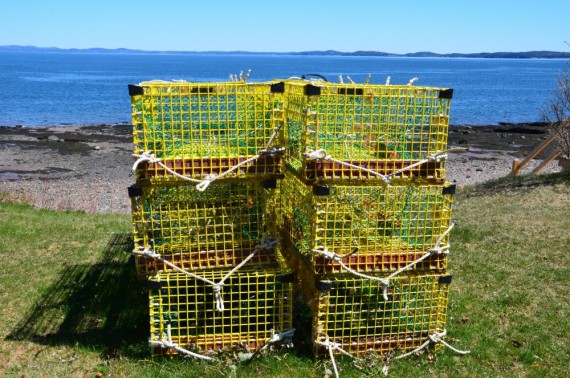 Water's Edge
April 29, 2016
During this unusually mild winter we stayed busy with projects ranging from upgrades to a lobsterman's summer cottage on the Passamaquoddy Bay, a guest room renovation in a circa 1840s cape on Water Street in Eastport, to Phase 2 of window restoration in an antique home on the Dennys River.
We were happy to have our Golding Gourmet, a piece from our Tradition of the New collection, featured in the Spring-Summer issue of the national magazine, Early Homes. The screened countertop cabinet has also been featured, along with its companion, the Mini Gourmet, by design bloggers: Frolic, Apartment Therapy, Ill Seen Ill Said, KB Culture and House Proud. House Proud is written by Ingrid Abramovitch, senior editor/writer at Elle Décor magazine and author of the design resource book, Restoring a House in the City. The magazine is on newsstands now.
Also this spring our restoration efforts were recognized when the preservation organization, Greater Portland Landmarks chose fineartistmade to be included in their juried, 2016 Northern New England Preservation Directory. The directory is a source for homeowners in need of advice about restoring, renovating, maintaining, or building on to their historic properties. The listing highlights our specialty, period kitchens and baths; as well as antique window and door restoration.
The part-time lobsterman's cottage sits in an old farmer's field, perched on a bluff near water's edge. It boasts amazing views of Canada including historic St. Andrews-by-the-Sea and the iconic Algonquin Hotel. On any given day you can keep tabs on local scallop draggers, monitor lobstermen checking their traps or witness massive cargo ships 'steam' by on their journey to the nearby deep water port of Eastport.
Dating to the 19th century, the cottage was significantly altered in the 1980s, losing much of its original charm. The goal was to accentuate the positives and create an authentic, mid century, Maine camp feel. We pinpointed strategic problem areas and found simple solutions; some of which are mentioned here. The walls and ceilings of the cottage were clad with tongue and groove, redwood boards that had a lovely patina but an awkward sunken fireplace had to go. A local mason was enlisted to create a centerpiece feature; an eight foot wide, floor to ceiling, field stone chimney and hearth for the practical romance of a wood burning stove. The hundreds of stones required were supplied (thanks to the last ice age) from the cottage owner's own backyard. He hosed them off in lobster traps then transported them to the job site in the back of his pickup.
Inexpensive, white plastic, interior doors were another eyesore. Antique, five panel fir doors with original, burnished copper plated hardware were chosen to accentuate the redwood and suggest an earlier time. These, circa 1920, beauties with their funky-rich patina were found, miraculously, just up the hill in the rafters of an old barn. We chose to keep the kitchen cabinets though we had to take the uppers down to extend them to the ceiling and add a crown. Dated tile was replaced with a bead board backsplash, painting everything a radiant, Benjamin Moore, Cameo White. Brand new, antique-copper hardware and lighting compliment both redwood and paint.
In the downstairs bath we raised a confining dropped T&G board ceiling back to its original height, added crown and more Cameo White. We also removed a small closet that was crowding the space then widened a nearby entry - losing a narrow, poorly functioning pocket door. An ample, shop built, red cedar barn door hung on quiet, rolling, oil rubbed bronze hardware now takes its place. A row of large, bronze, boat cleats from Davey & Co. London Ltd. (established 1885) provide a place to hang towels and add a unique nautical touch. A simple, redwood mirror was fashioned on site from boards leftover from the fireplace wall - a little touch that helps tie the painted room to the rest of the cottage.
Down the shore in Eastport, a cape's guest bedroom had also suffered through the years. Much failing plaster on walls and ceiling had been replaced with an unattractive wallboard. We remove the offending board, saving and repairing what plaster we could. Blown in insulation was touched up, a vapor barrier added with new sheetrock on top (always a challenge in a sagging old house).
While working on the renovation we discovered the sweetest, swirled 'brown betty' porcelain doorknobs and the oldest mortise lock we had ever seen. The simple mechanism seems to date to 1845 (about the time they were invented). Baldwin company, cast iron, fixed butt hinges were early as well. Hinges, escutcheons and keyhole covers were stripped and painted their original black. The closet door's brass turn latch and mahogany knob had also been covered in many layers of paint; we stripped them down to their original patina bringing back a simple elegance to the room.
The centerpiece of the space came about in the process. We decided to leave vintage, floral wallpaper we uncovered on the front of a small closed off fireplace. This pretty, ragged remnant serves as a colorful and delicate reminder of an earlier time.


Click here for before & after photos of the cottage
(click photo to view larger image)
(comments = 1)
leave a comment