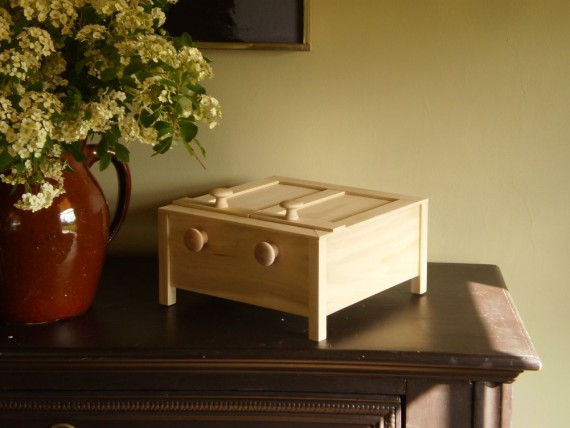 Whats New
August 9, 2010
Our furniture business has evolved slowly and somewhat organically, rather then following a deliberate a path. Often while working on old homes in the Hamptons, a client would ask for a custom piece of furniture; an armoire, a bench, a desk or bookcase. Each project provided the opportunity to further enhance our skills. We moved to Maine in the winter of 2001. A tougher economy inspired us to think outside the 'box' and explore other avenues where we might express our talents. Over the years while perusing magazines or surfing the web I would clip out or print pieces or rooms that caught my eye and seemed to reflect our sensibility. The file has now grown quite large. including design ideas for kitchens and baths, as well as furniture and accessories.
Not long after moving Downeast, we established a website for our renovation business and started to contemplate the idea of creating our own line of furniture. This, we thought could expand our range opening the door to our old Hamptons clients and beyond. The idea of reproductions or furniture that you could get just anywhere wasn't appealing. Our tastes are eclectic so so we choose not to be locked into any particular time frame as we explore our aestetic. We like the notion of a home that's filled with history; not just showcasing one particular era, but reflecting a natural accumulation of objects and memories through time. Our home is filled with pieces that we not only treasure, but just  happen to span some 200 years -  from 6 board chests, empire furniture, painted country tables,1950s director chairs to 1970s vintage nickel lamps.
In between renovation projects we'd pull out design ideas and work on plans. The winter of 2008, we started to build prototypes to photograph and put online.  In the spring of 2009, we introduced our handcrafted furniture line - The Tradition of the New. The name is an ode to a well known and inspirational art critic and historian we admire, Harold Rosenberg, who wrote a book with that title. The pieces are intended to be a synthesis of folk art, antiques, our personal aesthetic and contemporary living. While our ideas are in a constant state of evolution (we're always pushing at more personal) what you see is their current expression.
This spring we expanded beyond our own website - joining etsy.com and opened up a fineartistmade store.  Etsy is dedicated to handmade items (their motto is buy, sell and live handmade) and connects us with an international audience. We've gotten fans that 'heart' our store and various items from all over. We also decided to expand The Tradition of the New line to include gift items - The Nile decorative box and  the Mini Gourmet cabinet are now 'live' on our new gifts page.
The idea for The Nile box took shape when I got a glimpse of a pharoah's canopic box while watching a documentary on the  pyramids. The simplicity of the ancient piece peaked my curiosity - leading to research and the discovery of more enchanting Egyptian designs.  Check back in coming months – more decorative boxes are on their way!

The Mini Gourmet cabinet is a companion to our popular Golding Gourmet cabinet - both inspired by European meat safes (like the American pie safe) that I had fallen in love with on my travels through Europe years earlier.  I saw them throughout France and Italy - filled with cured meats, eggs, cheese, fresh fruit or breads - the screen meant there would be ventilation, but no pests. Two design bloggers - Ill Seen, Ill Said and House Proud included posts about us this week and both gave special mention to the 'Mini'!  House Proud is written by Ingrid Abramovitch who recently authored a beautiful design resource book, Restoring a House in the City.
We are back at The Red Sleigh, a local seasonal gift shop this summer.  The shop is the oldest existing business structure in Perry and boasts a lot of rustic charm.  It began as a general store called Pottle Brothers in 1894, run by brothers James and Bion Pottle, later as an antiques shop run by Virginia Golding Pottle (who is daughter to Rob Golding - of our home's history) and now as a gift shop by Georgiana Kendall.  'Georgie' supports local Washington County artisans and farmers - handmade goods and local edibles have attracted both locals and tourists alike.  Our Golding Gourmet, Mini Gourmet and 9th Street mini table mingle among the fresh bouquets, vegetables, blueberries, cookies and pies. Some of my favorites at The Red Sleigh are Heather Perry's jewelry, produce from Tide Mill Organic Farm (featured on the Martha Stewart show recently), Garden Side Dairy's Italian Lovers goat milk cheese and Lamb Cove Farm's delicious pies and cookies.
We are in the process of searching for suitable artisan galleries along the coast, the Hamptons and beyond. So, we may be in your neck of the woods before you know it.
(click photo to view larger image)
(comments = 0)
leave a comment