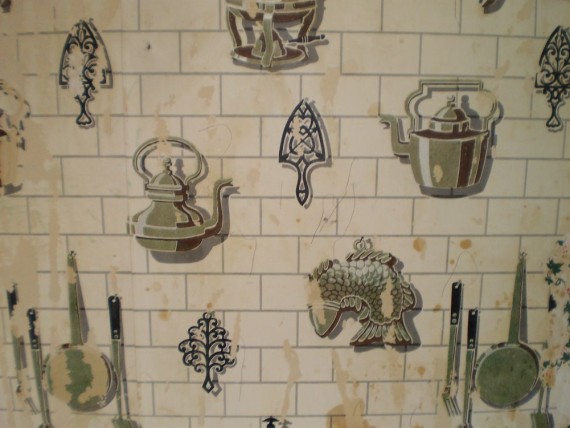 Demo
August 21, 2011
Our clients were not quite sure where the original kitchen in their Queen Anne cottage had been. Modern paneling was obscuring the evidence and rumor had it that it had once been located in the fully finished bead board basement. We were skeptical. The demo phase always reveals a few surprises and we were anxious to see what this home had in store.
'Prettying it up' begins with lots of dirty work. In the kitchen part of our project; the old cabinetry, stainless steel sink and laminate countertop were carefully removed and quickly recycled. Then down came the paneling, wallpaper, plaster and lath. We prefer to keep original materials whenever possible (i.e. snaking wires up behind the plaster walls), but in this case we were dealing with no ordinary basement. Wall to wall bead board covering every rafter made it impossible for the electrician to run his new wires and keep it all to code. Opening everything up (plaster walls and tin covered ceiling) would get the job done right.
This unpleasant process is one part demolition and one part archaeology. A house will often reward ones efforts by offering up a few choice treasures. This renovation was no different. Underneath the birch paneling we found some quirky 40s or 50s wallpaper covered with elements like fish molds, tea kettles, cooking utensils, chafing dishes, pots and pans - evidence of an earlier kitchen.
Once we'd pried away the lath we found amongst the crud that quite a few delightful finds had also come down the stud-wall. A 19th century photo of a dapper young fellow (possibly an early resident), several canary food canisters covered with bold brightly colored graphics, a small glass 'Vaseline' jar, a talcum powder tin, a delicate doll sized tea cup, several (hand-made) clay marbles, a pewter saucer, some polished stones and our favorite - a special ladies ticket to a Bennet-Moulton Vaudeville show at the Eastport Memorial Opera House. Along with a week of repertoire, specialty acts included; Landie and Nye - Duelists, Herbert Powers - Ballad Singer, Chas. E. Landie - Parody Singer, Adelaide Nye - Operatic Soprano, The Partellos - Comedy Acrobats and Arthur A. Griffith - Hebrew Comedian.
While I toiled with the dumpster (stomping it down and packing it tight) - Patrick undertook the painstaking task of carefully removing the current kitchen's early tin ceiling (nail by nail). It had to come down intact so that we could put it back later after the electric was done. The room had only been lit by track lighting mounted on the partition wall (turned on with a pull chain) - basically lighting the back of your head rather that the countertop.
Once we removed the corner cabinet that had been built to hide the cast iron vent/drain pipe, we found a defunct lead drain and the remains of several water pipes surrounded by the impression of a cabinet. All this added up to evidence of a very early sink which would easily suggest a former life for this unusually small kitchen as a pantry.
We also noticed a large hole in the vent that had been repaired many years ago. Cast iron rusts continuously over time and can eventually clog up. This was a very old vent. Most of the drains had been replace by copper or PVC in the more recent past. It would have been a mistake not to modernize while we had this chance and switch this part of the system to a PVC pipe. At the same time we could improve our design by tucking it in the wall.
So, with the other trades busy in the small kitchen plumbing and wiring - we headed next door to the dining room. With the paneling removed - it was time to strip the many stubborn layers of wallpaper. The plaster (we hoped to save) was slated for repair. Once the wallpaper was off we could clearly see the outline of all the original varnished trim. Above a later radiator was the 'ghost' of a stove pipe hole. This was the clincher - all the clues were adding up. It made perfect sense that this hole housed the stack of a cast iron wood or coal burning cook stove. The mystery of the missing kitchen had been solved.
click here for more photos of the project
(click photo to view larger image)
(comments = 1)
leave a comment