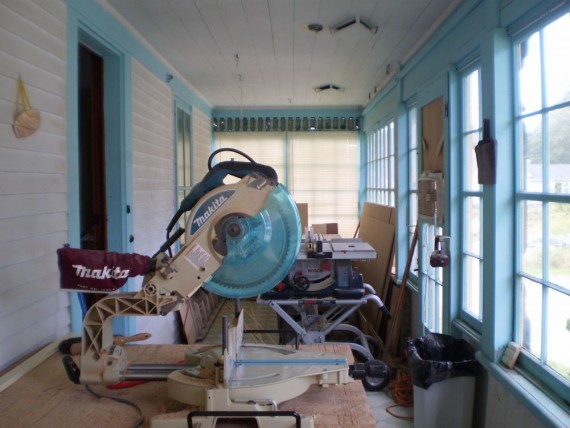 Trimming Out
January 15, 2012
Now that our Eastport kitchen project is completed and we're on to new projects in Lubec and Calais, I finally have a chance to catch up on a few blogs.
The dining room and kitchen in our Queen Anne house project in Eastport had been stripped of its architectural elements and covered up with birch veneer paneling - virtually head to toe. Fortunately the rest of the house was left intact, giving us a model to work from. Stripping off the offensive, 1950s era layer revealed the ghosts of trims from the past.  As we expected, molded casings, with a plinth block at the base of the doors with rosettes in all the corners on top. Eight inch base board was once topped with a simple base cap.
We explored the possibility of recreating the same unpainted look found in the parlor - checking with our friends at Old House Parts in Kennebunk, just a few miles inland from a former President's seaside summer retreat. We couldn't find enough of all the pieces or the profile wasn't right.  Another option would have been a custom millwork company, but reproducing such a small quantity still involves creating molding knifes which just wasn't in the budget.
We headed to the local lumber yard, and scoured profiles in the molding catalog.  We found what looked like a close match to the "belly band" casing upstairs in pine. This molding likely gets its name from its bulging curved center flanked by bands on either side. When it arrived on the job – it was surprisingly close to the trim in the simpler second floor rooms. It seems more likely that this was the profile in the early kitchen, not the fancier stuff in the formal rooms downstairs.
The new bull's-eye rosettes were a totally different story - they definitely didn't "work."  Sometimes reproductions can be so over the top – if they'd just stay true to the simplicity of the originals they'd be much better off. We sent them right back and began considering alternatives. What to do?
I remembered a basket of rosette blocks I'd seen a few months back in the Saint Croix Valley Antiques in Calais. It's strange how a desired item will often just show up when it's needed.  We gave them a call to see if they had enough - we needed 16 - they had 20.  Their simple design was far more appropriate for our purpose - though they were made out of maple not pine which was fine since we were painting the trim.
Even though the kitchen clearly sported base board in its first incarnation, it was the homeowners wish to add a bit of bead board wainscoting.  We agreed that it would be nice.  We took our cue from a dressed up back room in the finished basement we suspect might have been used for Sunday school classes (it was said the original owner was a minister). It contained a mantle made of mirror and turnings and tongue and groove bead board wainscotting about 36 inches high, topped with a moderately elaborate cap.
Since we like to go for consistency throughout the house we opted to match it as close as possible. Stock moldings again - used in combination -achieved the task. Several panel moldings (one slightly altered on the table saw) and a scotia did the trick. The bead board itself was actually made from 4X8 paneling called "radiata."  It is 3/8th inches thick with the bead cut deep enough that it is virtually indistinguishable from the real thing. Cut to height it goes up easily with panel adhesive and a few well placed brads.
Evidence suggested that the trim had been painted at an early date. Removing many layers of wallpaper revealed the painters overlap onto the plaster wall. Since we were using several different woods, staining was out of the question. Painting the trim and cabinets the same color would bring everything together.

click here for Part 1
for more photos of the project click here
(click photo to view larger image)
(comments = 0)
leave a comment