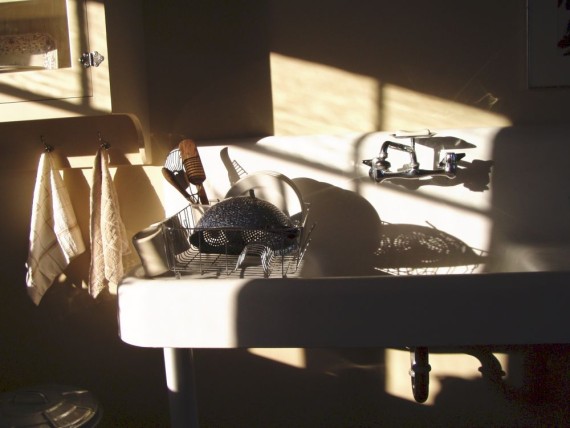 Everything but the Kitchen Sink
April 3, 2011
Since our "cook-space" renovation was in a state of evolution - we made do for a while with the existing stainless steel drop-in sink. Circa 1980s cabinets were moved around several times as we began to make the necessary changes. The original position of the sink in the pantry was no longer our preferred location. It made sense to bring it into the kitchen and place it on a "warm" wall where the water pipes in our fieldstone basement would be less vulnerable to freezing. It was also more economical and neat to put it back to back with bathroom - greatly simplify the plumbing. The most important consideration however, was the sink I had in mind; it would never fit in that tiny pantry space.
Back in Sag Harbor, while still offering bids and contemplating counter-bids on a new home in Perry, we were already thinking about what we would do with the old place if negotiations were successful. Optimistic, we had even begun to gather items that would enhance a restoration.
I'd found a stunning, three-armed, brass Chandelier (perfect for a dining room) dating from the turn of the century, in a potato barn on the corner of Narrow Lane and Scuttle Hole Road. The owner, who used the space to store overstock from her antique shop, had left the door open and was inside picking some things up. 10 dollars for the real deal seemed like quite a bargain when we later learned that reproductions sold for 300  dollars +.
We put our name on a wall mounted antique toilet with an unusual porcelain flusher. A plumber pulled it from one of our projects in the 1810 Hildreth House on Madison Street. In the early 20th century, Hildreth supplied the town's iceboxes with ice. He'd cut the frozen water in the winter from Round Pond - store it in a sawdust insulated structure; then deliver it like milk from his wagon in the summer; carrying it to each house with giant tongs.
We put the iceman's throne in storage alongside the spud dusty chandelier, in anticipation of a trip north.
A local antique shop and salvage yard - "The Yard Couple" located in the heart of the Harbor, gave me my first face to face look at the classic farm sink I coveted. I'd seen it in renovation and design magazines. A vintage, five foot wide, wall mounted, high backed, double drain, porcelain beauty with adjustable legs. Though it was just what we had in mind, loading that behemoth onto a moving truck and paying Hampton's prices seemed like the kind of thing we might want to avoid. We placed our bets on finding something more local, after we arrived.
Once in Maine, I put ads in The Money Saver and Uncle Henry - local and state-wide Canadian and American classifieds. In the meantime we searched online, in antiques shops and salvage yards also checking with local plumbers - nothing we came across was what I pictured. It was starting to look like all I could do was double-cross my fingers. I stayed optimistic for about a year - then decided to stop running the ad and explore other options. This lasted for about a week.
I put the ad back in the Money Saver - this time with far different results. It was a matter of days - then pay dirt!  We got a call from a man in nearby Lubec who had a sink that fit our description. When his grandmother passed away many years ago and her failing home was taken down, he'd kept her venerable farm sink. He had been storing it in his barn - where it sat for many years.  He saw our ad in the Money Saver - then saw it disappear - then reappear again. This seemed to light a fire as he decided it was finally time to part with Grandma's faithful treasure.
The sink was in excellent condition and exactly what I had in mind - a five foot, cast iron, 1920's Kohler with a large single bowl in the center and drain boards on either side. It still had its faucet and soap dish, mounting brackets and adjustable porcelain legs. After some good natured negotiating we settled on a price and loaded the weighty item (several hundred pounds) into the back of our Jeep Cherokee.
Back in Perry, a foot of snow made the rest of the task almost easy. Impossible to carry any great distance, we slid it on the icy walkway from the driveway all the way up to the house. We then over ended it and 'walked' it gingerly up the stair, through the mudroom into the kitchen where we leaned it upright between the stove and the mudroom door. That was where it stayed (literally on that spot) for a several years.
In the process of renovating the bathroom we revamped all the plumbing. Many alterations over the years had left these vital arteries in shambles. In tandem with the bathroom renovation we prepared the wall in the kitchen to receive the new sink. The plumbers did their roughed in - then came sheetrock, baseboard and paint. We lay the sink upside down on a drop-cloth and prime and painted the underneath.
The plumber's tender back disqualified him from the back breaking task hanging our 'monster' so I came up with another plan. Tapping into my inner 'MacGyver' and got some cinder blocks from the garage. Block by block we raised the sink up to its proper height finally hooking it on the two, leveled, wall mounting brackets. The legs were bolted on and screwed up to height. With everything in place we could finally remove the blocks.
Once the plumbers made their connections and a chrome plated wire dish rack put in place, our new sink was fully operational and open for business. Dishwashing has never been such a pleasure!
(click photo to view larger image)
(comments = 0)
leave a comment