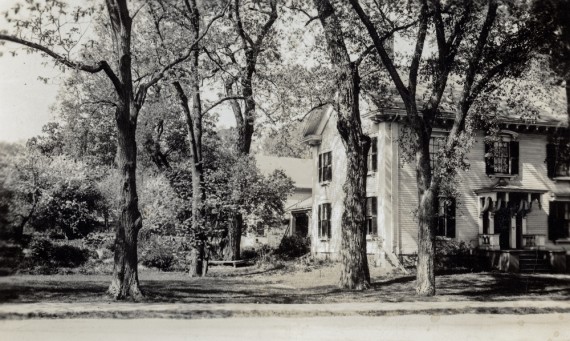 Fall Newsletter
October 3, 2019
2019 began with a kitchen and pantry renovation of a century old cottage in Red Beach, following the completion of a Perry seaside cottage bath. We then moved on to Phase II of the portico entrance restoration at the 'Holmestead' in Calais. That done, we are about to begin an Eastport bathroom renovation in an 1899 Queen Anne style home.
In planning for the Red Beach cottage kitchen we wanted to reflect its history. We unearthed a long-covered pine board floor and preserved horizontal V-board wainscoting while reclaiming some for the new peninsula. Cabinets inspired by Victorian country kitchens were fitted with custom V-board & batten doors and period turn latches, bin pulls and knobs. Quartz countertops, subway tile and LED under-cabinet lighting add modern functional touches while blending nicely with the old. A built-in bead board hutch (based on antiques) was dressed with vintage cast iron Eastlake hardware to make it feel like it was always there. Our client's own antiques feel right at home in the space.  
The Holmestead, an 1850 Italianate, houses the St. Croix Historical Society. The historic landmark was designed and built by master carpenter, Asher B. Bassford for Dr. Job Holmes and his wife, Vesta Holmes, sister of Abraham Lincoln's first Vice President, Hannibal Hamlin. After a painstaking analysis of turn of the century photos, we were able to recreate the original front steps and deck (that were long gone) and finally re-install the restored balustrade. Descendants of Bassford were the first to ascend the steps.
Maine State Historian, Earle Shettleworth and his associate, Chris Havey, an 18th century architectural specialist, stopped by the historical society while we were working. Shettleworth is curating a 2020 exhibition for Maine's Bicentennial and was in search of a bird's eye map of historic Red Beach. After getting the tour of the project Havey remarked, "I didn't realize there was museum quality restoration happening in Down East Maine!"
A circa 1845 Cape that we have done considerable work on was included in the Eastport Home & Garden tour this summer. Our first project in the home was a kitchen that was featured in a 2011 Down East magazine article, Every Mainer's Kitchen. Since then renovations include: pantry, bath, guest rooms and a modern update of a decade old great room addition - an amply windowed contemporary space that boasts amazing views of the Passamaquoddy Bay.
This fall we are returning to renovate another Eastport home. A unique Queen Anne cottage included in the Tides Institute Museum of Art 2018, Eastport : Architecture book. The last major renovation we completed in the home was the kitchen & dining room.This time it is to restore the upstairs bath that is covered with its original decorative tin on the ceiling and walls. The 1960s pink fixtures and linoleum floor have got to go. With the search for antique claw foot and pedestal sink over - we are ready to begin!
 


click here for before and after photos of the Red Beach Cottage renovation


 
(click photo to view larger image)
(comments = 0)
leave a comment