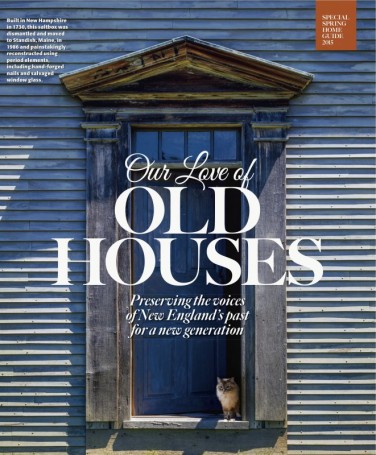 Our Love of Old Houses
March 16, 2015
In December we celebrated our 13th year here in Down East, Maine. 2014 was packed with a myriad of restoration projects. In our own backyard we tackled a patiently waiting 1920's model T era garage that included power washing its 95 year old white cedar shingles, replacing rotted window sills and applying a much needed paint job (its first in fifty years). Inside our 1890s home we added custom cabinetry and new paint to a photo studio workspace and completed a long awaited master bedroom renovation. Vintage touches, like school house lighting, antique to mid century furnishings and Eastlake bin pulls and sash locks, are all in keeping with the spirit and history of the old home.
In other backyards - projects included an 1895 Italianate in Calais which received an extensive and laborious exterior paint restoration (we previously restored all the windows in the home). In the process we discovered that the front porch enclosed railing and deck (that looked pretty punky from the outside) was playing host to a massive colony of carpenter ants and a whole lot of rot. It was also holding up a corner of the two story house. Most everything had to go, save some early moldings that we used with new materials to recreate the original look. Happily they are still making the same tongue and groove fir decking - special ordered to match.
We were pleased to be included in the March/April issue of New England's own, Yankee magazine. The magazine is celebrating its 80th year. Our Maine based business was chosen by the Editors for the section, Our Love of Old Houses – Preserving the voices of New England's past for a new generation.  The article, The Restorers: Guardians of Tradition, highlighting craftspeople with various specialties, includes fineartistmade as a resource for restoring or recreating kitchens & baths in old homes. The issue, a Special Spring Home Guide, is on newsstands now.
We were also invited to be part of houzz.com, a web-based design professionals community including architecture, interior design, decorating, landscape design and home improvement. You can find inspiration from the largest collection of interior design ideas online or check out our profile with images of various projects and hand made products. In January we were awarded their Best of houzz 2015 for Customer Service based on a variety of factors, including the merit of our client reviews.
We are just finishing up the renovation of the grand living room in an impressive circa 1872 Italianate on Calais's Hinckley Hill built by lumber magnate and philanthropist, George Howard Eaton. The Hinckley Hill District is on the National Register of Historic Places. A fineartistmade bathroom restoration from the same home was featured in Old House Journal several years ago. Originally two rooms (the dining room and parlor), the space was 'modernized' circa 1925, with the removal of large dividing pocket doors and surrounding wall - unifying the space. Overhead in each of the former rooms survive two, four-foot-diameter plaster medallions that were once lit by gas light fixtures. They have now regained their purpose and elegance with the addition of two period perfect crystal chandeliers.
On snow days (and we have had quite a few here in Maine) we were busy in our workshop restoring the original nine over six window sashes from a circa 1850 cape situated on the Dennys River. The old home was occupied in its early days by a well known local surveyor/cartographer, Benjamin R. Jones. Jones was referred to in a town history, as much for his appearance as his stature, as the "Benjamin Franklin" of Dennysville.
(click photo to view larger image)
(comments = 0)
leave a comment