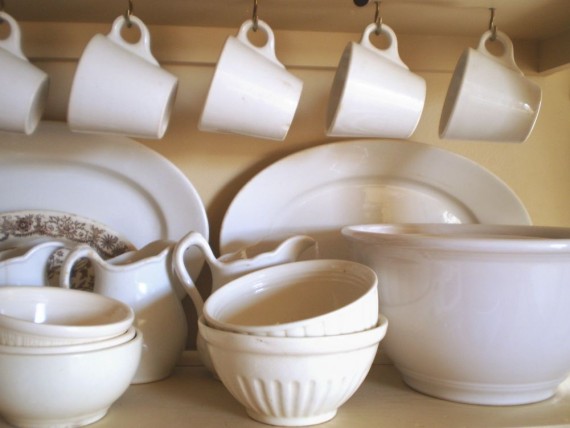 Our Pantry
March 24, 2011
After the walls were back in place our next order of business was to finish the pantry. It would be the first fully completed room in the house. A previous renovation covered the original homesote wall board with a layer sheetrock. Removing this layer revealed tattered original wallpaper in the mudroom and paint in the pantry.
'Ghosts' in paper and paint clearly mapped out the pantry shelves locations - a simple open L that nestled up against the old chimney. Baseboard and trims were also indicated. The room itself was also an L, with a door to a roughly made stair that went down to a back basement. Shelves behind this door in the stairway provided additional cold storage. Holes in the floor and some rotted floorboards verified where the sink had been.
While the electricians were rewiring the house, they ran several new outlets in the old pantry for appliances (microwave, toaster and fridge). Once we stripped off all the homasote, we fine tuned the outlet positions and secured them to studs. The walls were insulated, sheet-rocked and trimmed out with new baseboard and casing tailored to match the originals. The ragged old basement door was cleaned up and given a fresh coat of shellac.
With our 'new' old Florence stove up and running we were able to remove the oven from the back pantry wall. This provided a place for a new board with hooks; perfect for brooms and mops with buckets on the floor. This wall had never served this function, but seemed like the natural spot. An antique wooden flour barrel now sits in the corner under the brooms, providing a convenient place to store seldom used items or stuff recyclable grocery bags.
One of our early concepts involved the creation of cabinets with glass doors, inspired by the (at one time common) butler's pantry. Once the wall was erected with a door put in place, all that cabinetry seemed like a bit much. We elected instead to fashioned simple L-shaped open pine painted shelves, much truer to the originals. With the old chimney gone we could extend them a little further. We customized the heights of various shelves to display collections of usable, as well as antique kitchen items.
The first shelf is high enough to accommodate three classic galvanized garbage cans which we use for can and bottle recyclables. The next shelf up was deep enough to double as a counter, housing a microwave, a set of vintage graduated canisters and a plethora of cookbooks. As that shelf turns the corner it gets narrower providing room for a modern toaster and an antique "Turnbull's" scale that once did duty in Beckett's Candy Store, a venerable, long gone, Eastport institution. This a handsome little, pre-civil war gem (made of cast iron, brass and tin) comes in handy weighing veggies while working from recipes. Two more shelves above house ironstone serving platters, vintage bowls, a 1950s Sunbeam mixer, a nickel plated bread box, vases, a collection of aluminum percolators, enamel tea pots & pitchers, graniteware, tinker made tinware, stoneware - etc.
Some of the older kitchen items in the collection (graniteware and tinware) are actually relicts from the original family. We found them in the garage, caked in 'black,' where they had been relegated to holding oil or bolts while working on cars, trucks and farm machinery. We "degreased" them, returning them to their former dignity and keep them on display as authentic reminders of our home's first family. Recent additions to the room are a Champion - stay open clothes pin bag and a vintage all laundry soap bucket - both once graced Patrick's grandmother's pantry many years ago.
Just inside the pantry door (to the right) is the spot the original wall hung sink once occupied. It was the perfect place in our plan for a modern fridge. Nestled behind a wall it would be barely noticed and we could close the door if we didn't want to see it. Above it we placed a shelf with metal brackets that we also found in the garage. Its size, shape and the color told us that it had once been in this spot (though a little lower) above the sink. It now displays various items from other old pantries we have picked up along the way; vintage food tins like Heartclub 'double acting' baking soda and Uneeda Bakers' Butter Wafers from the National Biscuit Company, a can of Thrifty Maid spiced beets, a cardboard container of Quaker best yellow corn meal and several useful implements like a small butter churn and a mayonnaise mixer. Also on the shelf - Nathaniel Goldings's bottle of Gibson Famous XXXX Original Whiskey - found with it's cork in the attic.
We would be locating a 'new' sink elsewhere. Much more room was needed than the pantry provided for the one I had in mind.
(click photo to view larger image)
(comments = 3)
leave a comment