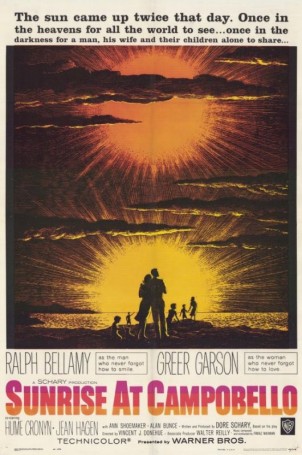 Queen Anne Simplified (part 1)
March 7, 2012
Designing a kitchen starts the minute we see the space; wheels are in motion - ideas begin to percolate. Even as the renovation continues to take shape we commit where we have to but keep our options open till that last stroke of paint.
With this particular kitchen in Eastport, inspiration began with a nearby landmark and favorite destination we were reminded of; Franklin Delano Roosevelt's family summer cottage - Campobello.
The biographical movie, Sunrise at Campobello, filmed on location in 1960 shows the future 32nd President (played by Ralph Bellamy) arriving by train in Eastport, near canneries and docks to take a short boat ride across the Passamaquoddy Bay to, Canada's Campobello Island.
The train station and tracks are now gone as well as much of Eastport's 19th century waterfront; sardine factories, chandleries and the like. A gale took a good portion of that out in the 1970s. If you want to visit Campobello today you have to drive all the way around to Lubec where The Franklin Delano Roosevelt Bridge completed in 1962 provides the current customs entry.
While some things change - some things stay the same. The Roosevelt cottage is a bit of both. Restored to the time of the family's historic occupation, it is much as it was portrayed 50 years ago in that mid-century Hollywood movie.
We've been to the Roosevelt Campobello International Park and toured the cottage many times. There is something warm and inviting about the place - no doubt a reflection of the solid family that once summered there.
We always admire its simple elements and local touches like handmade hooked rugs (crafted by the women of Campobello), fine ash baskets (from the reservation across the bay), intricately adorned birchbark wastebaskets (by the Roosevelt's friend and guide - revered Passamaquoddy artist and chief, Tomah Joseph) and Eleanor's large megaphone (for calling the children to lunch or dinner). All items original to the cottage.
Its history - authentic flavor - the feelings evoked would be in the back of our minds as our project took shape.


click here for part 2
(click photo to view larger image)
(comments = 0)
leave a comment