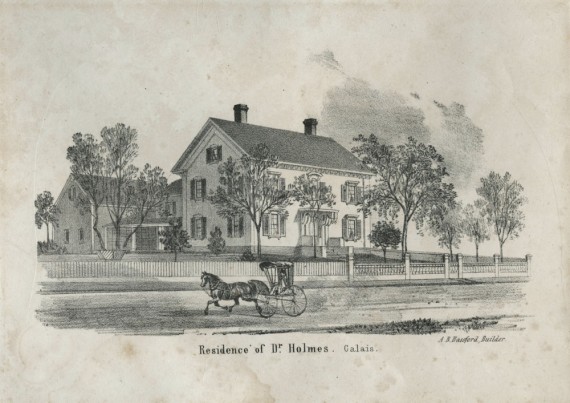 Summer Newsletter
August 19, 2017
Our latest kitchen and pantry project in the historic, circa 1850, Benjamin R. Jones home in Dennysville detailed in the blog, Square Nails and Tells, now has its finishing touches. Our clients took a trip down to historic Little Compton, RI and the Antique Stove Hospital to pick up their freshly rehabilitated kitchen stove. Selected on a previous trip, the diminutive 1927 Glenwood now flanks the right side of the chimney with our custom-built sink cabinet flanking the left.
Other custom pieces recently added include a primitive "whale" shelf mounted on the wall next to the sink and a traditional farmhouse cherry top work table opposite the Glenwood. The heirloom quality shelf (its sides shaped like a whale) and table (with dovetailed drawer and mortise and tenon joinery) are based on 19th century antiques. We've since added the farmhouse table, apply dubbed "The Narrows" to our Tradition of the New collection.
This restoration project was our most serious to date. The goal was to achieve authentic rooms that felt original and untouched by the passing of time. That principle extended to lavatory and library projects in the home as well. The bathroom, with the help of salvaged early 1900's fixtures and the unearthing of a beautiful, long buried, faux finished floor, does just that. Check out our blog, Leaving Well Enough Alone, to learn more about the restoration.
Next to the bathroom our clients wanted us to transform a bedroom (complete with a cozy fireplace), that possibly once served as a dining room, into a dream-come-true library. We custom built bookcases, cabinets and a window seat, added 19th century detailing, then painted it all in the room's original woodwork color - a handsome sage green. When the room is finally finished an ancient, circa 1820, Maine made, faux grained country secretary, we spied in a local antique shop, will grace the space.
Upcoming projects include the restoration of the front portico and steps at the old "Holmestead" in Calais, Maine. This charming Italianate (now the home of the St. Croix Historical Society) was designed and built in 1850 by local architect and master carpenter, Asher B. Bassford for Dr. Job Holmes and his wife, Vesta Hamlin Holmes. It is listed on the National Register of Historic Places and received a Belvedere Historic Preservation grant for this project.
Vesta Holmes was a sister to Hannibal Hamlin, Abraham Lincoln's first Vice President. Upon hearing of her brother's nomination, Vesta wrote him a congratulatory letter from her home in Calais. "Shall we not see you here this summer? We have been new furnishing our parlor and I should be most happy to christen it by giving a party for you and your friends when you can make it convenient to come." That parlor, just through the portico door and to the right, remains much as it was in Vesta's day. (click here to read the full letter).



Visit our facebook page to see before, during and after photos of the kitchen, pantry, bathroom and library project.
(click photo to view larger image)
(comments = 0)
leave a comment