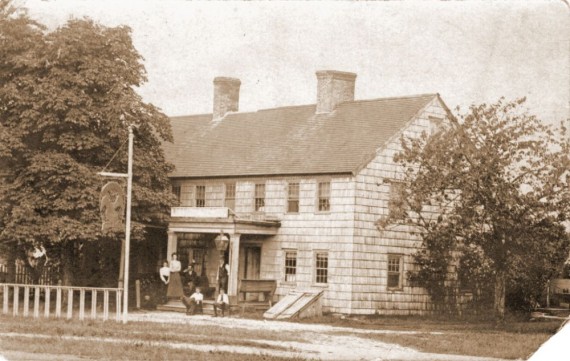 The Ketcham Inn (Part I)
December 7, 2010
With the Thanksgiving holiday approaching, I got a hankering for old friends and old haunts. We decided to embark on a visit to the other Eastport; the one on Long Island's East End, just west of that enclave of wealth and celebrity - the Hamptons. Though the whole area has experienced a revolution in sometimes distressing upscale development in recent years, Eastport still manages to cling to some of its old time rural charm.
Known in the first half of the 20th century as the "Duck Capital" of the world, the compact little hamlet was the center of the production of that Long Island bird, producing 6.5 million annually from 29 farms. In the last two decades, most of these farms have gone the way of Maine's sardine industry, with descendants of the original farmers selling valuable waterfront property to eager residential developers.
The plan was to have Thanksgiving dinner with a close friend/member of the family, in her live-in, Main Street, fine art gallery.
While in the area, we availed ourselves of the opportunity to accept an invitation from our friend, Bertram Seides, in nearby Center Moriches and pay yet another visit to what has become his magnificent obsession, the Havens-Terry-Ketcham Inn.
It was Bert, a Center Moriches native son, architect and ardent preservationist, who in 1989, realized that there was an important local landmark in danger of the wrecking ball. He organized a grass roots effort to rescue the ailing structure. Since then The Ketcham Inn Foundation, under his passionate direction, has been mounting a painstaking restoration of the venerable and historic old building.
Patrick remembers, in the early 1990's, driving down Old Montauk Highway and passing the forlorn, sagging, somewhat barn-like, cedar shingled building and thinking "that place looks really old." He wondered who owned it and what was to become of it. Then one day in a 2001 drive-by, we noticed a number of large steel I-beams, spaced evenly, jutting out just under the second floor.
Someone was planning to lift the tired old structure up.
It would be several years later, after a permanent move to Perry, Maine, before we would have the opportunity to return to Long Island, meet Bert through our Eastport friend, and finally learn the story of the ancient edifice.
Little was known of its age or history when efforts began to save it, but diligent scholarship, archeology and analysis has changed all that. The building is now listed on the National Register of Historic Places.
Originally called the Moriches Inn in Brookhaven town records, the building has served as a tavern, inn and public house. The oldest portion, appears to be a settlement cottage and dates to the late 1600s, a time before the area was officially settled. Subsequent additions followed over the next one hundred years (with a kitchen wing added in the 1940s), bringing the building to its present configuration.
No - George Washington never slept there, but Thomas Jefferson and James Madison did.
The property was part of a tract of land (Warrracta Neck), owned in its early days by Samuel Terrill, a blacksmith from Milford Connecticut. He purchased the parcel from Jacob Doughty of Jamaica in Queens County in 1698. To keep on friendly terms with the indigenous Paquetuck, it was said, Chief John Mayhew was at one time paid "a competent sum of money for the land."  Terrill, whose wife may have been Native American, was known to have good relations with the local tribe, who named a nearby river in his honor. Early accounts suggest a fire destroyed his homestead and blacksmith shop on the west shore of the Terrill River. He sold the property to Sarah Scudder Conkling in 1714 and  moved to nearby Yaphank Neck, another of his holdings .
Sarah was the widow of John Conkling of Southold on Long Island's North Fork. John died about 1705, leaving his wife and their two sons, John and Henry, a sizable amount of money and property in Southold. Sarah established a cattle ranch on the former Terrill property; most likely for trade with the West Indies. Her land passed to her son, Thomas, after her death in 1753. Thomas quickly sold to his sister, Sarah's, son, John Havens Jr. Sarah's husband, John Havens Sr., formerly of Shelter Island, passed away in 1750 leaving his holdings to his sons. By 1770, John Jr and his brothers, Benjamin and Henry, owned almost all of the land between the Terril River and the Forge River in Mastic.
It was Benjamin Havens, who proposed in 1772, along with several other innkeepers, a coach route (King's Highway), from Brooklyn to Sag Harbor that made a stop at his inn in Moriches. It is the earliest such route to traverse Long Island.
He was known to have run a tavern at the inn during the Revolutionary War while the British occupied Long Island. Too old for service, Havens assisted the Patriot cause by spying on the British troop and supply movements in and around nearby Fort St. George; a fortified Loyalist outpost and storage depot. In 1780, the Continental Army led by Benjamin Tallmadge, mounted a successful raid across Long Island that culminated in the Battle of Fort St. George.The British, who at one point raided Haven's inn, referred to Benjamin as a "most pernicious caitiff."
In 1775, Captain John Hulburt stayed at the inn with his troops on their way back to Bridgehampton from the pivotal Fort Ticondoroga following a campaign to liberate the Champlain Valley. After the revolution, founding father and New York State's first governor, George Clinton, also stay there. He would later become Vice President, serving under both Thomas Jefferson and James Madison.
By 1791, Havens sold to William Terry who also ran it as an inn. It was in 1791 that Jefferson and Madison stayed at 'Terry's Hotel' while visiting prominent Long Islander, General William Floyd in nearby Mastic. The seat of the federal government was in New York City at the time and Jefferson was George Washington's Secretary of State. He and his friend, Madison, were on Long Island investigating a plague of Hessian flies that were doing great damage to the American grain industry. While in the area he was also documenting the vanishing Native American languages. The inn would serve as 'home base' while he made records of the Unkechaug language, when visiting the Poospatuck reservation in Mastic.
Terry descendants sold to Andrew Ketcham of Huntington in 1852. In the Ketcham era the inn's central location provided for a variety of public gatherings. It was used for voting and the local court was held there. During the Civil War, volunteers would meet and drill on the property. Traveling merchants, dentists and doctors stayed there while they sold their goods or tended to the local community.The inn remained in possession of the Ketcham family until 1912.
With monikers like Clinton Inn, Wayside Inn, Hitching Post, Colonial Arms and Stage Coach Stop, the inn would remain in continuous use in one form or another until August of 1989. It was at this pivotal moment that an unfortunate, destructive, though contained fire, would ignite efforts and set the stage, like the mythical phoenix, for the landmark's eventual rebirth.
(click photo to view larger image)
(comments = 2)
leave a comment