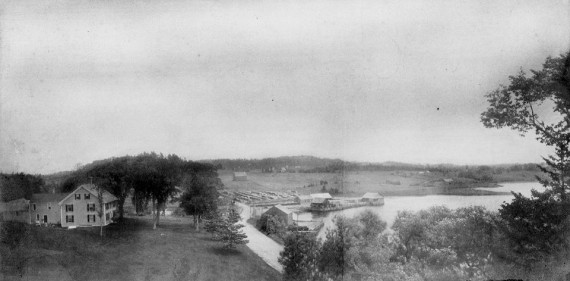 The Narrows (Part 3)
May 18, 2015
But as he warmed and glowed, in his simple and eloquent language,
Quite forgetful of self, and full of the praise of his rival,
Archly the maiden smiled, and, with eyes overrunning with laughter,
Said, in a tremulous voice, "Why don't you speak for yourself, John?"
From The Courtship of Miles Standish by Henry Wadsworth Longfellow
The untimely death of Captain Bela Reynolds in the spring of 1853, must have been devastating for his second wife Amelia. Six months pregnant with their sixth child and left alone to raise a fledgling family; she would have to find a way to move forward and handle what remained of Bela's business. Then there were her aging parents - her father, Benjamin, was nearly 77 and her mother, Mehitabel, had recently turned 72. There were reasons to bring the family closer together, and the old Preston farm, was just down the Narrows Road.
Now Bela may well have played a role in the construction of our project home before his unfortunate passing. One story asserts that he built the home for his oldest son, George, a mariner who was tragically lost at sea in the Pacific Ocean in 1852, before he could take possession. Physical evidence does suggest a building date around 1850. The census for that year has Amelia's parents living elsewhere in town. Tradition maintains that they occupied the cape sometime after that date. But just who was this Benjamin R. Jones who keeps stepping into the story?
Benjamin Richard Jones was born in Milton, Massachusetts on August 28, 1776; the very day George Washington began his masterful retreat from Long Island. He was the third of nine children. His father, Samuel, was a competent and respected surveyor. It was through both his father and his mother, Mary Richards, the daughter of a prominent Weymouth physician, that Benjamin was directly descended from John Alden and Priscilla Mullins, the Mayflower Pilgrims and first settlers of Plymouth, immortalized in the Longfellow poem. 
While still a young boy he spent significant time in Quincy, Massachusetts, with the family of Richard Cranch, an English-born scholar, legislator, watchmaker, judge and private tutor. Mrs. Cranch (Mary Smith) was a sister of Abigail Adams, wife of the second President of the United States. While still in their teens, all three of the home schooled Smith sisters, Mary, Abigail and Elizabeth were tutored in their studies by the largely self-educated Cranch. It was said his passion for scholarship, his technical skills and his knowledge of the classical languages and biblical and secular topics, made him a remarkable teacher. It was through Mr. Cranch that Abigail met her future husband (a close friend of his), John Adams. 
In 1788, at the behest of Edward Hutchinson Robbins, of Milton, a future lieutenant governor of Massachusetts, Samuel Jones moved with his family to the wilderness of Maine. Much like Benjamin Lincoln, Robbins purchased a large tract of virgin forest, Township #4, bordering the Saint Croix River and the Passamaquoddy Bay, for the purposes of settlement. He encouraged many hearty men from Milton and the surrounding communities to come and work for him to develop his investment.
It would be Samuel's job to survey the new town named Robbinston in honor of its founder. The family settled 100 acres on the bay, just south of Mill Cove, so named for a tide mill that was built there by the settlers. Benjamin, who was twelve years old at the time, would have to learn to deal with the rigors of the wilderness, while apprenticing in his father's trade. Something of an Abe Lincoln in his habits and likely inspired by Cranch, he was self educated, reading voraciously whatever he could find.
In 1799 at the age of 23, he married Mehitabel Lewis Hersey, of Pembroke, formerly Hingham. Like Benjamin, she was herself descended from a pilgrim; Richard Warren, a signer of the Mayflower Compact. Her father Zadock Hersey, a Revolutionary War veteran, served in Benjamin Lincoln's regiment as a drummer. He and Mehitabel's mother, Abigail Lewis, came to Township #2 from Hingham with their family, in 1788. Benjamin and "Hitty" would have their first four children in Robbinston.
In 1803 the family relocated to Eastport where Benjamin served as town clerk. In 1805 they moved to Dennysville, where he took a job teaching school. He taught both day and evening classes for several years. Five more children would follow this move. In addition to his duties at the school he also plied his skills as a surveyor and was for many years a magistrate and the town's Justice of the Peace.
In 1810 he produced an important steel engraved map of the Passamaquoddy region. In a letter written to a friend at the time the map was published, former First Lady, Abigail Adams, wrote, "I understand that Benjamin Jones has published a map of Passamaquoddy. I always felt sure that boy would do something creditable to himself."
At the time of 100th anniversary of the founding of Dennysville in 1886, a lengthy historical address was given by George Foster Talbot, Dennysville native and former United States Attorney and Solicitor of the Treasury for the State of Maine. It included the following words;
In the early granting and locating of lots, measurements were liberal. Land was cheap. The mile and a quarter first settlers' lots under the chain were a mile and a half to their spotted head lines, with corresponding generosity of width. But as we have seen, distances, when they did not represent lengths of one's own possession, were always very great. Then, too, after lots had been largely cleared and tilled and fenced at much expense, after new-comers found all the sites by the streams and shores and contiguous to the schoolhouses appropriated, each settler guarded his possessions with jealous care and prompt redress of every trespass. It is evident that the surveyor is in request.
Accordingly he appeared in the person of Benjamin R. Jones, immediately from Robbinston in 1805, but originally from Milton, Massachusetts. He became so useful for his accurate knowledge, his clerical expertness, his skill in making plans, maps and models, his ingenuity in all kinds of nice carpentry and mechanism, as to be in request not only throughout the town, but more or less throughout the country. Few of the great lawsuits were tried in court, in which he did not appear as a surveyor and expert, and his careful survey, his sketch and plan of the locus in quo, neat as a steel engraving, generally decided the controversy.
He was always a zealous promoter of popular and academic education, was himself fond of reading, with a great store of historical learning, and of the annals of families all over the country, together with a fair acquisition of science as science was developed for his day. He collected the young people together, and opened an evening school with no compensation but his own love of teaching. With the same salary, he taught singing school and writing school, setting copies in a clear, round and finished hand. He could draw and engrave maps, make or mend a clock, and tell what was the matter with a watch that refused to go, and remedy it.
He would stop little boys on the road and tell them some practical rule which they never found in any book, but never forgot. In my childish fancy I remember I mixed him up with Benjamin Franklin, whom in looks and character he resembled. He was always ready to communicate what he knew, and an inveterate talker, if furnished with an auditor, perhaps even without one. All your elder people remember him, as I do, well, as one of the notables of the place, as one of the marked characters that are so apt to grow to vigorous and eccentric growth, in the bracing atmosphere and under the strong intellectual stimulus of an isolated New England village.


Click for Part 1, Part 2 and Part 4
Photo courtesy Dennys River Historical Society
(click photo to view larger image)
(comments = 0)
leave a comment