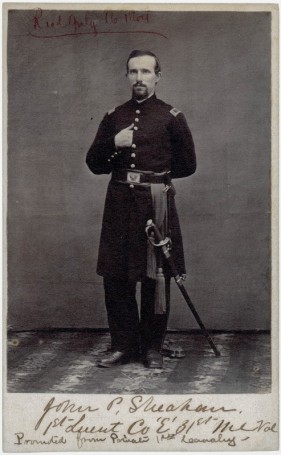 The Narrows (Part 4)
May 19, 2015
Benjamin R. Jones passed away in December of 1858, preceded by his wife, Mehitabel, just a year before. Three months after her father's death, Amelia would remarry, a 36 year old farmer, Gilbert D. Foster. A recent widower with children of his own, Gilbert came from Cooper, a township northeast of Dennysville. The newly formed family would have a fresh start in Amelia's old cape on the Narrows Road.
The fate of her parent's former home on 'Preston's land' would hang in the balance for several years. The Fosters may have rented it to supplement their income. Finally on January 10, 1865, an agreement was drawn to purchase the buildings and four acres of the old homestead, between the Foster family and John Sheahan, a 55 year old sawmill worker.
Sheahan, who spoke with an Irish Brogue, was baptised in the Catholic parish of Knockany and Patrickswell, in the county of Limerick on the 21st of July,1809. Present were his father, Edmund Sheahan, a blacksmith, and his mother, Mary O'Connell. It was said that he came to America on his own when he was just eleven years old as a stowaway in a ship's hold. Arriving at the port of Eastport in 1821, he would become an American citizen in 1834. By 1835 he had found his way to Dennysville where he met and married a local girl with Irish roots, Eleanor Dougherty. Eleanor was the daughter of Michael Dougherty, a millwright, and Sarah Preston. Her mother's parents were coincidently Nathan Preston and Elizabeth Rummery.
The Sheahans would have eight children, six boys and two girls; William, Mary, John, Edmund, Henry, James, Sarah and Otis. In 1850, they were living on and working a farm in Edmunds, a community just across the Dennys River. Edmunds was founded in 1786 by Colonel Aaron Hobart, a manufacturer of munitions during the Revolutionary War. He was a fourth generation descendant of Edmund Hobart who came from Hingham, England, in 1633.
By 1860 the family had moved across the river to Dennysville, where John found employment in a sawmill owned by three of Theodore Lincoln's sons. The mill was first constructed at that site in 1787, by Theodore and fellow proprietor, John Russell. Sheahan was renting a small house, possibly from the mill's manager, Theodore Lincoln Jr., on the road to the cemetery, just up a hill from the mill. In addition to the Sheahan family, also residing at the residence were George Runnels, another sawmill worker, his seven year old son and lumberman, Caleb Gardner, and his wife, Mary. Theodore Jr's. 28 year old son, Benjamin, likely worked at the mill, as he would later take over his father's role of manager.
The Sheahan's oldest son,William, also worked at the mill. He was living on a small farm in Edmunds with his young wife Cordelia Benner. Cordelia's grandparents on her father's side, Christopher Benner Jr. and Jane Preston, were the children of Christopher Benner and Nathan Preston.
On April 12, 1861, the Confederate Army fired upon Fort Sumter, signaling the beginning of the American Civil War. Three months later, on July 15, William, would be the first of the Sheahan boys to go. He would be followed the next year, in August of 1862, by his younger brother, John.
John Parris Sheahan would rise through the ranks, distinguish himself in battle, witness bloodshed and horror, long for "home sweet home," hear of the battlefield death of his brother, meet his future wife 'Lizzie,' be wounded, be captured, spend time as a prisoner of war and eventually escape his captors. Despite his objections, his two younger brothers, Henry and Edmund (Kenny & Ned), would also join the war serving under his command. All of these events he thoughtfully and eloquently recorded in letters to his father and mother. Though all are touching, sometimes harrowing, often gut wrenching - chosen here - the one most relevant to our story.
Before Petersburg Va June 26th 64
Henry tells me he has written every four days since in the field.
My Dear Father
     I wrote you this morning but forgot to tell you that I must know how much bounty is due me and on what condition. I think you told me it was to be paid at the end of a year. I was counted for Dennysville so the Adjt Genl says and I will send you the order for it when I know how much it was. Henry and Ned both say buy the house and do it now, not pay 100 a year for the house and $200 interest but pay every cent you now have for the house. I am sorry you are so simple as to even mention this matter to Lincoln why are you not more independent? If you only knew how mad it makes me you would not do it again. I am certain those you trust so much are not your true friends. See how hard they worked against me and then see when in spite of them I got a position how mad they were - do you forget these things? Could Ben Lincoln, by shaking hands with, make me forget that letter I was to carry to Talbot. Could Dan Hobart make me believe he was my friend by helping to get my commission - didn't he get $50 out of it and did he not think you would always be under great obligations to him when there was any voting to do? Can't you see these things? If you would only open your eyes you might.
     Always when I think of him I say within myself I should act as tho' I had no friends but my own folks - this is the best way. Buy the house not because it is cheap, but because there is not a man in Dennysville who needs a home more that you do. No person ever felt the need of a home more than I have. How many times I have wanted to invite friends to see me but could not do so while I lived in that box on the hill and when I come home, what shall I do. I shall make many acquaintances in the army should they ever come to Dennysville they would come to see me. How would you feel to have them come to that old "dug out" you would not like it and I could not bear it when I know we can have a good comfortable home as any one need wish if we only buy now and not put it off one day or hour this can be done and I leave it to you hoping I may not have the trouble of making a bargain by letter. It shall be your home no matter how much we help to pay for it.
J P Sheahan
Click here for Part 1, Part 2 and Part 3

Thanks to the Maine Memory Network, Maine State Archives, Maine Historical Society & Dr. Colin Windhorst of the Lincoln Memorial Library.
(click photo to view larger image)
(comments = 0)
leave a comment