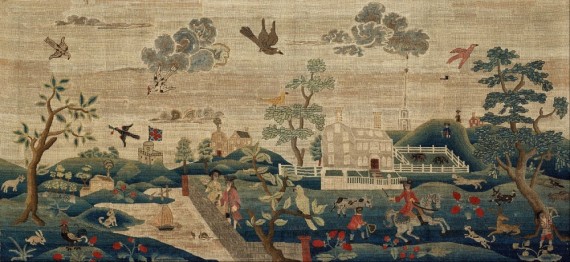 The Old Hancock House
July 23, 2016
For the past year we've been on the hunt for an antique door for a restoration project. Our search through architectural salvage yards and antique shops down the coast of Maine came up empty, so we placed a want ad in a local newspaper. We received a phone call from a homeowner in nearby Edmunds who had recently removed and replaced two entrance doors in his circa 1950 summer cottage. He didn't know how old they were but a pair of fluted pilasters he removed from either side of the front door contained some surprising information. According to writing on the back they came from the John Hancock House in Boston and were quite old.
Intrigued by his story we decided to take a look. Situated in a rural wooded setting on the South Edmunds Road, the cottage is quintessential Down East country. Occupied by a lovely retired couple, he a native of New Jersey, she a local gal; they return each summer from southern Maine to this authentic, serenely peaceful retreat on the Cobscook Bay.
They gave us the tour pointing out elements incorporated by the home's original builder. One was an impressive antique fireplace with a beehive oven, warmer and original crane. The raised panel in the surround above the mantel was a single piece of old growth lumber over 20 inches wide. The homeowners learned from the builder's descendants that this fireplace and mantel, another small one in a bedroom and several simple doors with mahogany and brass hardware, were all salvaged and repurposed from an old dismantled home in nearby Dennysville, nearly seventy years ago. The millwork was familiar to us, not unlike other homes we'd seen in town dating to the early nineteenth century. We headed up the attic stairs to take a look at the pilasters. The homeowner was certain that they too had once been repurposed in the dismantled Dennysville landmark.
These pilasters were clearly something else, the product of something grander. With old growth tight grained lumber and marks indicating they were hand planed - they had some age. On the back of one was tacked a shipping label - Dr. E.H. Vose Calais Maine - on both in large inked letters, P.E. Vose. What was even more intriguing - each contained carefully written, identical penciled inscriptions:
This with its companion piece was part of the finish of the principal front chamber of the old Hancock House, Boston (the room in which Gov John Hancock died) which was taken down in June 1863 after having stood 127 years. Peter E. Vose
Now how did these priceless relics of American revolutionary history find their way to the façade of a simple Maine cottage? We'd have to go to Boston to discover their story.
The home where John Hancock, Patriot and iconic first signer of the Declaration of Independence, lived and died was built by his uncle, Thomas Hancock, in 1737. Situated on Beacon Hill, just west of the summit and surrounded by pastureland, the impressive three story granite edifice was considered in its day, one of the finest homes in all of Boston. Divided by a grand central hall and ornate staircase, its rooms were elaborately paneled from floor to ceiling with fireplaces flanked by elegant fluted Corinthian pilasters. It was undoubtedly those pilasters (absent their capitals) from the bedroom where John Hancock died, that found their way to Dennysville.
Not long after Hancock inherited the house and applied his famous signature, British soldiers pillaged and occupied the property. It would serve for a time as headquarters for General Henry Clinton, the British Commander-in-Chief when he first arrived in Boston. After the war the home formed a center for Boston society where Hancock entertained world class dignitaries the likes of d'Estaing, Lafayette, Jacques Pierre Brissot and George Washington.
Hancock continued to live in the home while serving two terms as the first and third governor of the Commonwealth of Massachusetts. When he died in office in 1793, his body lay in state in the entrance hall for eight days. It was his wish that his home would become the official governor's residence, however he failed to put it in writing and the property fell to his heirs. Seventy years later this cherished noble building, steeped in American history, would become a cautionary tale and a preservationist's worst nightmare.
In 1859 Governor Nathaniel Banks proposed that the Commonwealth of Massachusetts purchase the manor for a much needed Governor's Mansion. Notwithstanding significant support, the measure was defeated and the property fell to the hands of private developers. A scheme to move the structure also failed. Despite public outcry and pushback, on June 16, 1863, the old Hancock House was sold at public auction and shortly thereafter - torn down. The tragic demolition would leave in its wake a lasting legacy, spurring a citizen driven historic preservation movement that helped to save many Boston landmarks, as well as structures across America and continues to this day.
On Friday, June 26, 1863 at 4:00 P.M. a public auction was held on the Hancock premises;
All the materials of the Old Hancock House, of Revolutionary fame, on Beacon Street, consisting of red cedar, oak joist, hard wood finish doors, panelings, carvings, windows, blinds, flooring &c., comprising many antique curiosities, and materials to be manufactured into many useful and ornamental parlor mementoes. SPRAGUE & TAPPAN, Auct'rs.
Eager souvenir hunters attended the event, each securing for themselves some precious piece of American history. As the inscriptions on our pilasters imply, P.E. Vose and his brother or possibly their agents were on the scene that day. In any event the evidence suggests that some important elements from John Hancock's bed-chamber found themselves on a ship in Boston Harbor bound for the timber wharfs of Calais, Maine.

A civic minded merchant and significant figure in Dennysville history, Peter Ebenezer Vose was a name familiar to us. His brother, Dr. Edwin Howard Vose, was a graduate of Harvard and Bowdoin medical schools who interned under Drs. Job Holmes and Charles E. Swan in Calais, where he took up practice. Both brothers were members of an old and prominent New England family with Revolutionary War underpinnings and strong ties to Boston. Peter himself worked there as a clerk in his formative days. Both were born and raised on a farm in nearby Robbinston, a town first settled by their grandfather, Thomas Vose.
Why the Vose brothers chose items from the room where John Hancock died one can comfortably surmise - but why pilasters? A clue might be found in a story about their grandfather.
A native of Milton, Massachusetts (a suburb of Boston), Thomas Vose relocated to Robbinston, Maine in 1790, with his wife and infant daughter to conduct the business of Edward Hutchinson Robbins, the town's first proprietor and future Massachusetts Lieutenant Governor. A few years later Robbins was appointed as one of the commissioners for the building of the Massachusetts State House on the summit of Beacon Hill in Boston. The Beacon Street building site across from the Boston Commons was just next door to John Hancock's house on land that originally served as his cow pasture.
A merchant, shipbuilder and lumberman by trade, Thomas Vose was given the task to locate and cut large timbers for the building from land that Robbins owned just north of Robbinston in the southwestern part of Calais. The twelve impressive Doric Greek columns that grace the front of the state house were turned and fluted from these giant old growth pine trees over three feet in diameter. A gilded wooden pinecone adorns the top of the golden dome, as a symbol of Maine and the Commonwealth's reliance on lumbering in colonial days. Dr. Edwin Howard Vose was said to recount, "I well remember, when a boy of eight years, of my grandfather charging me to 'go and look at those pillars' when I went to Boston, and to 'remember that my old grandfather got them.'"



Images courtesy, Historic New England and Museum of Fine Arts Boston.
for more photos click here
(click photo to view larger image)
(comments = 1)
leave a comment