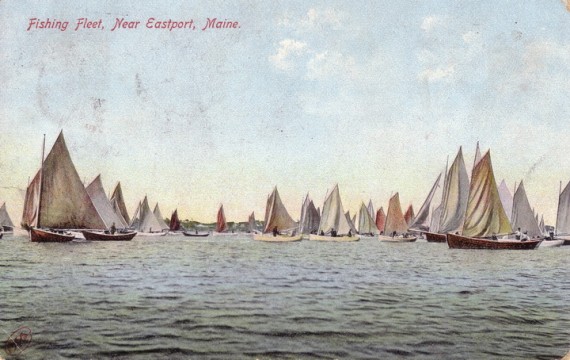 Water Street (Part 1)
July 9, 2013
The island town of Eastport, on the Passamaquoddy Bay, was first settled by fishermen from Massachusetts and New Hampshire in the late 18th century. It would grow to become a major Maine port, reaching its zenith with the emergence of the sardine industry. The once bustling waterfront is much quieter now - gone are the many wharfs and canneries that lined its shore. Fishing, lobster, pleasure boats and cargo vessels are the mainstay of the harbor.
We were recently called in to do a bathroom renovation in an historic Eastport Federal style cape on Water Street. Its proud new stewards were relocating to the area; part of a fresh influx of creative entrepreneurs that are breathing new life into the city. Room by room, they plan to resurrect and preserve the venerable old building.
Our commute from Perry to Eastport is not exactly bumper to bumper but rather a daily visual adventure. The Bay of Fundy's amazing tides have the largest range in the world - over 50 feet. In and around Eastport they can rise and fall as much as 25. In an ever-changing landscape the coves can appear as lakes on one visit - then later, drained dry as though someone pulled a giant cork, as muddy barren wastelands - a fertile picking ground for clammers.
Our remarkably intact project home overlooks Eastport's rising and falling harbor with views of F.D.R.'s beloved Campobello Island. It is a classic, center-hall, post and beam structure, two rooms deep. Downstairs is a large formal parlor and dining room in the front with a kitchen, pantry and a small bedroom or keeping room in the rear. A central hall staircase leads to rooms upstairs with a long ell off the back. Two massive brick chimneys supported in the basement by large roman-arched red brick corbels provide fireplaces for most every room. My favorite is the impressive kitchen hearth and beehive oven, with its ample mantel and hand forged kettle crane still in place.
It was wonderful to see so many surviving original elements. Throughout the house there are elaborate Federal mantles, chair rails, cupboards, trim and 9 over 6 windows complete with wavy glass - all likely crafted onsite, with a variety of hand planes, by skilled carpenters. Turned mahogany knobs in the front rooms and hand-forged Norfolk thumb latches on the 'workroom' doors in the back were probably purchased at the local hardware store.
Invariably the minute we dig into a project in an old house we become curious about its history; who lived there - how long has it been standing - when was it built?  The home, itself, would begin to provide some answers.
A door from the back of the old kitchen that originally went outside, now leads to the ell. This ell was undoubtedly an early addition but the interior is a surprising mid-century time capsule. We learned it was renovated in the late 1950s to serve as the previous homeowner's doctor's office - complete with waiting and examination rooms as well as a small pharmacy.
Dr. Rowland French, a surgeon and Harvard Medical School graduate was lured from a practice in Arizona to join the small Eastport hospital staff. He and his wife, Winifred, a graduate of Cornell, purchased the property on Water Street in 1954 and raised a family of five there. Dr. French practiced medicine for 37 years in the community and helped establish the Eastport Health Care Center, which is named in his honor.
Winifred, for her part, established a much needed local newspaper in 1968 - aptly naming it, The Quoddy Tides. It is a small town paper with international aspirations, serving readers in both Maine and three Canadian Islands; Deer, Campobello & Grand Manan. It contains a mix of local news as well as maritime information like tide tables (which local fishermen used to set their lobster traps or go clamming by), sunrise and sunset, weather reports, vessels entering the port and a fisherman's log. Its office fittingly sits perched at the entrance to the wharf with harbor views of fishing and lobster boats with names such as; Pretty Girl, Bay Boys, Tide Tracker, Black Sheep, Baby Witch and Miss Meliss.
In its early days news copy was sent by fishing boat through treacherous waters (like "The Old Sow," the largest whirlpool in the Western Hemisphere), to Deer Island for typesetting and back again. After laying out the paper Winifred would drive down the coast on bumpy Route 1 to Ellsworth, to get it to the printer (more than 200 miles roundtrip).
The French's son, Edward, the current editor, carries on the tradition today. His brother, Hugh, founded the Tides Institute, an arts and cultural institute and museum serving the greater Passamaquoddy and St. Croix River Region. The brothers, who grew up in the old home, have been instrumental for many years, in restoration and revitalization efforts in the community.
Our project bathroom was another time capsule, with fixtures dating from the late 1970s. While doing demolition we found that the vent pipe was galvanized and seemed to date to the 1950s. Then we spied a blue Sears, Roebuck & Co. shipping label attached to it. We knew the name printed on the shipping destination, J.W. Raye & Co. -  it had connections with our own home's history. John Wesley Raye rented a camp on Boyden Lake from our home's builders, Nathaniel and Mary Golding, Their son, 'Rob,' met his friend, John Wesley ('Wes'), while serving in the Spanish American War. The Raye connection to this old house was however a puzzle.
Come the weekend we got a serendipitous knock at the door from a summer neighbor, Nancy Raye. After wintering in the south, she returns to her magical camp, just a short walk from our farm, along the lake's rooted and rutted "stub toe path." She might know something about that Sears, Roebuck Co. label - her grandfather founded the venerable Eastport institution printed on it.
The son of a sea captain, J.W. began building his business shortly after returning from the Spanish American War, when he was just twenty years old. In the late 19th and early 20th centuries, Raye's Mustard Mill was a major supplier of 'stone ground' mustard to the multitude of sardine canning factories that lined the waterfront in and around the seaside town. He purchased the massive 165 year old granite grinding wheels from local mills and designed the shaft driven system himself.
The mustard mill's stewardship passed to his son, Henry Wadsworth Raye (through his mother, a not too distant relative of the poet, Henry Wadsworth Longfellow) and later to his grand-daughter, the entrepreneurial Nancy. In the 1990s, she revitalized the company, shaken by the decline of the sardine industry, by creating a line of award winning gourmet mustards. The historic property, now a working museum, is the only remaining stone ground mustard mill in North America and has been featured in the magazine, Martha Stewart Living.
Having just put her camp back in order, she came to invite us to brunch and to catch up. It turned out that she was just the person we wanted to see. We told her about our new project and asked her about the vent pipe and label; "Oh yeah," she said, "I used to live in that house." "My dad put that bathroom in."  "He had that pipe shipped to the mustard mill."  "It would have been just before we moved in."
The home had no indoor plumbing when Nancy's parents, Henry Wadsworth and Caroline Bradish Raye purchased it in 1950. It was her father's handy work that installed our project bathroom along with a new kitchen and a small half bath in the former keeping room and pantry.
Her family only lived in their Water Street home for a few years while Nancy was still a young girl. She shared with us some recollections about the place, recalling a story of two elderly women living in the home prior to her family who had little money and were managing frugally. They had boarded up all the drafty ancient chimneys, closed up the main house and were residing exclusively in the ell to save on heat. At that time the ell contained the "summer" kitchen and an in-house 'outhouse' at the back. This intriguing story evoked a slightly "Grey Gardens" image that further kindled our curiosity.
Click here for Part 2 and Part 3
Thanks to the St. Croix Historical Society for sharing these vintage Eastport postcards with us.
(click photo to view larger image)
(comments = 0)
leave a comment