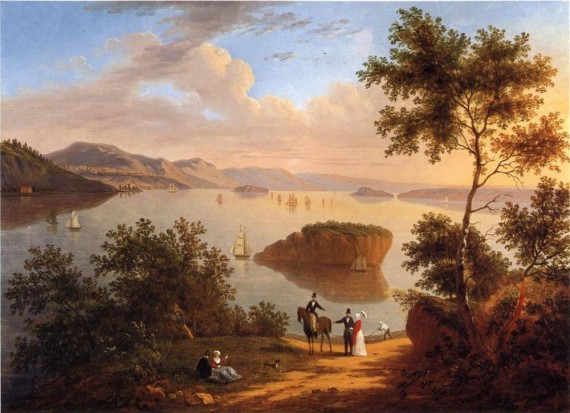 Water Street (Part 3)
July 13, 2013
Summerville Anderson, an immigrant from Canada, was the manager of an Eastport sardine factory. He purchased the Bibber home in March of 1918, two months before he sold to the Harris family. The 'grantees' were the four Bibber sisters, the only heirs of their father. The deed read in part, "being the Myrick D. Bibber homestead property, so called."
As there was no reference in this deed to a prior owner, we had to take a different approach. We knew from an 1888 history, Eastport and Passamaquoddy, compiled by William Henry Kilby, that the property had once been part of a much larger track of land, 100 acres, owned by John Shackford - sea captain, shipowner and pioneer settler. The Shackford farm lay between the present bounds of Key Street and Shackford Cove, extending westerly one mile to the county road and easterly down to the shore. In addition to this property he also owned one hundred acres west of Broad Cove, Shackford Head, which is today a state park.
The Captain was born in Newbury, Massachusetts, in 1753. A fisherman in his early days, he first visited Eastport, known at the time as Moose Island, when he was 15 years old. In 1780 he married Esther Woodwell, the cultured daughter of a prominent Newbury shipbuilder. In 1783, when there were just a handful of families living on the island, he purchased 100 acres directly from the Commonwealth of Massachusetts. Shortly thereafter, he built a waterfront structure for the processing and curing of fish, as well as a log general store where he served both fishermen from the British provinces and the local Passamaquoddy Tribe. In 1787, after building a home and planting a garden, he shuttled his family in his small sailing vessel, Industry, from Newburyport to their new home in the wilderness.
As a soldier in the Revolution, he served under the infamous Benedict Arnold; marching in 1775 through the wilderness of Maine to the Battle of Quebec, an early defeat for the Continental Army. Shackford was among the more than 400 men taken prisoner in the failed assault upon the city. He was confined for nine months in prison, six weeks of which he spent in shackles. After his release, he served under George Washington at the Battle of Harlem heights, a Continental victory.
In later years the Captain commanded the first militia company organized on Moose Island. The story goes, as told by a descendent; in 1814, when the British Commodore, Thomas Hardy, came on land to take possession of the island town, Shackford met him at the water. Wearing relics from his glory days; his three-cornered Continental Army hat as well as his sword and carrying a long pointed cattle prod, he indigently declared, "Well, sir! What brought you here? I am King of this island, and these are my subjects. If you behave yourself, you can come on shore - if not, you had better be gone."
We knew that the Captain died on Christmas day in 1840. Going to a massive ancient book listing grantees and grantors from 1830 to 1840, we looked up John Shackford. Scanning down a list of sales we came across our answer; again there was that name - M.D. Bibber. On June 15, 1839, Shackford sold a piece of land to the 30 year old merchant.
By this time a handful of Moose Island's former farms on the southeasterly shore had been supplanted by the growing seaport city. The municipality's population was approaching twenty-nine hundred. Much of the Shackford property had been subdivided with Water Street, laid out in 1803, still not much more than a footpath, "two hand barrows wide." However, the premium waterfront property John sold to Myrick was something quite unique.
In the record of deed, dutifully inked in a flourish of 19th century script, the Captain proclaimed, "Know all men by these presents that I John Shackford of Eastport in the County of Washington and the State of Maine in consideration of two hundred and eighty three dollars paid by Myrick Bibber... hereby give, grant, sell and convey... forever... Beginning at the Westerly side of Water Street at the corner of the Yellow house lot owned by me, thence running north 65° east along said Water Street six rods and nineteen links to land occupied by Gideon Stetson thence north 61° west six rods and eight links on land occupied by said Stetson, thence north 76° west, three rods and twenty links along land occupied by said Stetson & land of Mrs. Sarah Lincoln thence south 24° east seven rods and thirteen links along said Yellow house lot: to the first mentioned bounds on Water Street... and is the same which is known as my garden and so improved by me for many years past."
The early part of 1839 and several years preceding, had been tough times for Myrick. In 1836 he married Eliza Ann Appleby, the daughter of a sea captain. In 1837, their first child, Emma Sophia, passed away when she was barely two months old. On the 1st of January, 1839, their second child, Sylvanus Appleby, named for Eliza's father, also succumbed when he was only twelve days old. Two months later, on March 11, Eliza herself, possibly weakened by the rigors of childbirth and despondent over the loss of another child - tragically was taken.
It seems a resilient Myrick would recover quickly. It was just three months after the death of Eliza that he purchased that choice bit of land from the Captain. One could presume he spent the summer building a brand new, Federal Style, merchant's home with all the bells and whistles - for on December 19th of the very same year he married 17 year old Sarah Appleby - Eliza's younger sister. The Bibbers would live and raise a family of little women, in a house they built on Water Street - in John Shackford's garden.
click here for Part 1 and Part 2
(comments = 1)
leave a comment