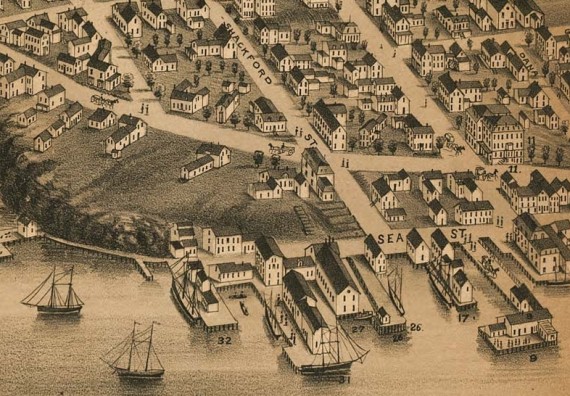 Water Street (Part 2)
July 12, 2013
Physical evidence in our project house on Water Street initially suggested a construction date sometime between 1810 and 1840. In the early days of the American Republic, architects consciously chose in their designs to associate the fledgling nation with the ancient democracies. The resulting Federal style, with its restrained delicacy and formal symmetry, was favored from 1780 'til around 1830. Type 'B' cut (square) nails found in the original structure were not produced until after 1810. Hand forged Norfolk thumb latches were manufactured from 1810 to 1840. Accordion lath under the plaster and marriage marks (Roman Numerals) on hand hewn beams went out about 1840. We'd have to go to 'paper' if we were going to narrow down a date.
Our first clue to the home's earlier residents came from a map of Eastport Village published in 1881 that included the footprint of every building along with the owner's name. Printed next to the cape on the corner of Water and Shackford Streets was M.D. Bibber. With a little bit of census searching we could begin to flesh out the story.
In 1880, Myrick D. Bibber was living at 16 Water Street with his wife, Sarah, and three daughters, Augusta, Sarah and Grace. Both Augusta and Grace were schoolteachers. A forth daughter, Annie, married in 1862, was living with her husband, Samuel Longfellow Wadsworth, and their 18 year old son, Frank, on Washington Street, next door to the Baptist Church.
Myrick was not a native of the seaport city. Born in Freeport, Maine in 1809, to Thomas and Dorcas Bibber, he came to Eastport as a young boy. His father, a master mariner, may have visited the island in his adventures and been lured there by the end of the British occupation, when a new spirit of enterprise was emerging in the harbor.
On July 11, 1814, during the War of 1812, Commodore Thomas Hardy, in his flagship the HMS Ramillies, assisted by Lieutenant Colonel Andrew Pilkington, led four warships and several transports carrying 2,000 infantrymen against Eastport's Fort Sullivan. The defending rag-tag American force of 70 regulars and 250 militiamen were no match for the British and gave up without a fight. The Commodore and his Lieutenant issued a proclamation making it known that the King considered the island, sovereign British territory. Eastporters were given the option to take an oath of allegiance to the crown or leave. In 1818, after four years under martial law, the British relinquished their claim and surrendered the town.
Thomas Bibber was a busy Eastport ship's master in 1820, at a time when trade was expanding to Europe and the West Indies. Many of his children would take advantage of the increasingly important deepwater port, becoming prominent sea captains and merchants in the expanding city. Myrick himself was listed as a merchant or shopkeeper on several censuses. In 1841 he was a junior partner in business with William Shackford, a colorful retired seaman and son of a town founder, under the trade name "Shackford and Bibber." Also active in the community, Myrick was a member of the parish committee of the Central Congregational Church on Middle Street, in 1848 and in 1849, was one of three elected town selectman; a position he would again occupy in 1877.
In 1885, Myrick's wife, Sarah, died. The Bibber's youngest daughter, Grace, married a Philadelphian and moved to the orange groves of California. Their two unmarried daughters, Augusta and Sarah, continued to live in the home with their father until he passed in 1902 - cause of death, "Old Age."
In 1906, Annie Wadsworth's husband, Samuel, died of tuberculosis. This event may have prompted the two single women to move in with their widowed sister in her large comfortable home on Key Street; an impressive multi-columned Greek Revival that still stands today. Prior to his passing, Samuel Longfellow Wadsworth made his living running an Eastport ship's chandlery established in 1818 by his father, Samuel Bartlett Wadsworth. Samuel Longfellow took over for his father shortly after his marriage to Annie and would officially change the company name to "S.L. Wadsworth and Son" after Frank joined the business in 1883. Run by descendents, the firm still operates under that name today and is the oldest ship's chandlery in the nation.
Samuel Longfellow's grandfather, Peleg Wadsworth, was a hero of the Revolutionary War. His father's brother, George Wadsworth, was Nancy Raye's, great-great-great-great grandfather. His father's sister, Zilpah, was the mother of the famous poet.
After stumbling across this Bibber / Wadsworth / Raye connection, the trail went cold. We were heading down the coast to pick up some lumber and thought we'd make a stop and spend an hour at the 1855 Washington County Courthouse in Machias; the home of the registry of deeds. We started with the property's current owners then worked our way back. Each deed registered has a reference and page number to a previous book. Following the French's to the the Rayes; we found that Carolyn Bradish Raye purchased the home in two undivided half interests from Agnes Harris and Arthur E. Tracy on March 10, 1950.
Agnes's mother, Rebecca McDonald Harris, and sister, Alida Ardella Tracy, purchased the property from Summerville Robertson Anderson in May of 1918. Both mother and daughter occupied the home with their families. Alida was married to Arthur E. Tracy, a sardine fisherman and had one child, Virginia. Also living at the residence was another brother, Arthur and the patriarch of the family, Alfred Thorndyke Harris, a sardine boat captain. Two other siblings, fraternal twins Marion and Mariner, were married and living elsewhere in town.
On December 9, 1937, the Captain, Alfred Thorndyke, passed away. This was the same year the city of Eastport went bankrupt, the result of a declining sardine industry. Many of the once thriving community's residents were moving away. Rebecca would take a job as a cook, likely in one of the city's larger homes, to help support her family.
In 1940, forty-two year old Agnes Harris, who according to the census was unable to work, was living with her mother and older brother, Arthur, a laborer, along with Alida and her husband, Arthur. Alida passed away in 1943; her brother, Arthur, in 1948. Agnes, who never married, may have continued to live in the former Bibber home, caring for her mother, Rebecca, until she passed away on December 23, 1949. She sold her part of the property to Caroline Bradish and Henry Wadsworth Raye, two and a half months later.
click here for Part 1 and Part 3
(click photo to view larger image)
(comments = 0)
leave a comment